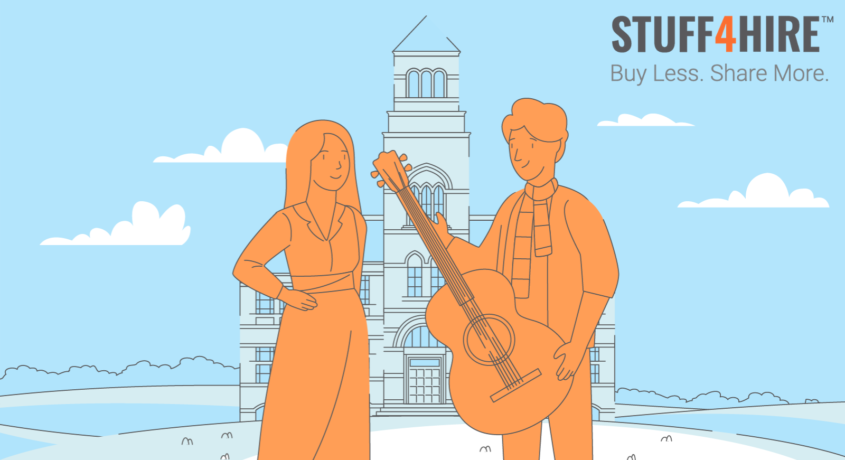 Have you ever needed to use a tool or an appliance for a one-time project and wished that you could rent it for a few bucks instead of having to buy it for hundreds? Do you have a house full of things that you do not use often and would like to rent?Stuff4Hire is an online platform that provides a digital marketplace that allows owners to rent underutilized items to their neighbors instead of buying them new from a company. Stuff4Hire will also help minimize the over-consumption of products, thereby reducing our environmental footprint.
If you're an amateur photographer and you infrequently need lighting equipment, then it makes more sense to rent it from someone within your community who has that equipment. Doing so reduces the total cost of ownership of that item for everyone.
The whole thing is pretty simple. Just sign up, list your items and wait. Stuff4Hire will handle all of the rental details on your behalf. When someone wants to rent your item, Stuff4Hire will send you a Rental Request Notification. This notification will provide details about the renter including the desired dates and the renter's prior rental history. If you decide you want to rent your item to that person, Stuff4Hire will hold a deposit to cover the value of the item. When the renter returns the item, the deposit will be returned to the renter minus the cost of the rental. If the renter does not return your item or if the item is damaged, Stuff4Hire will reimburse you for the value of the item.
This concept is on the leading edge of the sharing economy movement that seeks to empower people on a grassroots level. From food co-ops to Airbnb, companies such as Stuff4Hire.com provide consumers with alternatives to simply adding to the profits of mass-market retailers and large corporations.
The company has also been diligent about setting up procedures that will help protect both lenders and borrowers in any transaction carried out through the site. Stuff4Hire will mediate transactions by holding a deposit from the borrower at the time of rental. When the item is returned to the lender, the borrower's deposit will be returned minus a fee for the rental. Stuff4Hire will mitigate disputes between lenders and borrowers, and will provide insurance protection for items that are lost or damaged.
Members are encouraged to provide reviews about their rental experiences. Negative reviews will serve as a warning to prospective lenders or borrows against bad citizens.
---
To list your stuff or borrow stuff you need visit https://www.stuff4hire.com/ for more information.
---
https://kingstonhappenings.org/wp-content/uploads/2020/12/S4H-Business-listing-header-1600x900-1.png
900
1600
Kingston Happenings
https://blastserve.com/khtestbed/wp-content/uploads/2023/07/KH-Transparent-Logo-e1688304541199.png
Kingston Happenings
2020-12-07 11:39:54
2020-12-09 14:35:33
Stuff4Hire