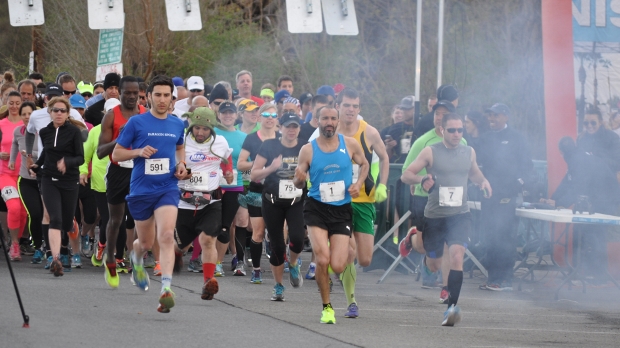 Kiwanis Kingston Classic: Something Special for Everyone
Any time that you can get one thousand people to actively participate in a local event, it's something special. Over 1100 runners exited Dietz Stadium and returned after running anywhere from one to twenty-six miles. Almost unbelievably, the runners ranged from six year old Luke Profera of Catskill who ran the 5k race to…… are you ready for this… seventy-six year old John Capen of Stone Ridge who ran a full, twenty-six mile marathon! There were many of us with tears in our eyes when John crossed the finish line. It wasn't just the expected impact of age that was remarkable. There were clearly people that were not in the form of your classical marathon runner at all, that had to train extensively long before race day, gut it out on the course, and finish as best they could. Whatever time they registered, was far better than the times of those of us that were standing on the sidelines watching them run.
The Kiwanis Club of Kingston teamed up with HITS Endurance of Saugerties, which promotes running events and triathlons all over the country on a regular basis. Together they secured the sponsorship of dozens of local businesses and coordinated the support various departments of the City of Kingston and Ulster County to pull off what seemed to be a flawless event.
This year it was a two day event highlighted by the appearance of Meb Keflezighi at pre-race activities and on race day. Meb is a three-time Olympian, four-time NCAA Champion, past winner of the New York marathon, and just a a week ago was the first American to win the Boston Marathon in that city's emotional recovery from a last year's bombing. He seemed to still be on a high from that even and who could blame him. He gave a couple of talks prior to the race and was graciously accessible to everyone for photographs, autographs and openly friendly to anyone around. When I asked him about his impression of Kingston he said it seemed like a great little town and remarked about how open and friendly everyone seemed here.
This years races were won by athletes from the all over the Hudson Valley, New York City, Long Island, New Jersey and some points beyond. The highlight was when local resident, Farrier Golgoski won the women's full marathon in a clearly emotional win for her.
[singlepic id=981 w=500 h= float=none]
[singlepic id=982 w=500 h= float=none]
[singlepic id=980 w=500 h= float=none]
Here are a few more pictures from yesterdays Kingston Classic. More pictures that you can tag, like and share can be found on the Kingston Happenings Facebook page here.
[singlepic id=963 w=500 h= float=none]
After 26 miles, 76 year old John Capen is nonchalantly checking his time as he is crossing the finish line.
[singlepic id=975 w=500 h= float=none]
Meb Keflezighi giving a pre-race at Saturday Night's pasta dinner 

[singlepic id=983 w=500 h= float=none]
Pretty in Pink(and a lot of black), racers show unity in their sprint to the finish.
[singlepic id=965 w=500 h= float=none]
Runners streaking(everything is relative, I was standing still) down North Front St. before heading out to the Hurley Ave. section of the course.
https://kingstonhappenings.org/wp-content/uploads/ngg_featured/DSC_0270-620x348.jpg
348
620
Kingston Happenings
https://blastserve.com/khtestbed/wp-content/uploads/2023/07/KH-Transparent-Logo-e1688304541199.png
Kingston Happenings
2014-04-27 18:46:44
2014-04-27 18:46:44
Kiwanis Kingston Classic: Something Special for Everyone