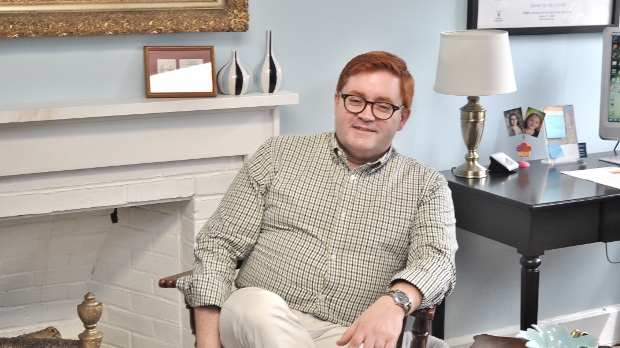 Doers and Dreamers – Richard Heyl de Ortiz
Some children are vulnerable to so many things in our society today and it's a pleasure to meet someone whose mission is to look out for them. Say 'Hello' to  our Doer and Dreamer this week, Richard Heyl de Ortiz.
Your name:  Richard Heyl de Ortiz
Business or organization:  Court Appointed Special Advocates for Children (CASA)
Occupation:   Executive Director
What is your approach to your business or occupation that makes you unique?
CASA is public-private partnership that brings trained and screened volunteers from the community into the child welfare system, working as mentors to and advocates for children who have been abused or neglected.  Many of them are in foster care.  That uniqueness – of a community stepping up to be part of the solution for our most vulnerable children – resonated with me the first time I learned about CASA and continues to motivate me today.
Where are you from originally? 
I was born and raised in New Paltz.
What brought you to the Kingston area and keeps you in this area? 
For me, it was really about coming home.  Growing up here in Ulster County, I couldn't wait to get out and stake my claim in the world.  I did that.  College in Manhattan.  Several years in New York City and then Philadelphia finally brought me home.  I came back for family, and for the beauty and comfort of the Hudson Valley.  The fact that we're just 90 minutes from New York City, one of the greatest cities in the world, makes it all work.  I've often joked that I don't think I would have moved back to my hometown if I had been raised in Iowa or North Dakota.  That I have the opportunity to work in historic uptown Kingston is an incredible bonus.
What is your favorite hangout in this area and why?
Tough question, and more than one answer.  Here in Kingston, and right off the top of my head – Outdated Café on Wall Street.  Great food, great coffee, a relaxed, comfortable vibe and an always intriguing collection of well-curated antiques.  Tarah and Gabe, who own Outdated, are amazing.  Other favorites place include the Yum Yum Noodle Shop on Fair Street, Monkey Joes on Broadway or just taking a walk around our office in uptown Kingston.
When you're not in Kingston, what's your idea of a wonderful city to visit, and why?
I've got a few.  Obviously, New York.  Florence.  Montreal.  And Philadelphia, a city that so often seems to feel like a stepchild, sandwiched between Washington D.C. and New York City, but is really an interesting and manageable place to live and visit.
Tell us something that we never would have guessed about you.
That I've enjoyed the experience of skydiving.  One of the most joyful and freeing experiences I've ever had.  Not sure I'd do it again, but it was miraculous!
https://kingstonhappenings.org/wp-content/uploads/ngg_featured/DSC_0093-620x348.jpg
348
620
Kingston Happenings
https://blastserve.com/khtestbed/wp-content/uploads/2023/07/KH-Transparent-Logo-e1688304541199.png
Kingston Happenings
2014-04-23 10:47:16
2017-03-07 11:49:35
Doers and Dreamers – Richard Heyl de Ortiz