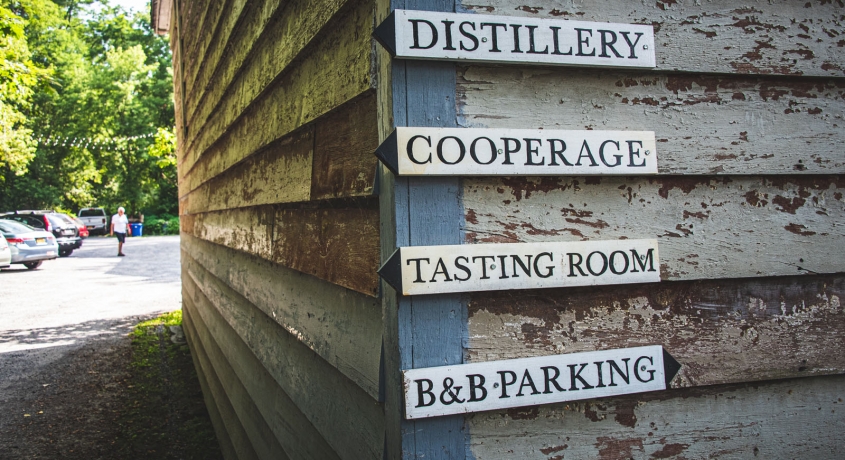 Hudson Valley History Repeats Itself with Imaginative Flair at Olde York Farm Distillery and Cooperage
By contributing writer: Veronica Fassbender
While driving north through the Hudson Valley to Claverack from Kingston, one can be pleasantly surprised by the serene and relaxing environment. Right off Route 23, a meandering road with picturesque landscapes and intriguing architecture, sits Olde York Farm: distillery, cooperage and Bed & Breakfast. Olde York Farm is a unique, woman-owned distillery and cooperage in Claverack, NY, just ten minutes from Hudson NY, and a hop, skip, and jump from Kingston! The entire Olde York Farm experience is historic from start to finish.
The land upon which the distillery, cooperage, and Bed & Breakfast resides, is listed on the National Register of Historic Places, and once belonged to Jacob Rutsen Van Rensselaer, Federalist New York politician and lawyer, circa 1805. Interestingly enough, Rensselaer also had a distillery on this property. Today's distillery and cooperage are housed in Rensselaer's former carriage house, and are accompanied by the Bed & Breakfast on the second floor of Rensselaer's charming farmhouse directly next door. Olde York Farm keeps true to its trade's historic beginnings by possessing its own cooperage (barrel making facility). Additionally, Olde York Farm honors the historic Hudson Valley by sourcing their ingredients locally, and allowing themselves to be inspired by the local bounties, such as local ramps for Ramp Vodka, or family heirloom roses for their Rose Liqueur.
Olde York Farm started an enterprise entirely unique from what Rensselaer once had, and entirely unique from many distilleries popping up today. Sophie and her family set themselves apart from the rest with their remarkable control over their products and dedication to the entire distilling and cooperage processes. Rory and the distilling crew are meticulous, blending and testing batches over and over again ensuring an elaborate sensory experience for consumers. Their eclectic choice of infusions and their spirits collections is unparalleled, and demonstrates that they are not afraid to explore non-conventional flavor experiences and expand the world of spirits and liqueurs.
Olde York Farm originated from owner Sophie Newsome's British father's love of American History, particularly the Whiskey Wars and Prohibition. Sophie's father, Stuart Newsome, began tinkering with fermenting for home consumption. Dazzled by his results, Sophie and her partner and Head Distiller, Rory Tice, wanted to learn the tricks of the trade and asked for Stuart's guidance. "As laws changed for Farm Distilleries the prospect of turning a hobby into a real business seemed more and more realistic. It took about 5 years to convince him, but we followed our hearts and took the risk to open the distillery,"  Sophie recalls. For the Newsome family, it was not an easy path with 2.5 years of red tape and permitting, but now Olde York Farm is a robust family-run enterprise that is satisfying adventurous palates here in the Hudson Valley and beyond.
Olde York Farm's humble and historic beginnings are just one of the many reasons to venture to Claverack for a visit. Whether touring, tasting, or staying at the B&B, you are in a relaxing environment with a non-pretentious atmosphere. Everyone is welcome and will enjoy the time spent at Olde York Farm, from the connoisseur, to the person just passing through looking for a refreshing, local brew. In the tasting room, attentive staff are eager to explain each spirit and administer samples. After tasting, you can order unique cocktails that are prepared right before your eyes, from the fresh squeezing of lemons, to the handcrafted cucumber sandwich accompanying your Ramp Bloody Mary (yes, you read that correctly, they feature a Bloody Mary with their Ramp Vodka that has a small cucumber sandwich garnish). The quality of their micro-batch spirits and liqueurs is unrivaled, leaving you wanting a bottle of everything to stock your home bar, and the recipes to recreate the noteworthy cocktails you sipped in the tasting room. Thankfully, Olde York Farm is getting into the groove of publishing weekly drink recipes, including tutorial videos, on their social media channels.
Olde York Farm hosts a myriad of events throughout the year. Their creekside tasting room boasts the perfect environment for small, personal gatherings, and their outdoor lawn and tent are scenic and ideal for larger events, such as the many Makers Markets and local food pop-ups they host. You can find Olde York Farm at numerous local and regional markets and fairs, providing tastings and selling products. Follow along with their journey at oldeyorkfarm.com and stay tuned to instagram (@oldeyorkfarm) for great drink recipes and the latest events.
To book a stay at their quaint B&B, visit: https://oldeyorkfarm.com/bnb
For a complete product list go to:  https://oldeyorkfarm.com/spirits
---
Galleries
Photos by Veronica Fassbender
Olde York Farm Distillery Suite
---
Surroundings
---
Distillery, Cooperage and Tasting Room
---
Visit Olde York Farm at:
284 State Route 23
Hudson, NY 12513
Website: https://oldeyorkfarm.com/
https://kingstonhappenings.org/wp-content/uploads/2019/08/Olde-York-Farm-124-1.jpg
900
1600
Kingston Happenings
https://blastserve.com/khtestbed/wp-content/uploads/2023/07/KH-Transparent-Logo-e1688304541199.png
Kingston Happenings
2019-08-22 15:33:52
2020-08-02 13:00:51
Hudson Valley History Repeats Itself with Imaginative Flair at Olde York Farm Distillery and Cooperage