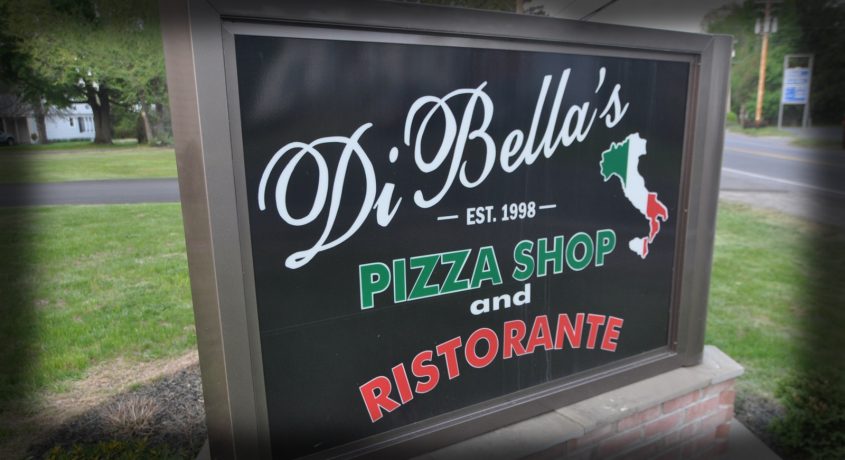 Foodie Paradiso: Sinkhole Serendipity at DiBella's
By contributing writer: Lynn Woods
Located on Washington Avenue, DiBella's Pizzeria found itself stranded after the street began to disappear into a widening sinkhole. But owners Renato and Helena Di Bella have transcended that bizarre misfortune spectacularly, with the opening, six months ago, of a full-service restaurant on Lucas Avenue. The menu at the new place complements their famous pizza and subs with numerous appetizers and delicious primi and secondi entrees. Located in a completely renovated space with a full bar, two skylights, and ample square footage, DiBella's Pizza Shop and Ristorante offers customers a true taste of Italy: chef Francesco Bagala hails from Calabria, and his cooking reflects the diverse, carefully calibrated flavors which have made various regions of his homeland a gourmand's paradise.
For example, one of the dinner specials on the day we stopped by for lunch was Tagliatelle di Castiglione, thick, spaghetti-like pasta served with a rich chestnut cream sauce. (We decided to forgo the pizza and hot and cold subs and instead order from the dinner menu; smaller portions are available for $4 off the menu price.) Other authentically Italian specials served up at DiBella's are Risotto Milanese, served with ham and salami topped with a boiled egg, Chicken Marsala with Pistachio Nuts and Branzino in Prosecco Sauce with a crunchy topping of thinly sliced potatoes. You can order sides of broccoli rabe and baby leaf spinach, sautéed in olive oil, which also lend an authentic Italian touch, as does such appetizers as the Arancini Bolognese (Sicilian rice balls filled with meat sauce, green peas and mozzarella cheese, then coated with bread crumbs and fried).
This is the place to order veal, which is prepared half a dozen variations–Francese, Marsala, Sorrentino, Saltimbocca alla Romana, Milanese, Parmiggiana, or Piccata; we ordered the Veal Saltimbocca alla Romana, in which the filet was topped with prosciutto, spinach and fresh mozzarella, a filling meal in itself (for those who don't eat veal, chicken can be substituted for each of these dishes). To start, we ordered the Eggplant Rollatini and mussels in tomato sauce (making sure, in the latter case, to mop up every last drop of marinara sauce with the crisp rounds of toasted garlic bread).
But DiBella's doesn't disappoint if your preference is for American-style Italian comfort food, with such staples as Eggplant Parmigggiana, cheese or meat ravioli, Lasagna Bolognese, Fettucini Alfredo, and Sausage & Pepper Parmiggiana on the menu. Many of the pasta entrees are made with homemade pasta. Rounding out the menu are seafood entrees—the most sumptuous of which was the Zuppa di Pesce (calamari, clams, mussels and shrimp sautéed in a marinara sauce) and the Risotto alla Pescatore, prepared with mussels, clams, crab meat and shrimp. For those seeking tasty elemental protein, Shrimp Scampi and NY Strip Steak are the perfect option.
There's also an extensive menu of homemade desserts. We tried the Limoncello Cake, rich, lemony custard over white cake served in a glass cup, with a side of whipped cream served on a plate decoratively drizzled with raspberry glaze. Despite the huge amount of food we had ordered, we had no problem downing this spectacular finish to our meal.
Owner Renato Di Bella said he's having a ball running the new restaurant, following the renovation of the building, which he did himself. "I love communicating with people," he said. "In the pizzeria, everything was to go, but here it's more one on one. I'm building relationships.Once you do that, the rest comes naturally. Good service is a reflex, and I'm pleased every day to come to work."
DiBella's Pizza Shop and Ristorante, 405 Lucas Ave., also does takeout and catering; call 339-9900. It's open every day for lunch and dinner except Sunday.
https://kingstonhappenings.org/wp-content/uploads/ngg_featured/DSC_0466_edited-1-1600x900.jpg
900
1600
Kingston Happenings
https://blastserve.com/khtestbed/wp-content/uploads/2023/07/KH-Transparent-Logo-e1688304541199.png
Kingston Happenings
2015-05-11 11:16:27
2015-05-11 11:16:27
Foodie Paradiso: Sinkhole Serendipity at DiBella's