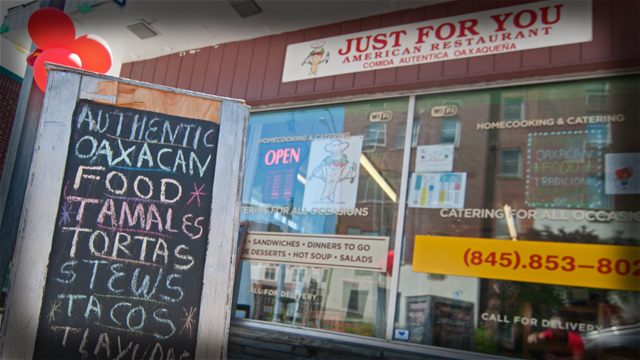 Foodie Paradiso: Just For You, in Oaxacan Style!
By contributing writer: Lynn Woods
Many of the small, more casual eateries that open on Broadway unfortunately have had a difficult time staying in business—a situation that should change when the new plantings, improved crossings, benches and other amenities the city plans to install, will result in a much upgraded streetscape. Just For You, located across the street from Kingston Hospital, has been the exception. Ines and Domingo Cruz opened the restaurant in December 2013, and ever since they've prospered as word gets around about the excellence of the food.
True to Broadway tradition, the décor at Just For You is best described as lunch-room vernacular, with a Formica counter, a collection of large and small tables, and a plate-glass window overlooking the street. It's bright, clean, and cheerful. The focus is on the authentic Oaxacan entrees, which represent an unusual variety and are of unsurpassed quality. We ordered the Enmoladads, handmade tortillas smothered in mole sauce topped with sliced sautéed onion, parsley, and cheese. The rich, tangy flavors of the mole had us begging for more; Ines explained that she doesn't use the product in the can but makes hers from a paste. She obtains the paste and other ingredients imported from Oaxaca from a supplier in New York City. Even though top quality ingredients are used which are often more expensive, Just For You has very reasonable prices. The Enmoladads, for example, consisted of a full, filling plate of food for $8.95. Three tamales with a choice of sauce or the Memelas, three tortillas topped with refried beans, cheese, lettuce and a slice of avocado with tomatillo salsa on the side, respectively cost $6 and $6.50.
We also ordered the Flautas, four fried rolled tacos stuffed with potatoes topped with guacamole and queso fresco (cheese)—one of the more unusual items. Fears that the dish might be too starchy were unfounded, given the creamy, light texture of the potato filling. The guacamole took the form of a fresh, very light green sauce, which was delicious and a perfect foil for the potatoes. On the side was Just For You's spicy tomatillo sauce.
Chicken or steak fajitas, five kinds of tacos (one option is goat, in guajillo sauce; goat is also served with rice and beans and in a consommé), quesadillas, tostadas, torta sandwiches, moltes (chorizo and potato blintzes), and the Canasta Oaxaquena, a platter with grilled onion, refried beans, grilled jalapeno, rice, tortillas and either chorizo, steak or grilled chicken (the most expensive entrée, at $12.95), fill out the menu. Given the many options for a taste of Oaxaca right here in town, we couldn't imagine ordering from the American menu, but Ines explained that much of her business is from families, and many kids prefer the American food. It includes a full breakfast menu, including Belgian waffles.
For religious reasons, she does not serve pork, and because of the family clientele, alcohol is not available. Just For You sells its homemade salsas, in 12- and 16-ounce containers, either mild, spicy, or very spicy. There's parking in the back. The restaurant also delivers (minimum charge $10). It's located at 375 Broadway and is open Sunday through Thursday from 9:30 am to 10 pm and Fridays from 9:30 am to 4 pm, closed Saturday.
https://kingstonhappenings.org/wp-content/uploads/ngg_featured/DSC_0505-copy.jpg
360
640
Kingston Happenings
https://blastserve.com/khtestbed/wp-content/uploads/2023/07/KH-Transparent-Logo-e1688304541199.png
Kingston Happenings
2015-07-26 10:43:34
2015-07-26 10:43:34
Foodie Paradiso: Just For You, in Oaxacan Style!