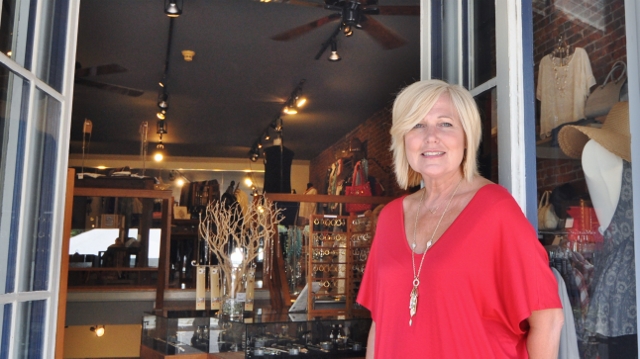 Doers and Dreamers – Beth Petramale
It's great to see the the fine art of retailing executed well with an inviting space, meticulously thought out displays, and carefully selected products. Add the charm of this week's Doer and Dreamer, Beth Petramale, and you've got a winning formula that is going strong down on the Rondout.
Your name: Beth Petramale
Business or organization: Next Boutique, 17 West Strand, Kingston, NY 12401
Occupation: Owner- or "shopgirl" as I was recently referred to as.
What is your approach to your business or occupation that makes you unique?
Lets face it, what we do here is not rocket science, we play dress up and laugh and have fun all day long with our amazing customers. Its all about relationships and our customers are loyal, enthusiastic fashionistas who love unique items. The lovely ladies who "work" here are just as excited to see our customers come out of a dressing room completely transformed by trying something that would be out of their normal comfort zone. Todays society has been fixated on ultra thin models and advertising dollars are spent on what would appear to be the perfect woman specimen being a size 0 or 2. Our average customer is a size 10 so we have expanded our inventory to include items for every size 0-16. When I first purchased the business in 2012, I was completely shocked at how many women have body issues, from the size 0's to the size 18's, teenagers to senior citizens. I wanted to rip the size labels from each item because many wouldn't wear a size "large" not knowing that sizing is different in each item.. Healthy is the new thin ladies, get over it!!!
Where are you from originally?
I grew up in Saugerties, went away to college for a few years and still live there, as does most of my family
What brought you to the Kingston area and keeps you in this area?
Our shop is in an excellent location, in the heart of the downtown area. In the summer we are blessed with the tourism from the boating community and the rest of the year the fabulous restaurants in this area bring more than a few great customers to the area.
What is your favorite hangout in this area and why?
I love the downtown restaurants… Ship to Shore, Savona's, Mariners, Grounded, and now Ole Savannah. We have a wonderful network of businesses down here who really work together to support each other. When uptown, La Canard is my absolute favorite. I am looking forward to branching out as I understand that uptown is really blossoming with great restaurants!
When you're not in Kingston, what's your idea of a wonderful city to visit, and why?
Believe it or not that would be Lawton, Oklahoma. My son is a Lieutenant in the Army and is stationed there right now. I visit probably more than I should but I've heard that mothers of only sons are a different breed. I am immensely proud of his accomplishments but I miss him terribly…
Tell us something that we never would have guessed about you.
I LOVE to golf. I would golf every day if my schedule allowed it. I've golfed almost all the courses in Ulster County and enjoy doing tournaments especially with my brothers who love to critique each shot..
https://kingstonhappenings.org/wp-content/uploads/ngg_featured/DSC_0255-640x359-1.jpg
359
640
Kingston Happenings
https://blastserve.com/khtestbed/wp-content/uploads/2023/07/KH-Transparent-Logo-e1688304541199.png
Kingston Happenings
2015-07-13 12:48:55
2017-03-07 11:50:17
Doers and Dreamers – Beth Petramale