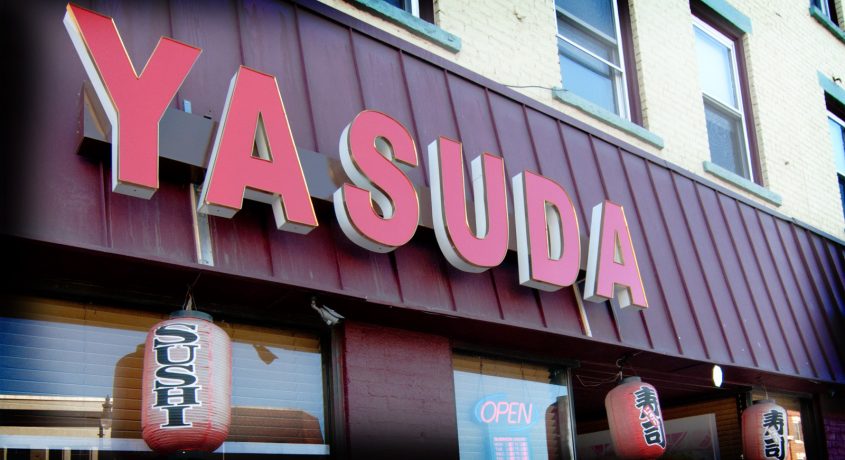 Foodie Paradiso: A Sushi Oasis on Broadway at Yasuda
By contributing writer: Lynn Woods
You know Midtown has arrived when there's a sushi place right on the corner of Broadway and Cedar. Unfortunately, the pioneer, a place called Momiji, failed to make a go of it, but in September Oscar and Sanny Zheng, transplants from New York City, bought the restaurant, renamed it Yasuda, and ever since have been serving up rolls, sashimi, teriyaki, tempera and noodle dishes at very affordable prices. The lunch special, served from 11:30 to 3 pm, can't be beat for a taste of Japan at bargain prices: a bento box of chicken, shrimp, beer of salmon teriyaki or sushi is $8.95, while the hibachi lunch special—soup, salad, grilled chicken, shrimp, steak, salmon or a vegetable–is under $10. The Hibachi dinner goes for a little more, but is still under $20. Yasuda also serves a few Chinese entrees.
With prices so low, there's no longer an excuse not to feast on sushi, except that it has to be fresh, of course, and in that department, Yasuda doesn't disappoint. At a recent lunch of yellowtail, salmon, and mackerel sashimi—sliced, bite-size pieces of raw fish curled around a dollop of rice— two California and Salmon rolls, and the Fancy Roll, a combination of tuna, salmon, yellowtail, cucumber, and avocado
wrapped in yellow soybean paper, we hesitated to take the first bite, so beautiful was the presentation. The sashimi and sushi rolls were served on a board that resembled a miniature landscape, with clusters of erect sticks and parsley sprigs representing trees and bushes, wispy, curly white onion strips clouds of mist and the small straw mat on which the food rested, arranged to form a topography of ridges, a rocky ground. The pale yellow crescents of the pieces of Fancy Roll were arranged in a semi-circle on a white plate playfully embellished with a sketch in brown eel sauce of a swimming carp, complete with bubbles. After the first bite of succulent, tender fish, however, followed by a taste of the almost sweet, custardy Fancy Roll, the cartoon of the carp and dreamy Eastern landscape were soon annihilated. We also ordered a plate of negamaki, tender slices of beef rolled tightly around a filling of scallions flavored with ginger and miso. (Negamaki is always my test of quality: the beef should be melt-in-your-mouth tender. Suffice it to say the nekamaki disappeared almost as fast as the sushi.) Meanwhile, Sanny kept our mugs filled with hot, fragrant tea, which was much appreciated on the 20-degree day.
The house specialty rolls, of which there was a substantial list, are a creative outlet for Oscar, who came out from behind the sushi bar briefly for a picture. Specials are listed on a blackboard, of which the star attraction, according to Oscar, was the Out of Control Roll, a medley of tuna, salmon, white fish, and eel with avocado and mango flavored with eel sauce, textured with tempera, and served with a mango salsa ($13.95).
Like many sushi chefs, the Zhengs are actually Chinese and learned the subtleties and skills of the Japanese cuisine at Sanny's cousin's place in Ohio. Yasuda is the young couple's first business, and Sanny said Kingston was attractive because of the relatively low rent, compared to the cost of space in New York City.
They order much of their ingredients direct from Japan and buy fresh fish, currently in small quantities, to match the demand, on visits to New York City during the week. Their cousin, Tom Chen, helps out in the kitchen, and they hope business at the Broadway location, which has traditionally been problematic, despite the visibility and plenty of parking in the back, will pick up.
Located at 579 Broadway, Yasuda is open from 11 am to 10 pm Monday through Thursday and from 11 to 11 on Friday and Saturday. Initially the restaurant was open seven days a week, but Sanny said that prevented the couple from spending time with their two-year-daughter.
https://kingstonhappenings.org/wp-content/uploads/ngg_featured/DSC_0809-copy.jpg
900
1600
Kingston Happenings
https://blastserve.com/khtestbed/wp-content/uploads/2023/07/KH-Transparent-Logo-e1688304541199.png
Kingston Happenings
2015-03-20 10:18:50
2015-03-20 10:18:50
Foodie Paradiso: A Sushi Oasis on Broadway at Yasuda