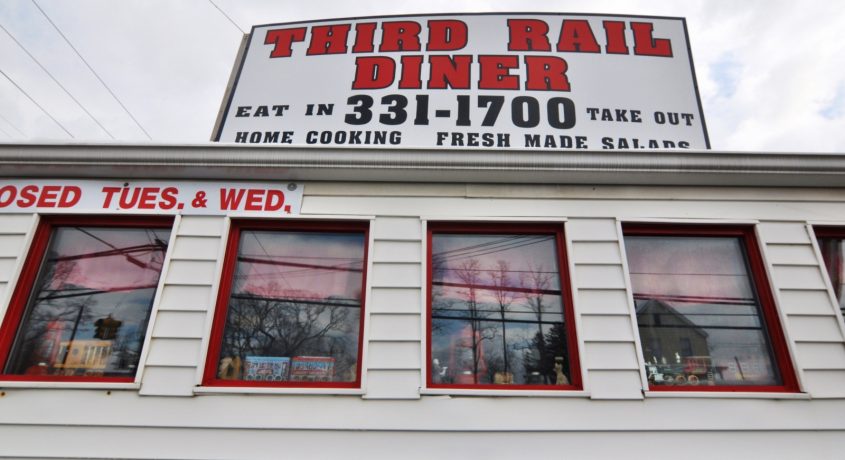 Foodie Paradiso: A Journey Back in Time at the Third Rail
By contributing writer: Lynn Woods
The Third Rail, located in a pint-sized wooden 1927 diner on East Chester Street, is a breakfast-and-lunch place that harks back to a time when factory workers crowded Kingston's main streets and tugboats clogged Rondout Creek. It's a trip down memory lane, with its row of vintage red vinyl upholstered stools, Coca Cola water glasses, framed photos of trains and vanished local street scenes, and charming square windows, which suggest the straightforward simplicity and design of a toy. (The diner is an example of a starter model and as such is exceedingly rare, since such small wooden cars were usually replaced by larger, shiny metal diners as the owners expanded their business.) Before the proliferation of fast-food national chains, diners fulfilled the public's need for fast, scrumptious eats, and the Third Rail gloriously maintains that tradition. Owners Linda and Tom Winnie whip up omelets, pancakes, burgers, hot dogs, grilled cheese, BLTs, and grilled chicken and fried fish sandwiches from the narrow space behind the counter, all cooked from scratch on the small grill using fresh ingredients. Sides like corned beef hash, home fries, and brown gravy are a taste adventure into the past, though there's nothing musty about the ambience: Linda and Tom, who bought the place, formerly called EAT, three years ago, enjoy cracking jokes with the regulars. With your fellow diner just an elbow's width away, conversations naturally evolve, so you can get caught up with the weather, local news, skiing in the Adirondacks, and the complicated familial connections of Kingston's natives.
Thanks to the internet site Yelp, the Third Rail Diner is more than just a local hangout. It attracts patrons from as far away as New York City and Massachusetts, who make a detour off the Thruway or Route 9W to get here. (Bus tours however are out of the question, given that seating is limited to 19.) After ordering the Trolley Burger, I could see why the Third Rail has attracted a following: the thick, medium rare hamburger, piled high with lettuce, tomato, cheese and the slightly tangy Rail Sauce, concocted from a secret family recipe, was filling and delicious, though impossible to fit into my mouth. (I resorted to a knife and fork and made a mess of things.) Across the table, my fellow diner, Kevin Godbey, was busy slicing into the largest pancake either of us had ever seen. It was literally the size of a family pizza, flavored with blueberries and liberally doused with real maple syrup. The large quantities of our order were not reflected in the price, however, which was $7.75 for the burger and $6.50 for the pancake—two-for-one in the case of the pancake since Kevin ended up taking more than half of it home.
The two homemade soups for the day were tomato rice and green pea,  which had just the right consistency and were very tasty. The tomato rice was a thick concoction with a balance of sweet and vinegary flavors, utterly delicious, and the green pea was loaded with potato chunks. The side orders of coleslaw and macaroni and potato salads were also homemade and quickly gobbled up. Breakfast here is probably cheaper, and more full of protein, than what you would eat at home: two eggs and a side of toast is priced at $3.45 and costs less than $6 with a side of home fries or corned beef hash under $6. A large coffee is $1.65.
Besides its retro charm and filling food, the Third Rail entertains visitors with a special attraction: a model train, complete with track and miniature buildings and trees, has been installed under the glass counter, and after years of malfunctioning, it now actually works. On request, Tom will flick the switch, enabling you to enjoy the unique experience of feasting on the world's largest pancake while a miniature locomotive races past beneath your plate.
The Third Rail Diner is open 7 am to 3 pm Thursday through Sunday. It's located at 336 East Chester Street and there is plenty of parking in the back. 331-1700.
https://kingstonhappenings.org/wp-content/uploads/ngg_featured/DSC_0148-1600x1063.jpg
1063
1600
Kingston Happenings
https://blastserve.com/khtestbed/wp-content/uploads/2023/07/KH-Transparent-Logo-e1688304541199.png
Kingston Happenings
2015-02-09 16:14:24
2015-02-09 16:14:24
Foodie Paradiso: A Journey Back in Time at the Third Rail