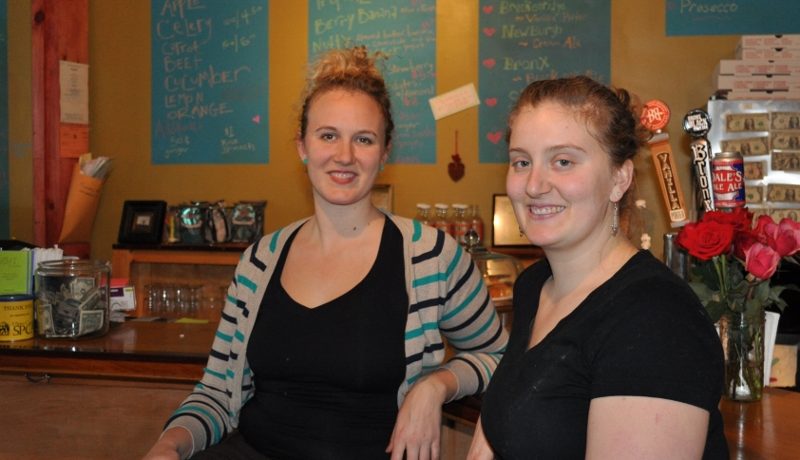 Doers and Dreamers – Shani Francese-Smith and Denee Francese-Smith
Your name(s):  Shani Francese-Smith and Denee Francese-Smith
Business or organization: Sissys Cafe

Occupation: Cafe owners
What is your approach to your business or occupation that makes you unique?
We really care about our customers. We care about their health, diets and allergies. We are known for our gluten-free friendly menu, but we don't stop there. Most of our soups and grill items are made with coconut oil. Most restaurants use vegetable oil or canola oil, which are at least 10 times cheaper, but really bad for you once heated up. If you have a dietary need, chances are we can accommodate you.
Where are you from originally?
We are from New Paltz. We bring some of the New Paltz vibe to Kingston and I think it works well. A lot of our customers are from there or have lived there or attended school there, so we see a lot of familiar faces, which is nice.
What brought you to the Kingston area and keeps you in this area?
Since growing up in the Hudson valley, we were always familiar with Kingston. But what really brought us to this space in particular is our landlord. He is a good friend of ours and knew we were both really hard workers and capable, so when the space opened up, he asked us if we were interested. We scrambled some money together and Denee finished college JUST in time to open. We knew the area was really flourishing and our location across from BSP seemed too good to be true. We now consider ourselves part of the neighborhood and love it.
What is your favorite hangout in this area and why?
Well, since recently opening for dinner and receiving our beer and wine license, we tend to hang out here on the weekends at night. We are starting to have music on the weekends and and every second and fourth Thursday we have "Sissys Sound Bites" which is a more organized open mic. Its acoustic and really cozy. Since the Sissys employees are really like family, it works out perfectly. Plus, we have really yummy beer and kombucha and wine and prosecco on tap, so that helps.
When you're not in Kingston, what's your idea of a wonderful city to visit, and why?
We both traveled in South America in 2009, and loved Buenos Aires. It was beautiful, near the water, so much culture and music and dance. It was very cool to be in a Spanish speaking country, with such an Italian influence. Kind of like the best of both worlds.
Tell us something that we never would have guessed about you.
We were both homeschooled until high school. That is probably why we are so close. We were part of the group Ulster Home Educators. It was a really amazing experience and has shaped us in a lot of ways.
https://kingstonhappenings.org/wp-content/uploads/2014/02/DSC_0073-800x535.jpg
535
800
Kingston Happenings
https://blastserve.com/khtestbed/wp-content/uploads/2023/07/KH-Transparent-Logo-e1688304541199.png
Kingston Happenings
2014-02-05 16:07:16
2017-03-07 11:49:38
Doers and Dreamers – Shani Francese-Smith and Denee Francese-Smith