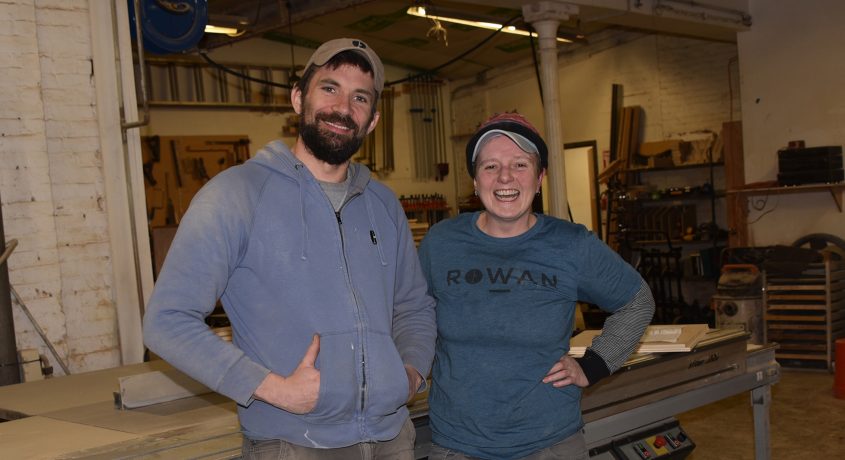 If you poke around the nooks and crannies of Midtown Kingston, you may be surprised at the number of small businesses flourishing in that area these days and their usage of formerly vacant or under-utilized buildings is something we should all be grateful for.  Recognition has already been given to the number of arts-related businesses in Midtown and at first glance cabinet making and woodworking may not seem to fit into that category, however there really is a component of artistry associated with it. Making cabinets and other wooden structures requires  an engineer's  discipline to ensure the functionality and durability of the finished product, but also requires the eye of an artist to leverage color, texture, patterns and more to design a product whose aesthetics really 'wow' a customer as well.  This weeks Doers and Dreamers have converged on a location in Midtown and I'm sure many happy future clients will be glad that they did.
Your name: Suzanne Walton / Tim McCann
Business or organization: Rowan Woodwork  477b, Hasbrouck Ave., Kingston, NY
Occupation: Cabinet makers
What is your approach to your business or occupation that makes you unique?
The way that we interact with our clients is what makes us unique – Many people can build cabinetry but helping a client figure out what they actually need and how they will use the space before we build it is really what we love to do . We spend time with our clients at their home and we talk and we continue talking throughout the whole process , we encourage our clients to look online at images they love and hate , of details , wood species and colours , hardware , pulls and interesting or unusual task specific hardware that will make their daily lives easier … we tell them " send it all – don't edit and we will figure it out together ." We are completely available to our clients through this process as it takes time and effort and we need to really listen so that we can give them what they need.
The result always blows them away – as we create what they dreamed of and there's nothing more rewarding than that moment.
Where are you from originally?
Suz – Manchester, England
Tim – Red Hook, New York
What brought you to the Kingston area and keeps you in this area?
Suz – I am originally from the North of England and I moved here because it feels like home – it did immediately. The river , the rolling green hills and the change of the seasons all feel so familiar to me.
Tim – I come from a large family most of whom are still in the Kingston Area, so babysitting for my 3 year old is rarely a problem. The old adage is true it takes a village. I like what is happening in Kingston, the artisan trades are flourishing.
What is your favorite hangout in this area and why?
Suz – My favourite hangout – hmmmm wow – there's so many ! But if I had to choose one over the rest it would be the river – I am a river rat – I have a 36ft sailboat and spend a lot of my time on it ….I am also a member of the Rondout Rowing Club – so in the early mornings april thru november – you'll find me on the river in a rowing shell – in the evenings on my paddle board or sailing ….
I'm not sure I could live anywhere else – Living on the Hudson river changes you – it becomes a part of you – the sunsets , the sunrises ,the ebb and flow of the tides and the amazing sailing … everyday is different yet familiar ….
Tim – I stopped in to Rough Draft the other day with my wife and son and loved it. Great drinks, and the food was excellent. I do love the mid-town center Friday nights during the winter where I sponsor and play in the over 30's men's basketball league.
Tell us something that we never would have guessed about you .
Suz – people who know me know me as a very outgoing , chatty person who can literally talk with anyone and loves people and interacting with everyone – strangers are friends in seconds …. however put me in a room of people and tell me I have to give a speech / talk or do any form of public speaking and I will literally vomit – it terrifies me – my hair stands up on my neck ,heart races , I can't think or read or speak … it's really quite amusing to people who know me well as it literally is not who I present as I guess ….
Tim– Ditto…
https://kingstonhappenings.org/wp-content/uploads/2018/01/DSC_3565_edited-2.jpg
2817
5008
Kingston Happenings
https://kingstonhappenings.org/wp-content/uploads/2013/10/Final-KH-Logo.png
Kingston Happenings
2018-01-23 11:53:06
2020-02-25 12:00:09
Doers and Dreamers – Suzanne Walton and Tim McCann