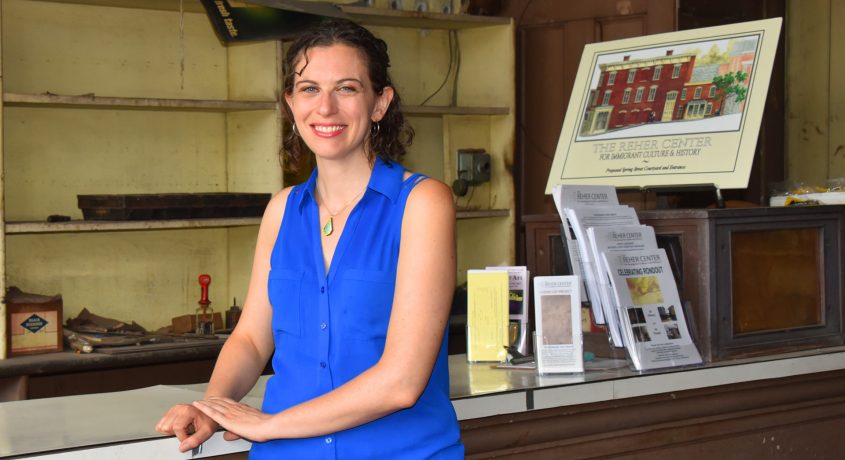 Doers and Dreamers – Sarah Litvin
Besides just attracting $$$$$ to the area, Kingston's resurgence is drawing individuals with talent, energy, and 'fresh eyes' to the community which can translate to a more effective utilization of the assets that have always been here. The historic aspects of any locale can be leveraged to establish an identity, attract visitors, and ultimately investors but usually that history is presented in layers defined by years. This week's Doer and Dreamer is on a mission to help people understand Kingston's history by pulling a single thread and weaving what will likely be an intricate story.
Your name: Sarah Litvin
Business or organization: Reher Center for Immigrant Culture and History
Occupation: Museum Curator and Educator
What is your approach to your business or occupation that makes you unique?
Most people think that history museums are about old stuff–and anyone who's ever peeked in the window of the Reher Center knows that we have amazing old stuff! But I'm actually more interested in telling stories than I am at showing cool stuff. I am working with the Reher Center Advisory Committee to create a plan for a museum that will invite visitors to the bakery to consider the choices the Rehers made (and didn't make) by highlighting a few important moments in the life of the bakery (1907-1980s). Why did Frank Reher open this business in Rondout in the first place? How did various family members weigh their own dreams vs. their obligations to the family business? How did they maintain a business (and their sanity) while working and living together with five siblings? How did they adapt their business to adjust to changes in the neighborhood; especially when urban renewal decimated their local customer base? All of these quandaries, which are specific to the Rehers' lives, will help us to discuss issues that are pertinent for Kingstonians today, including the role of immigrants in our communities, the needs of small businesses and entrepreneurs, and how to build and sustain community during times of change.
Where are you from originally?
I grew up in Bridgewater and Newton, Massachusetts. After attending college in Ohio, I lived in Mississippi for a year before landing in New York City, where I've been for the last decade. I just arrived in Kingston on July 1 and I've fallen hard for this place already!
What brought you to the Kingston area and keeps you in this area?
Last summer, Ward Mintz invited my former boss from the Lower East Side Tenement Museum, Annie Polland, to come visit the Reher Center. Annie told me about the project and encouraged me to come check it out. The rest, as they say, is history!
What is your favorite hangout in this area and why?
Though I just arrived, one of the most amazing places I've been so far is the Widow Jane mine in Rosendale. I saw a flier there for a "Subterranean Poetry Festival," which sounds phenomenal!
When you're not in Kingston, what's your idea of a wonderful city to visit, and why?
For years, I had dreamed of going to visit Rochester, New York. This spring, I finally got to go and it didn't disappoint. When I'm not working at the Reher Center, I'm a doctoral candidate in U.S. history studying gender and the Progressive Era (1890-1920ish). So many amazing women lived and worked in Rochester during this era: Susan B. Anthony, Emma Goldman (The anarchist and activist), Lillian Wald (the founder of Henry Street Settlement House which was the impetus for the Visiting Nurse Service of New York) to name just a few. It was exciting to get to go and pay my respects to them—and to Frederick Douglas. I also got to see the Eerie Canal for the first time, played with some antique video games at the Strong Museum of Play, and I did dissertation research at the amazing Eastman School of Music and Eastman House Museum.
Tell us something that we never would have guessed about you.
I was determined to learn how to hula-hoop when I was in sixth grade, and I practiced in my room for hours every day. I know Kingston already has a soap box derby, a boat-building competition, and more. But if someone wants to start a hula championship, then count me in!!
https://kingstonhappenings.org/wp-content/uploads/2017/07/DSC_9543_edited-1.jpg
1080
1920
Kingston Happenings
https://blastserve.com/khtestbed/wp-content/uploads/2023/07/KH-Transparent-Logo-e1688304541199.png
Kingston Happenings
2017-07-25 16:46:45
2020-02-25 12:00:11
Doers and Dreamers – Sarah Litvin