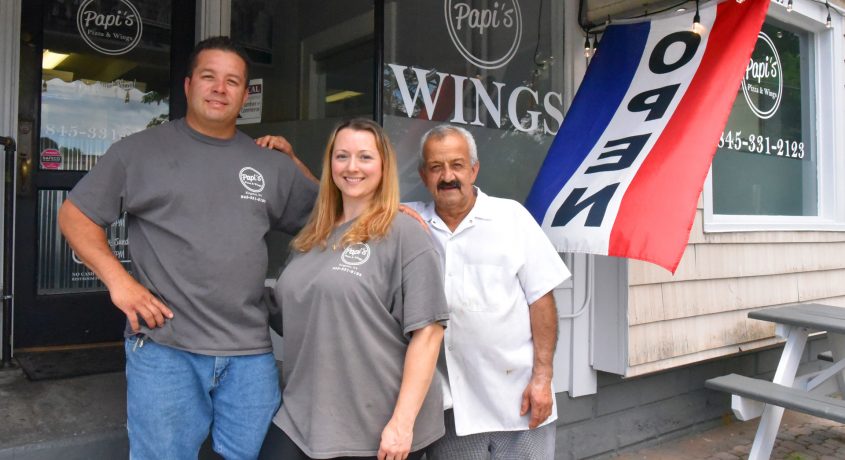 Doers and Dreamers – Elkin, Elkin, and Miranda Escobar
They say "nature abhors a vacuum". Evidently, so does the pizza market because this week's Doers and Dreamers resurrected a former pizzeria that was a victim of the infamous sinkhole of Washington Ave. which served a large, mostly residential area of Kingston for years.  There is an abundance of pizzerias in Kingston but these guys are taking a slight twist on their style pizza and wings while sticking with a mostly traditional menu for this style of eatery. I wouldn't be afraid to bet that across the board, belt sizes will be increasing substantially in that neighborhood in the near future given the proximity to such a convenient dining option.
Your name: Bringing delicious recipes to your taste buds are owners, Elkin "Papi" – the patriarch of the Escobar family and namesake of their famous "Elkin Wings", and Elkin & Miranda Escobar. (Yes, there really are 2 Elkins!)
Business or organization: Papi's Pizza & Wings  55 Washington Ave., Kingston, NY
Occupation: Restaurant Owners/Operators
What is your approach to your business or occupation that makes you unique?
At Papi's, everyone is part of the family. When you walk through the door you are greeted with friendly staff and feel right at home. We're a family business and feed everyone as if they were sitting around our own dinner table. Papi's menu boasts specialty thin crust pizzas and one of a kind "Elkin Wings", with quality interpretations of classic dishes. Plus, you'll only find this true thin crust pizza at Papi's!
Every Monday is Appreciation Day at Papi's, and each week different members of our community enjoy 20% off their orders… some past examples are teachers, city staff, realtors and nurses! Papi's also offers a 10% discount every day for military, veterans and to first responders on duty. Our family has always been involved in our community, and we believe in giving back and taking care of those who volunteer and sacrifice for us as well.
Papi's has it's own version of Taco Tuesday… taco pizza, nachos and homemade chili! Plus every Thursday we have delicious, authentic Colombian specials.
Where are you from originally?
Miranda grew up in Kingston and aquired the love of cooking and feeding others from her grandmother. She spent much of her childhood in her grandmother's Broadway restaurant, Heidi's Ice Cream Café.
What brought you to the Kingston area and keeps you in this area?
Miranda naturally migrated back home after many years, to begin a new adventure with her family. Elkin (Papi) brings over 35 years of restaurant experience to the new shop which translates through his delicious dishes, homemade sauces and soups. The dream of Papi's Pizza started long ago between the 3 owners out of this area, but when the opportunity came around to open in the trending City of Kingston, they were happy to bring a whole new taste to the area.
What is your favorite hangout in this area and why?
Living close to uptown Kingston, we tend to gravitate to that area and love the local family run restaurants and shops. Since moving back home last year, it's been refreshing to see Kingston coming back to life from uptown to downtown, and everywhere in between.
When you're not in Kingston, what's your idea of a wonderful city to visit, and why?
We previously lived in Rockland County, which was only a 30 minute drive to Manhattan. Having the city that never sleeps that close to you was a treat to just hop on a train with our daughter to spend the day exploring and have a change of scenery.
Tell us something that we never would have guessed about you.
Elkin and Miranda had their 1st date at a pizza place 16 years ago.
https://kingstonhappenings.org/wp-content/uploads/2017/07/DSC_9291_edited-1.jpg
1080
1920
Kingston Happenings
https://blastserve.com/khtestbed/wp-content/uploads/2023/07/KH-Transparent-Logo-e1688304541199.png
Kingston Happenings
2017-07-18 15:57:12
2020-02-25 12:00:11
Doers and Dreamers – Elkin, Elkin, and Miranda Escobar