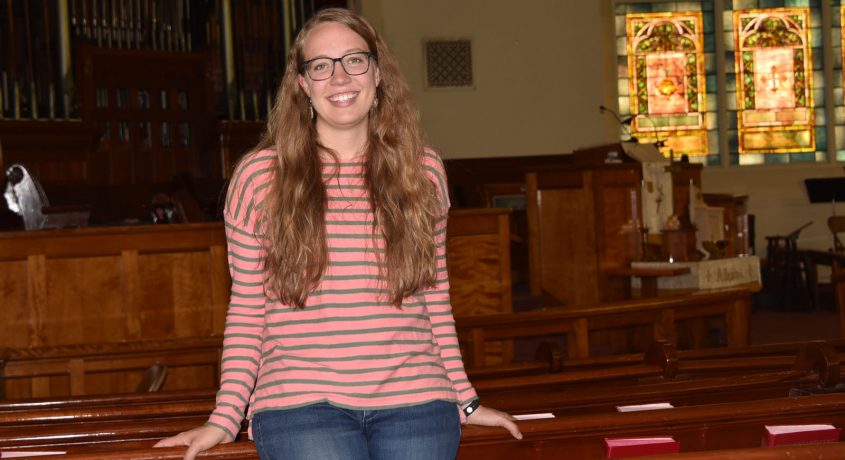 Doers and Dreamers – Jordan Scruggs
Yes, the Kingston area has had it's share of artists, writers,musicians, media mavens, etc., descend upon it, but there are a number of others that are dedicated to working with our community in various capacities that have also moved to this area. We are certainly fortunate for that because not everyone has the desire to, or is capable of dealing with the full spectrum of needs that people in a community may have and those that fill those roles may not always get the appreciation they deserve. In many cases those needs are seeded in poverty, mental illness, lack of basic life skills, and sometimes just unfortunate circumstances. Say 'hello' to this week's Doer and Dreamer who has enthusiastically plugged herself into our community on many levels, fulfilling a calling that few others have.
Your name: Jordan Scruggs
Business or organization: Saint James United Methodist Church
Occupation: Outreach Coordinator
What is your approach to your business or occupation that makes you unique?
I think the most important component of our work in Outreach at Saint James is that there is a strong commitment to relationship in every project we undertake. Many service organizations do good work but lack the structure or capacity to engage with individuals their programs are meant to serve, at least outside of the professional/client relationship. One of the wonderful things about a solid religious community is the capacity for agenda-less relationships. Congregations that are intentional about and committed to social equity can function as spaces for profound engagement across boundaries (socio-economic, racial, linguistic, etc.) that normally isolate us from one another, specifically by offering a common cause around which to unite that transcends (but does not erase) personal identities. Our congregation is by no means perfect and we have much work left to do, but I feel personally fortunate to have been called to work in a place that wants to become a place for genuine connection and community engagement.
Where are you from originally?
Hendersonville, North Carolina. It's in the mountains about a half an hour from Asheville.
What brought you to the Kingston area and keeps you in this area?
I first came to Kingston in January of 2014 after being hired as a social justice intern for Saint James while I was finishing my Master's degree at Yale Divinity School. I found out about the position rather serendipitously while I was eavesdropping on a conversation between the Deacon at our church, David Clegg, and the internship coordinator for our program. I was looking for work at the time and the position was ideal. After I graduated in May of 2015 I started full time at Saint James. My work has definitely had its ups and downs – we've had our differences, as I am sure anyone at the church will tell you! – but Kingston continues to be an incredibly rich place for me to learn and grow. I feel personally invested here and consider Kingston to be my home – there is a wonderful sense of community and belonging that continues to tether us here.
What is your favorite hangout in this area and why?
We recently bought a house in Midtown, and I have to say our block. There are some gardening boxes in the pocket park on our street, and I've had a lot of fun planting things with our neighbors, especially the kids – it brings me so much joy when they show up on my porch and ask what we can do for "gardening club," that day. As for more formal places, best daytime hangout for wifi and coffee is Peace Nation Café, unless I'm in Uptown for a meeting at the church. Deena at DMZ makes great vegetarian Cuban sandwiches and a kimchi omlette brunch special that is to die for. She's also from North Carolina and still has a bit of the southern twang, so I go there whenever I am missing home.
When you're not in Kingston, what's your idea of a wonderful city to visit, and why?
I love Boston. It's not terribly far away and there are so many things to do. And a mountain of bookstores – always essential. On a more personal note, some dear friends of ours have continued their studies in the Boston area, so there's always a couch to crash on and great company.
Tell us something that we never would have guessed about you.
My favorite place to volunteer is Woodbourne Correctional Facility. I teach a college level introduction to biblical studies class there every Friday night during the academic year.
https://kingstonhappenings.org/wp-content/uploads/2017/06/DSC_8112_edited-1.jpg
900
1600
Kingston Happenings
https://blastserve.com/khtestbed/wp-content/uploads/2023/07/KH-Transparent-Logo-e1688304541199.png
Kingston Happenings
2017-06-07 07:39:15
2020-02-25 12:00:11
Doers and Dreamers – Jordan Scruggs