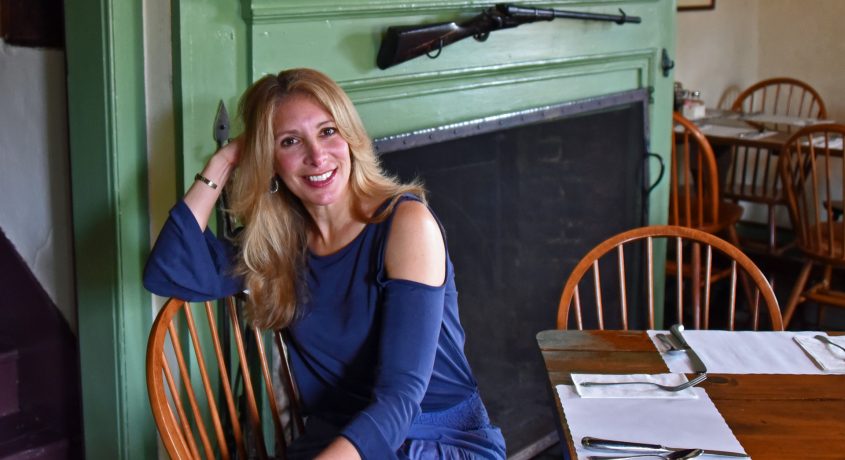 It was certainly appropriate to photograph this week's Doer and Dreamer in a thriving and venerable restaurant(the Hoffman House) that emanates the feel of 18th century tavern because her business is centered around exploiting the many assets of Kingston and its surrounding area. Historical buildings like the Hoffman House which date from the 17th century through the 20th century are very prevalent and have a huge influence on making this region a desirable destination for visitors, new residents, investors, and filmmakers who are now showcasing this area to the world. We are very fortunate to have someone in the community like Jillian Fisher who brings a lot of experience and savvy to play a few roles that all involve promoting the positive aspects of this area.
Your name: Jillian Fisher
Business or organization: Jillian Fisher Public Relations/Locations
Occupation: Jillian Fisher Public Relations – CEO
Jillian Fisher Locations – Location Scout & Community Liaison for Movies
Producing Partner of upcoming film, "The Traveler", based on the short story by Stefan Bolz.
What is your approach to your business or occupation that makes you unique?
Whether it's a a public relations strategy or a location, I am able to quickly assess my client's needs and create a solution that differentiates them from their counterparts. Plus, no matter who I am with, I am always myself. That tends to place others at ease almost immediately.
Where are you from originally?
My family moved from Forest Hills, Queens to Kingston in 1972, just before my third birthday.
What brought you to the Kingston area and keeps you in this area?
My parents wanted to raise their children in a small city in the countryside which is how they chose Kingston. After living in South Florida for a number of years, my husband & I returned here in the mid '90's for the same reason.
For location scouting purposes I have made our area seem like just about everywhere, including India for one film. Recently I was out with a director who was ready to film in New Mexico. Unfortunately, I could not create the desert in the Hudson Valley. But I could create something similar to Colorado. He's now set to film here this summer.
What is your favorite hangout in this area and why?
My business meetings always seem to occur Uptown. Just about every producer & director I meet for the first time, I do so Uptown for coffee. It's really important to know where to get good coffee and where to find really good restaurants that accommodate everyone's food requirements. However, for coffee, breakfast, & extremely long walks with my daughter, we always seem to begin on the Strand.
When you're not in Kingston, what's your idea of a wonderful city to visit, and why?
It seems I'm drawn to cities in which one can walk. When I'm in a place like L.A. I really miss the sense of community that one feels when one can absorb an area on foot.
Tell us something that we never would have guessed about you.
I have listened to music consistently (and eclectically) since I was very young. I know songs from the Andrews Sisters & Sinatra, the British Invasion, soul, '70's mellow & classic rock, new wave, classic country, hairbands and a lot of current music – all by simply hearing the first note. That's actually why there was no room for geometry.
https://kingstonhappenings.org/wp-content/uploads/2017/05/DSC_7968_edited-1.jpg
1080
1920
Kingston Happenings
https://kingstonhappenings.org/wp-content/uploads/2013/10/Final-KH-Logo.png
Kingston Happenings
2017-05-30 18:29:11
2020-02-25 12:00:11
Doers and Dreamers – Jillian Fisher