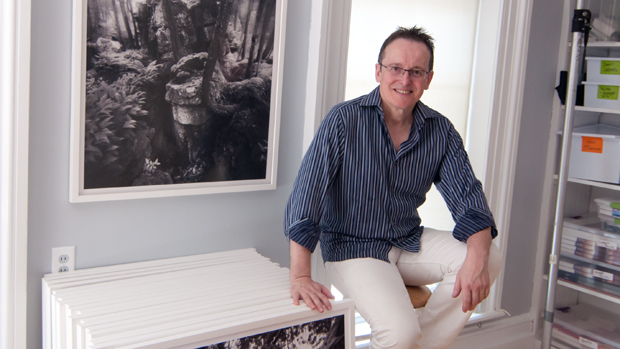 Doers and Dreamers – Tim Atkinson
If being a 'Citiot'(as Tim has been called) means investing in the restoration of grand old homes and making a unique contribution to the local arts scene while having a deep appreciation for all of the assets that our  community has, I'd say that we may have a new marketing campaign for promoting the city in the making. Does anyone want to take a crack at designing that t-shirt? This week's Doer and Dreamer, Tim Atkinson, has journeyed indirectly here from 'across the pond' to make Kingston his home and will be this month's featured artist at the Artbar gallery on Broadway. His sophisticated and somewhat ethereal treatment of some of our local scenery as seen below, is very impressive especially in the large format that it will be presented in. His work can be viewed at the Artbar as part of this weekend's First Saturday gallery openings.
Your name: Tim Atkinson
Business or organization: Just me, in Kingston anyway. I take photographs
Occupation:
The one I want to talk about is Photography. Especially because I have a solo show opening at the ARTBAR Kingston on June 6th. You all have to come, it is on until June 28th. If you spend any time wandering in the mountains around here I think you will love it. They are the big black and white images that you can kind of take a walk in. I see all these pathways that seem to lead to enchanted places, and that's what the work is all about. I also have a pretty good day job in the city, working for a trade association. Right now we are teaching banks in Colombia about new ways to provide funding for medium size businesses. So that's kind of cool. But it isn't really part of my life here in Kingston, other than paying for it.
What is your approach to your business or occupation that makes you unique?
This current series of work came out of a bad period in my life. I had an extremely cool job at the time running a nonprofit I cared a lot about, and because I was so emotionally involved when things went wrong, I went into a horrible downhill spiral. Fortunately around that time I happened to take a photograph of a twisted old tree I liked, and when I worked on it later I found out why I liked it. There were all these elements in the photo that seemed important. There were a couple of paths past the tree that led into the forest, one was clear and bright, the other more overgrown. The tree itself had its story, like two wizened lovers in an eternal embrace. But most of all, it resonated powerfully with my search for ways out of the emotional dark place. I was a traveler in a dark forest of despair, and through my photography I could believe in my future.
The core works in EnTrance are all taken within 30 miles of Kingston, and the earlier part of the series was entirely about exploring pathways, such as the tortuous passages through the Labyrinth at Mohonk. That particular image, which I used in the publicity for the EnTrance show began to introduce another element. The Obelisk in the image looks like an ancient ruin that towers about a deserted shrine. By this time, I had indeed begun to find my way in life out of the quagmire, and I felt that what I was seeing were not just paths that I could follow in my mind, but pathways that were still being traveled by some ancient people. I imagine their spirits being too rooted in the land to leave it, and the woods themselves being filled with the presence of their gods.
On a pragmatic level, that is just the technique I use to take my photographs. I think a successful photo show is like a piece of theater. It takes you into its world for a little time, and gives you space to explore your own thoughts and feelings.
Where are you from originally?
Given who burned Kingston to the ground in 1777, the less said about that the better!
What brought you to the Kingston area and keeps you in this area?
We first bought a house here to hike. It was a little house in the country, where we intended to have romantic post-hike dinners around the fire. The city was where we would do our socializing, right?
Ten years later we hardly see people in the city during the week, and have wonderful weekends with a host of amazing and creative people in the Kingston area. We needed a bigger house to entertain, and were honored to see ourselves labeled "Citiots" in the local social media when we bought a stunningly beautiful 6 bedroom Victorian house on Fair Street. It is a great base to get to know so many of this local community even better.
What keeps us here?
#1-The people! And the creative energy.
What is your favorite hangout in this area and why?
This is a tough question to answer because I am friendly with so many folks who own the incredible cocktail bars and restaurants that put Kingston into a new league. I love you all!
But I do want to give a special mention to Dena at Cafe East, the nearest restaurant to us on Fair Street. If you haven't tried Dena's cooking yet, go! She blends Asian spices and local ingredients to fit in with the MASH inspired decor. It's an intimate little place with plenty of chance to get to know Dena and Daniel. You can sit at the bar and watch Dena lovingly prepare your meal. Not only will you feel good after it, It is going to taste amazing.
When you're not in Kingston, what's your idea of a wonderful city to visit, and why?
Lisbon. I was just there for my sister–in-laws 25th wedding anniversary. We chartered a tram and were driven around a landscape that makes San Francisco look flat, drinking champagne and wondering how the trams fit into the narrow streets.
Just outside Lisbon, in Sintra, the aristocrats had their summer palaces, and competed with one another about whose could me the most outlandish. At my favorite you can walk to the back of a waterfall, where you find the entrance to a cave. The cave turns out to be a long tunnel, that branches off to a few interesting grottos. One tunnel leads you to the bottom of a deep well, which is like an inside-out tower. You climb the spiral staircase up to daylight, but still need to find which panel of rock to push on until it swings aside and lets you out.
Tell us something that we never would have guessed about you.
I play the blues harmonica. I used to do a few sit ins with The Bloodletters at Keegan Ales.
https://kingstonhappenings.org/wp-content/uploads/2015/06/DSC_0251_edited-620w1.jpg
349
620
Kingston Happenings
https://blastserve.com/khtestbed/wp-content/uploads/2023/07/KH-Transparent-Logo-e1688304541199.png
Kingston Happenings
2015-06-01 13:01:36
2017-03-07 11:50:18
Doers and Dreamers – Tim Atkinson