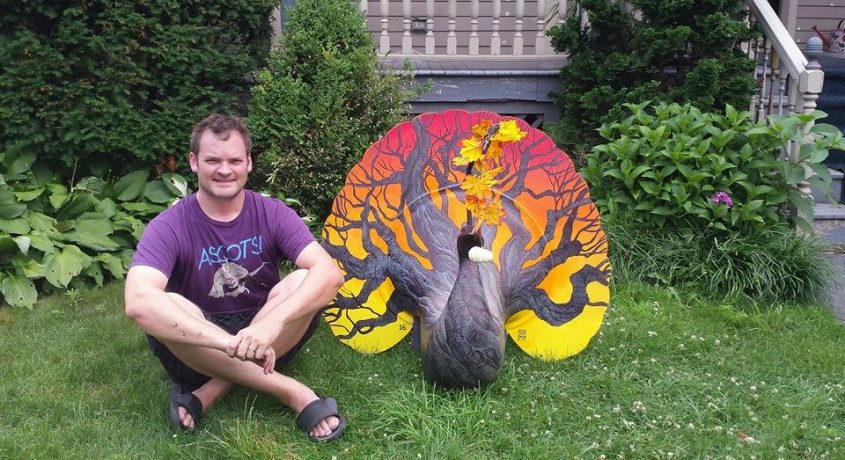 It's not often that you meet someone that actually has their fantasy job, and in this case it's in the 'fantasy' industry. He is also making an impact locally as one of the contributing artists of the Junior League of Kingston's "Park Peacocks Run Wild" fundraiser program. Meet this week's Doer and Dreamer, Sean Andrew Murray, who is one of the artists recently making their home here in Kingston.
Your name: Sean Andrew Murray
Business or organization: Self-employed / freelance artist
Occupation:
Concept Artist and Illustrator for the entertainment industry (board games, video games, film, television). Basically a concept artist uses his or her skills as an illustrator to create images that show what the intended look or outcome of an entertainment product should be – we design all of the "assets" (costumes, props, scenery, sets, creatures, characters, vehicles, etc) that will go into the game or movie before they get made, to make sure that the ideas are consistent and that the rest of the team understands the overall vision of the end product.
I have worked mostly in the Video Game industry designing monsters, characters and environments for games such as "Lord of the Rings Online", "Dungeons and Dragons Online" and "Kingdoms of Amalur: Reckoning", all in the fantasy genre. I also worked on a couple of projects at Harmonix, the makers of Rock Band and Guitar Hero. Since then I have been working for indy game companies, and I recently made my first foray into the world of film and television design.
What is your approach to your business or occupation that makes you unique?
I have always striven to create work in my own unique voice and style, rather than trying to mimic the styles of what is trending and popular. This means that I may not get as many jobs as the folks that can hit the on-trend style of illustration, but it means that the work that I get is more suited for me and therefor more to my liking. It makes the work more satisfying to do, but also more personal, which can sometimes be difficult if the project gets cancelled or put on hold. But I believe very strongly in following your own voice because this means that your passion for the work will show through more that something you view as "just a job".
Aside from professional/client work, I am also building my own fantasy IP called "Gateway". It is based off of ideas I have had for over 15 years that have developed in my sketchbooks over time. The first manifestation of Gateway was in the form of a self-published illustrated book called "Gateway: The Book of Wizards" which funded through Kickstarter in May of 2012. The next project in development is a card/board game based on the book.
Where are you from originally?
Fairfax County, VA,  just outside of Washington D.C.
What brought you to the Kingston area and keeps you in this area?
My wife Kathleen is from Kingston originally (born and raised). We decided to move here after visiting for New Year's Eve 2012. We were living in Boston at the time and we just weren't happy there, plus it is was far too expensive for what we were getting, so we decided to take the plunge and both go freelance and move to Kingston! It has been the best decision and we are very happy here and love seeing how Kingston is growing and becoming a cool community full of artists, musicians and young families. It's a very exciting time to be a Kingstonian!
What is your favorite hangout in this area and why?
It has to be Outdated Café for me. I love the atmosphere and the iced coffee! They also have some of the best damn baked goods in town, especially the scones. Most of all it's a nice space to relax and sketch or get some work done. I always see people there that we know doing their thing as well, so it has a nice, hip community vibe to it.
When you're not in Kingston, what's your idea of a wonderful city to visit, and why?
I love cities in general, so it is really hard to choose! That said, I always love getting down to New York because I love the energy and excitement. New York is my main source of inspiration for the City of Gateway – the idea that you can walk around the next corner and see the strangest, most wonderful things, and it's all just part of a normal day in the life of New York.
I also really enjoy visiting Paris, and I would love to go back to Prague someday soon.
Tell us something that we never would have guessed about you.
I used to draw house plans on graph paper for fun when I was in High School – I really wanted to be an architect at one point, but when I realized how much math was involved, I changed my mind. Haha! I also once toyed with the idea of being a lawyer… and a detective.
https://kingstonhappenings.org/wp-content/uploads/ngg_featured/Sean-Murray_Wiltwyck.jpg
540
960
Kingston Happenings
https://kingstonhappenings.org/wp-content/uploads/2013/10/Final-KH-Logo.png
Kingston Happenings
2014-09-15 11:53:22
2017-03-07 11:49:31
Doers and Dreamers – Sean Andrew Murray