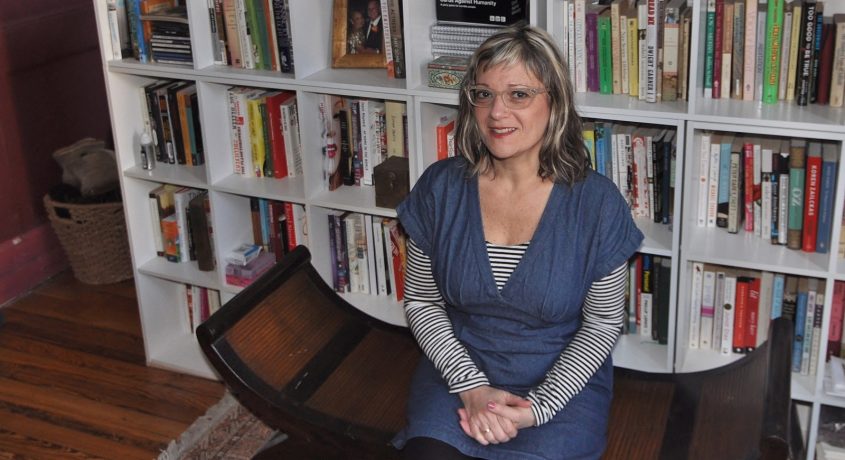 Doers and Dreamers – Sari Botton
Like many people involved in artistic endeavors, this week's Doer and Dreamer, Sari Botton, wears many hats and it just so happens that we can all enjoy one of her creative projects this week. A competitive story-telling event is being held Tuesday, 1/13 at BSP , when a number of current residents will tell their stories of leaving New York City in an American Idol type of format. This performance is being presented as part of the TMIProject, of which Sari is the Editorial Director. Details of the event can be found at http://www.tmiproject.org/#!tickets/c1ko9 .
Your name: Sari Botton
Business or organization: Botton, Ink.; TMI Project; Anvil Gallery at Tech Smiths
Occupation: 
Writer/editor/ghostwriter/teacher/gallerist and Editorial Director of TMI Project (http://tmiproject.org)
What is your approach to your business or occupation that makes you unique?
I'm a juggler, and do many different things. But what all my endeavors have in common is artistic expression. I am always involved in either expressing myself or helping others to express themselves, as I do most frequently through workshops I lead for the non-profit TMI Project.
TMI Project is a non-profit organization that brings memoir and storytelling workshops and performances to the general public, and to the incarcerated, at-risk teens, the LBGTQ population, domestic violence survivors, military veterans, cancer survivors, and others who don't often get to tell their stories or be heard.
Where are you from originally?
I was born in Long Beach, NY, and raised there and in Island Park and Oceanside before moving to New York City. My late maternal grandmother, though, was from Kingston. Her name was Clarisse Kemp Masket and I have photos of her here as a baby taken 1916-1919.
What brought you to the Kingston area and keeps you in this area?
My husband, Tech Smiths owner Brian Macaluso, and I moved to the area ten years ago after losing our apartment in the East Village. For nine years we lived in Rosendale, which we still love. But last year, when Brian moved Tech Smiths from New Paltz to Kingston, we started spending more time here and it was so much fun, we decided to move our life here, too. I love the growing cultural scene, the many great restaurants, and being part of a small, tight-knit, socially-progressive community.
What is your favorite hangout in this area and why?
Most days you can find me writing on my laptop at Outdated Cafe. They've got everything I need for getting my work done: great coffee, great food, many chairs and desks suitable for hanging or working, a good vibe, and a lot of other people working on their laptops, too. I am most creative when I am surrounded by others who are casually doing their work, too.
When you're not in Kingston, what's your idea of a wonderful city to visit, and why?
Well, it's no secret that I am a big fan of New York City. I recently edited two essay anthologies about it – the most challenging place to both love and leave. (See: Goodbye to All That: Writers on Loving & Leaving NY and Never Can Say Goodbye: Writers on Their Unshakable Love for NY ) My hometown of Long Beach is pretty great, too. It's both a small city and a beach town, and it's less than an hour from NYC. I also love San Francisco, Berkeley, Oakland and California's Bay Area in general.
Tell us something that we never would have guessed about you.
I failed typing in high school. Now I type like a fiend. But then, I couldn't get it together. (I failed gym in ninth grade, too, but anyone who knows me probably could have guessed that.)
https://kingstonhappenings.org/wp-content/uploads/ngg_featured/DSC_0104-1600x901.jpg
901
1600
Kingston Happenings
https://blastserve.com/khtestbed/wp-content/uploads/2023/07/KH-Transparent-Logo-e1688304541199.png
Kingston Happenings
2015-01-12 11:52:44
2017-03-07 11:50:21
Doers and Dreamers – Sari Botton