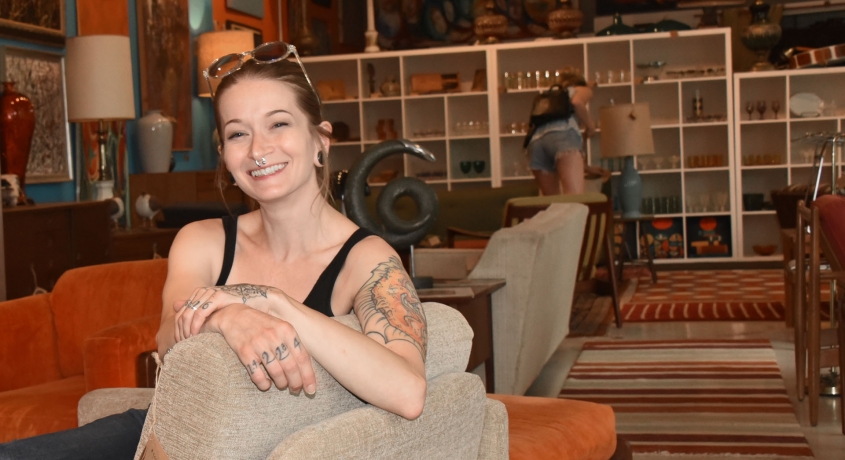 Re-cycling is a concept that's been around for decades but mostly in the context of materials that can be re-processed and re-used. Now, an increasing number of people that have a knack for finding finished products that may have outlived their usefulness with their current owner, but are likely to be useful to someone else, are building businesses selling those products. All it takes is a lot of ambition to find potentially salable items, the talented eye to know what will sell for a decent profit, and a funky space to sell them in.  Say 'hello' to this week's Doers and Dreamers who have been doing it for awhile and have just moved their business to a great location here in Kingston.
Your name: Monika Geisel // Daniel Goodwin
Business or organization:  Stuff Hudson Valley, a locally owned mid-century furniture store with a twist at 1 Main St.,  Kingston, NY
Occupation: Owners
What is your approach to your business or occupation that makes you unique?
Stuff came from a passion for collecting beautifully designed furniture that have proven they can withstand the pressures of time. Overtime it blossomed into a room of beautiful art, bar ware, and textiles. We live in a single-serving world that mass produces, so that everyone can afford to beautify their living space. Unfortunately, these mass produced items don't last a lifetime, yet the come with promises of longevity. Most mid-century furniture is priced out of many budgets, especially the collectible designer pieces. We have found a way to locate, restore, and re-distribute these exact pieces at prices everyone can consider. As I've said countless times, and will always repeat myself: you don't have to be wealthy to have a beautiful home, and reliable furnishings. When we are fortunate, we share our fortune excitedly. Our atmosphere is warm and inviting, and filled with inspiration and stories, with each area neatly organized to allow further ability to relax and appreciate.
Where are you from originally?
I was born in Kingston, while Daniel was born in Beacon.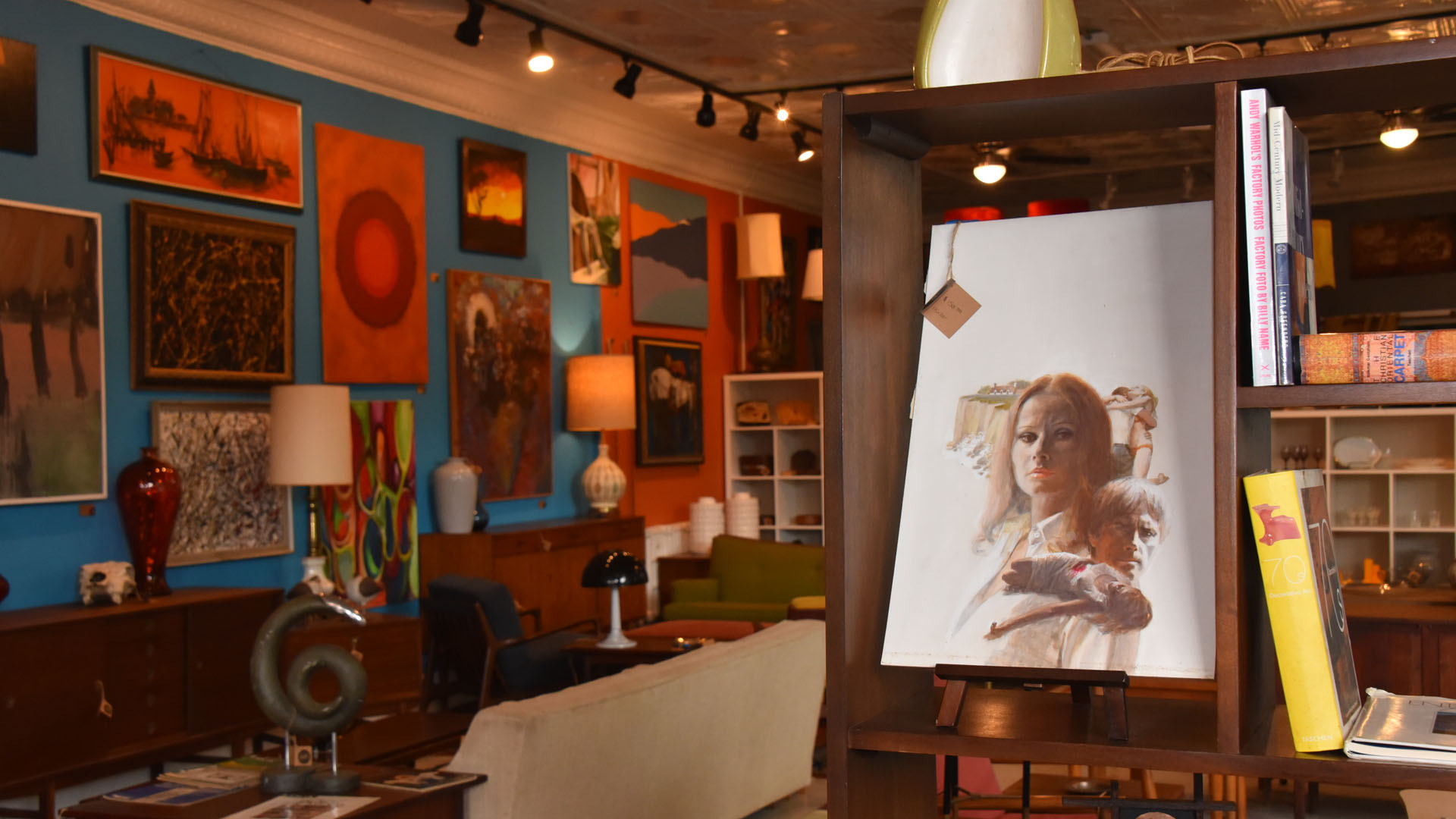 What brought you to the Kingston area and keeps you in this area?
We originally wanted to open our store in Kingston, but at the time we were looking, nothing was comfortably available. Having our first space inRosendale was honestly a blessing, for me. Being as this is my first business, a quieter town offered a buffer and patience as we came together. When our current space at 1 Main Street was offered to us, we knew it was our path, and couldn't have been more excited. Being born here, I feel a strong connection to this particular fiery city, and the people who make it. There is always something going on, and I love being a part of that story. We don't plan to ever leave.
What is your favorite hangout in this area and why?
That is a difficult one for me, as I hate picking favorites! My most frequented hangout is The Anchor. I worked there when it first opened, and have many friends who still work there. It feels like a family community of varied people, and always feels safe. Not to mention…the food and beer selection are both fantastic.
When you're not in Kingston, what's your idea of a wonderful city to visit, and why?
Ill admit, my immediate thought went to Pine Dale, Wyoming – but that isn't a city! If I'm to answer this correctly, it would without a doubt be New Orleans. The city is full of light, laughter, inspiration, music, history, culture, and FOOD. I've never experienced genuine electricity in locals such as I have there. It is easily my favorite city on this planet.
Tell us something that we never would have guessed about you.
I'm a bit of an open book, so not much will come as a surprise. However, if you dont know me, almost everything could be a surprise! I'll choose the most quiet: I am an avid enthusiast of entomology, and have five tarantulas as pets. They're all female, and between 7-15 years old. The fun fact? I'm actually afraid of spiders!
https://kingstonhappenings.org/wp-content/uploads/2018/08/DSC_6508-copy_edited-1007.jpg
1080
1920
Kingston Happenings
https://kingstonhappenings.org/wp-content/uploads/2013/10/Final-KH-Logo.png
Kingston Happenings
2018-08-23 09:57:39
2020-02-25 12:00:08
Doers and Dreamers: Monika Geisel // Daniel Goodwin