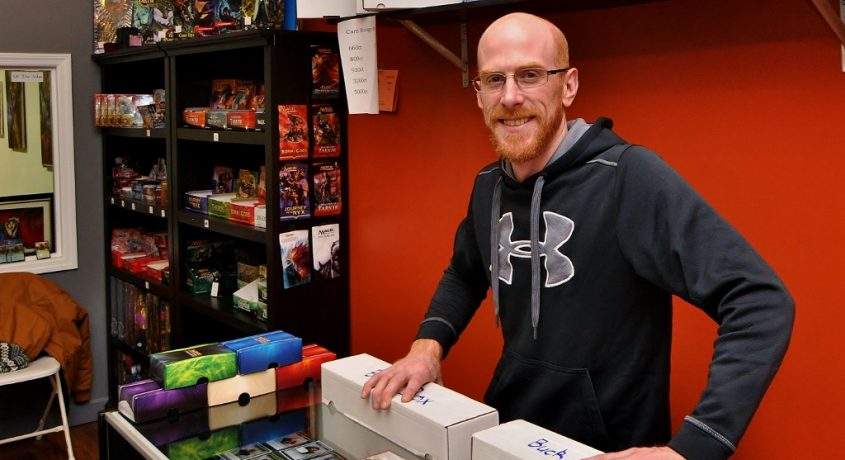 Doers and Dreamers – Lucas O'Keefe-Sommer
It's always encouraging to see someone enter a niche market and be successful at it. It's even more so when it's a business that can provide kids, as well as adults, with a unique skill-building experience along with a lot of entertainment. Say 'Hello" to this week's Doer and Dreamer who has created a space Uptown where people are stepping away from their TVs and cell phones to actually interact with each other in a fun way.
Your name: Lucas O'Keefe-Sommer
Business or organization: The Kingston Card Vault  36 John St., Kingston
Occupation: Owner/Store Manager
What is your approach to your business or occupation that makes you unique?
The Kingston Card Vault is a game store that specializes in collectible trading card games, specifically Magic the Gathering. Magic the Gathering (or MTG) is a card game combining creativity, probability, and skill. I have been playing these types of games for over 20 years, so I bring the point of view of the player, or the customer, behind the counter with me when I'm working. I'm also focused on building a community within the space of my store. I love bringing all the circles of friends who play together at home into a larger group, as well as teaching younger players the intricacies of the games.
Where are you from originally?
Born (Northern Dutchess) and raised (Rosendale-ish) in the area. I attended Kingston City Schools K-12.
What brought you to the Kingston area and keeps you in this area?
What keeps me in the area is my family. My two sisters (who are two of my three partners, along with my uncle) and their families, as well as my parents. My family is very important to me. My sisters names are Carly O'Keefe-Grey (older) and Liann Snykus (younger). My uncle's name is Tim O'Keefe.
What is your favorite hangout in this area and why?
I love Stockade for their brilliant cocktails, Keegan's for the awesome atmosphere, and Dermot's because it has one of the only pool tables in Kingston.
When you're not in Kingston, what's your idea of a wonderful city to visit, and why?
Portsmouth N.H. may be the coolest city I've ever experienced. It is a fairly large city, but something about the layout and atmosphere make it feel like a much smaller town. Also it has an extensive list of awesome breweries, both micro and major (huge IPA fan here). Plus access to the coast, a happening music scene, and an excellent range of restaurants make Portsmouth pretty special.
Tell us something that we never would have guessed about you.
Hmm.. something you would never guess about me.. how bout this!? I am addicted to dancing! I love hitting a bar or club and dancing my butt off! I'm always looking for a new venue with good dance music. In fact, when I was brainstorming on the type of business I wanted to open, I almost settled on a dance hall/disco-tech type of thing. I'm glad I decided to open a game store, though. It's something uptown has needed; A place for the youth of the city to hang out in uptown, as well as a focus for local gamers to come together and share their passion.
https://kingstonhappenings.org/wp-content/uploads/2016/01/DSC_0960-1024x576.jpg
576
1024
Kingston Happenings
https://blastserve.com/khtestbed/wp-content/uploads/2023/07/KH-Transparent-Logo-e1688304541199.png
Kingston Happenings
2016-01-19 14:24:34
2017-03-07 11:50:14
Doers and Dreamers – Lucas O'Keefe-Sommer