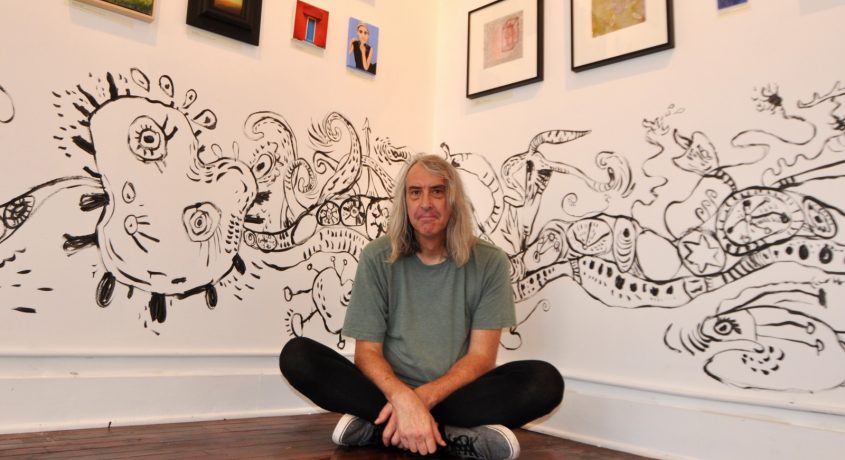 Doers and Dreamers – David Schell
Many people think that the value of art is mostly in that most forms of art produce an object of beauty or something that invokes an emotional reaction of some kind. Art can also be seen as a form of community building, not only as a means of communicating what may be happening in the community, but also as a way of bringing people together to create and exhibit works. Meet this week's Doer and Dreamer who is immersing himself into the Midtown community by setting up a gallery to leverage the full potential of the arts.
Your name: David Schell
Business or organization: Green Kill
Occupation: Digital Painter and Green Kill, owner.
What is your approach to your business or occupation that makes you unique?
I think growth should be a product of socially-minded efforts and that productive change is best achieved through the European idea of social inclusion. The World Bank defines social inclusion as the process of improving the ability, opportunity, and dignity of people, disadvantaged on the basis of their identity, to take part in society. This Gwendolyn Brooks quote sums it up well: "We are each other's harvest; we are each other's business; we are each other's magnitude and bond."  The current show at Green Kill is a large show of small works. A painter conceived this show  and we agreed that it should be as inclusive by bringing together artists off varying backgrounds, ages,and experience, from around the world.
Where are you from originally?
Do I have to admit this? I'm from Pines Lake, New Jersey. It's a manmade lake and concept community, organized by two enterprising men. From then until now, imagine log cabins and ranch houses around a scenic lake, a canopy of trees producing endless patterns of shadows on the streets, graceful sail boats on the lake on Sunday afternoons and strolls along winding wooded paths transformed into McMansions and endless splay of housing , strip malls, corporate parks, franchises and all that traffic. My childhood life in Pines Lake was like being in a cocoon with the incongruent would of race riots and the Vietnam War above the fold of the newspapers I prepared for delivery. By the time I left the cocoon was replaced by a sea of corporate-based homogeneity.  My present distaste for New Jersey seems to grow more immature with age; soon I'll be whining like a two-year-old anytime I have to pass through it.
What brought you to the Kingston area and keeps you in this area?
"Life is not like water. Things in life don't necessarily flow over the shortest possible route." ― Haruki Murakami. A circuitous destiny! After 30 years living in New York City, Kingston was at first an unsettling change. I spent the first winter here wandering the streets late at night pondering existential notions. I'm a transplant and so it will take time for me to become better acquainted with Kingston culture. My wife and I wanted to leave the white-washed playground for the super rich once called New York City and I wanted one last chance in my life to  organize but this time for the arts. Our little Honda traversed the Hudson Valley towns for a half year and  finally rolled to a stop at 229 Green Kill Avenue in Kingston, a town which seemed like the center of a culture which included Beacon, Hudson, Woodstock and the colleges of New Paltz, Vassar and Bard.  I wanted a space that could be converted into an arts, performance and education venue.  Here in Kingston a thoughtful broker, Jonathan Korn, showed us a 1939 empty deli. Destiny announced itself and I wrote it a poem:
Six Houses of February
Six houses huddle against the winter sky,
houses before I was born, and after I die,
their windows are darkened,
their tree branches splayed bare,
and all six looked like nobody lives there.
If they could sing there would be words in the song,
about an America that has come and gone,
stories about couples,
and kids that they that they reared,
dreams they had and the future they feared.
There once was a  house and a lake in my past,
a sheltered world that I knew couldn't last ,
the smell of fresh cut grass,
and moths circling the light,
as I walked on a warm summer night.
Six houses huddle against the winter sky,
with brown leaves in their gutters,cars passing by;
the day is now darkened,
and silver moon hangs above,
I'm thankful I found some kind of love.
What is your favorite hangout in this area and why?
I've spend a lot of time walking the streets, mostly late at night. I like the evening drives along are the old houses and the lit up ball field of Abeel Street, and the view of Green Kill Avenue from South Pine Street. I like to climb the hill from Wilber and cross the railroad tracks. The old cemetery there is full of deer at night. I seem to gravitate to the unpretentious community between Green Kill Avenue and St. James.
When you're not in Kingston, what's your idea of a wonderful city to visit, and why?
Much of terrain I've been exposed in the US is homogenized by corporate culture. That's not something I like to be around.  I often think about places outside of the US such as Berlin, Budapest, Tangier and Tokyo.
Tell us something that we never would have guessed about you.
The Monkees. There is something refreshingly enduring about the music created by them and for them.
https://kingstonhappenings.org/wp-content/uploads/2016/07/DSC_0533-1600x900.jpg
900
1600
Kingston Happenings
https://blastserve.com/khtestbed/wp-content/uploads/2023/07/KH-Transparent-Logo-e1688304541199.png
Kingston Happenings
2016-07-19 09:58:32
2017-03-07 11:50:51
Doers and Dreamers – David Schell