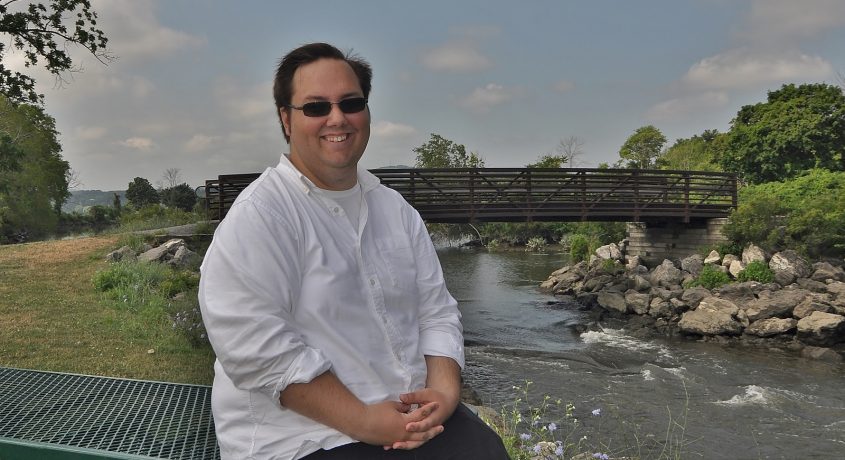 Doers and Dreamers – Brad Umble
The arts in the Kingston area are flourishing, not necessarily on a grand scale, but with a whole lot of diversity and level of quality that you wouldn't expect in a small upstate community. Not only are the visual arts blossoming with many new galleries opening, but the local music scene is becoming even more vibrant than it always has been with an increase in the number of local venues making even more diversity of music available to local patrons. My hat is off to this week's Doer and Dreamer who is helping to showcase the local musical talent that we abound in and also to make sure those talented individuals can sustain themselves and continue to provide value in the form of quality music to the community.
Your name: Brad Umble
Business or organization: Brinkster Management | ARTBAR Gallery
Occupation: Owner @ Brinkster Management | Music Booking and Promotion @ ARTBAR Gallery
What is your approach to your business or occupation that makes you unique?
I started the Emerging Artist Classical Music Series this summer in an effort to introduce talented, emerging classical musicians to local audiences while providing musicians with an opportunity to highlight their unique abilities and hone their live performances. I was very pleased when the owner of ARTBAR Gallery, Allison Constant, allowed us to host the series at her gallery. It provided a unique opportunity to present recitals of classical music at an intimate venue that offers a more relaxed and casual environment than many classical music venues. We host a concert on the third Thursday of each month. This month's concert (July 21 at 7:30 PM) features classical guitarist William Pearson.
The feedback we've received regarding the series so far has been both enlightening and encouraging. Based on that feedback, we hope to introduce an Emerging Artist Jazz Music Series beginning this fall, which I'm pretty excited about.
My business, Brinkster Management, exists to assist emerging creative professionals and growing cultural not-for-profit or community-based organizations to discover who they are – as artists or as organizations – so that they can find their audiences in an efficient manner. We also help creative professionals to accomplish the administrative tasks that often keep them out of the rehearsal room, studio, etc. so they are able to dedicate themselves more completely to the creativity that is inherently important to artistic careers. I love being able to connect an artist with a new fan. These introductions are perhaps the most vital component of Brinkster Management because relationships between artists and their fans are a crucial component of the cultural industries in today's international marketplace.
Where are you from originally?
I am a Kingston native!
What brought you to the Kingston area and keeps you in this area?
I was born in Kingston and I have lived here for most of my life. I went away to Geneva, NY for college and earned a Bachelor's Degree in Music and Psychology from Hobart College. From there, I went on to pursue a Master's Degree in Arts Management from the University at Buffalo. After working for a year in Buffalo at a startup not-for-profit theater company called Against the Grain Theater Festival, I decided I wanted to move home to Kingston to be closer to my family, and to be part of the burgeoning art scene in Kingston and the Hudson Valley.
What is your favorite hangout in this area and why?
I love a good burger from The Anchor, but I also enjoy spending time away from everything at the Mohonk Preserve.
When you're not in Kingston, what's your idea of a wonderful city to visit, and why?
I spent some time in Edinburgh, Scotland while visiting my sister, who was living in London at the time. Edinburgh is a wonderful city that has a great deal of varied experiences to offer both its residents and its visitors. I would love to go back in late summer someday to experience the famous Edinburgh Fringe and International Festivals. I tend to enjoy places in which the history and the soul of the place seem palpable. That's why I like Kingston so much!
Tell us something that we never would have guessed about you.
I was one of five drum majors in the Kingston High School Tiger Marching Band my senior year of high school! One the most terrifying experiences of my time in high school was climbing up onto a ten foot podium – in full marching-band regalia – to conduct a 200-piece marching band playing the national anthem in front of an audience of dedicated Kingston High School football fans! In retrospect, the experience I gained as a drum major was invaluable. It taught me how to lead by example and how to work behind the scenes with a group of people to accomplish a common goal. Perhaps most importantly, it taught me that the work behind a performance is rarely ever finished.
https://kingstonhappenings.org/wp-content/uploads/2016/07/DSC_0388-1600x900_4253.jpg
900
1600
Kingston Happenings
https://blastserve.com/khtestbed/wp-content/uploads/2023/07/KH-Transparent-Logo-e1688304541199.png
Kingston Happenings
2016-07-12 08:53:21
2017-03-07 11:50:51
Doers and Dreamers – Brad Umble