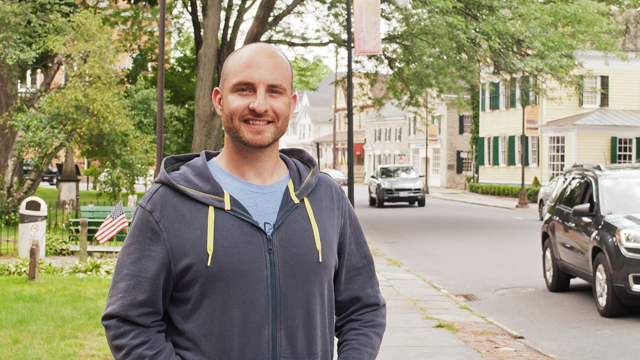 Doers and Dreamers – Bentley Potter
Sometime things are as simple as 'here is a problem, here is a solution, now just go fix it'. It appears that is exactly what this week's Doer and Dreamer has done with his very worthy community service. Meet Bentley Potter, who is helping furry creatures find their owners all over the Hudson Valley.
Your name: Bentley Potter
Business or organization: Lost Pets of The Hudson Valley
Occupation: Founder/CEO
What is your approach to your business or occupation that makes you unique?
Lost Pets of The Hudson Valley is the only organization in the Hudson Valley that is dedicated to finding missing pets and reuniting them with their respective families. Others have popped up in recent years, but don't do what we do in the sense that we are constantly updating each case, communicating with the families on a daily basis, and have every day and evening covered, so there is essentially no down time. That was my goal from the beginning. To have a team of volunteers that are compassionate, dedicated, and committed to our mission. The part that the fans of our Page love most are the reunion updates. Any time that a pet is reunited with their family, we always let the fans know. It's what makes it all worth while. Watching a reunion happen in real-time, while running the Page is truly amazing. It's working exactly how I envisioned it would. I wouldn't be able to do it without my amazing group of volunteers. Without the help of Kim, Erin, Christine, Sarah, Lindsay, Jeanine, and Carol, LPOTHV wouldn't be as successful as it is today. Lost Pets of The Hudson Valley has over 33,000 "Likes" since its inception in 2012 and the Website is in the process of a major upgrade.
Where are you from originally?
I was born and raised in Kingston. Outside of a few years here and there, Kingston has always been my home.
What brought you to the Kingston area and keeps you in this area?
Kingston has such a great feel to it. Especially, the last three-years. So much is happening around our City and its become such a great place to live and grow in. Uptown Kingston especially, has become such a happening scene morning-to-night. I am excited to see what the future has in store for Kingston.
What is your favorite hangout in this area and why?
I love Hudson Coffee Traders (now Uptown Coffee) for coffee/breakfast. That place has such a great vibe and Jenna and the rest of the staff are so friendly; a great place to start your day. My new favorite lunch spot is Sissy's. If you haven't tried the 'Hot Bird', you haven't lived. That place is so cool that I could spend my whole day there. Keegan's is the night spot pretty much any night of the week. Best place to hangout with friends and enjoy life.
When you're not in Kingston, what's your idea of a wonderful city to visit, and why?
I love Toronto. It's such a clean and happening City. It is one of the more intriguing places that I have ever been to.
Tell us something that we never would have guessed about you.
I struggled with this one. I am really fascinated with abandoned railroads. Ever since I was a kid. I enjoy walking the tracks and feeling the residual energy from past trains. Weird, but definitely a thrill for me. It sometimes weirds-out my friends.
https://kingstonhappenings.org/wp-content/uploads/ngg_featured/DSC_0110x.jpg
360
640
Kingston Happenings
https://blastserve.com/khtestbed/wp-content/uploads/2023/07/KH-Transparent-Logo-e1688304541199.png
Kingston Happenings
2015-07-06 16:05:16
2017-03-07 11:50:17
Doers and Dreamers – Bentley Potter