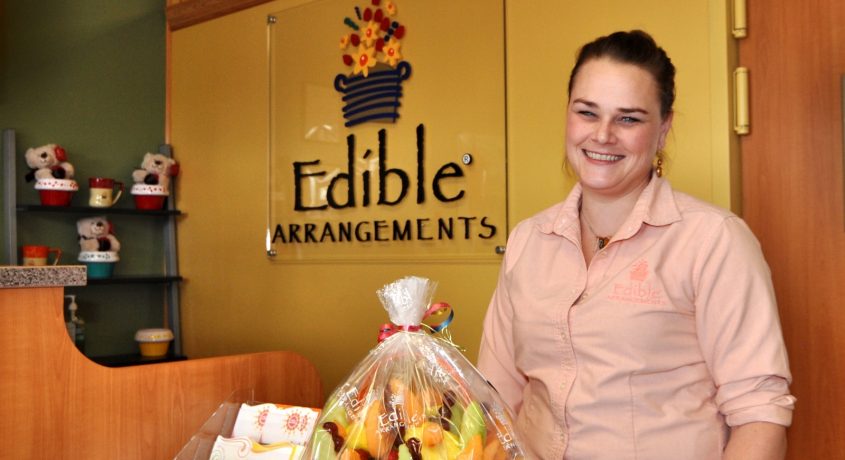 Doers and Dreamers – Aislinn A. Smith
Business opportunities come in all flavors, colors, shapes and sizes and it's surprising what can be a successful venture when a lot of drive and an out-going personality are applied. Meet this week's Doer and Dreamer Aislinn Smith who, if you're lucky, may be sending a basket of goodies your way some time soon.
Name: Aislinn A. Smith
Business: Edible Arrangements of Poughkeepsie, NY & Kingston, NY
Occupation: Franchisee with Edible Arrangements
What is your approach to your business or occupation that makes you unique?
I try very hard to remember that your heart does not stop beating when you walk into work. Work is life and although we try to separate it – we are all human and we all have challenges. I try to empathize with my guests, employees and others I work with. Make it fun and motivate them to be present and involved. Always remember to treat people as the individual they are. You need all different types of individuals to make a successful team.
Where are you from originally?
Born in Rhinebeck, NY and raised in Hyde Park, NY.
What brought you to the Kingston are and keeps you in the area?
I purchased Edible Arrangements of Kingston in 2007 and found Ulster County to be very welcoming and warm. There are so many motivated and unique individuals to work with. This community is exceptionally unique and has a rich tapestry of culture, art and life that can not be found elsewhere.
What is the favorite hangout in the area and why?
Eating tiramisu at La Florentina on Ulster Avenue.
When you're not in Kingston, what's your idea of a wonderful city to visit and why?
I went to school in Providence, RI at Johnson & Wales University between 1995 and 1999. During that time I watched the city experience a true Renaissance. Downtown Providence was less than desirable in the beginning, with vacant buildings and a very limited night life. During the four years I was in college, Providence Mall opened, the Convention Center became very popular, downtown restaurants and theaters started to boom and many outside festivals and activities were introduced. By 1999, it was an entirely new city, full of life.
Tell us something that we never would have guessed about you.
For one, I have been poked in the eye by President Bill Clinton and I am also a licensed Nursing Home Administrator in Massachusetts, Rhode Island and New York.
https://kingstonhappenings.org/wp-content/uploads/ngg_featured/DSC_0096-1600x900.jpg
900
1600
Kingston Happenings
https://blastserve.com/khtestbed/wp-content/uploads/2023/07/KH-Transparent-Logo-e1688304541199.png
Kingston Happenings
2015-06-30 09:38:18
2017-03-07 11:50:17
Doers and Dreamers – Aislinn A. Smith