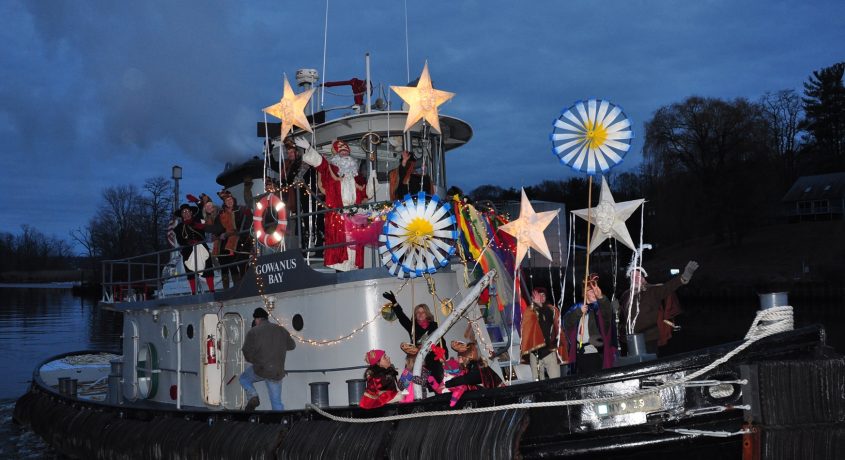 The Sinterklass celebration is based on a Dutch tradition started in the Middle Ages and is still the most eagerly anticipated holiday in the Netherlands, Belgium, Luxembourg, and some parts of France today. The character ' Sinterklass' is based on St. Nicholas, who is the patron saint of children, and makes a journey from Spain to the Netherlands every year to be celebrated for his good deeds.
The communities of Kingston and Rhinebeck honor their Dutch heritage by re-creating this beloved holiday and hosting a series of events that everyone can participate in and learn the rich and fascinating history of this fabulous tradition. Kingston starts the festivities with a series of events(see details below) later this week and culminates with a parade on Saturday, Nov. 29. The parade ends with Sinterklaas boarding a boat to leave Kingston(playing the traditional role of Spain) for Rhinebeck(the Netherlands) for even more festivities on the following Saturday December 6, on the streets of Rhinebeck.
This year's celebration start's with the Wreaths, Sweets, and Dutch Treats Cocktail Reception and Silent Auction where people can sample Dutch and Spanish appetizers and bid on numerous offerings from area businesses to help support this community celebration. Following that reception are a number of Crowns and  Branches Workshops that children can create their own ornate 'scepters' to carry during the parade since this day is a day that children become royalty.
On the day of the parade there will be all sorts of exciting activites for kids and adults preceding the parade. Cookie decoration, ornament making, story telling, music performances and much more. The parade itself is made up of puppeteers, bands, kids carrying their crowns and branches, all of the traditional Sinterklaas characters and of course, Sinterklaas himself. It's a community event to kick off the holiday season that you just can't miss.
The schedule of events is listed below and much more can be learned about the lore of Sinterklaas at http://www.sinterklaashudsonvalley.com/
---
Calendar Listing and Schedule:
 November 21, 6-9pm Wreaths, Sweets & Dutch Treats Cocktail Reception and Silent Auction, Old Dutch Church, Wall and Main Streets, Uptown Kingston
November 22, 1-4pm Crowns & Branches Workshop, Kingston Library, 55 Franklin Street.
November 26, 3-5pm Crowns & Branches Workshop, Everette Hodge Community Center, 15 Franklin Street.
November 28, 1-4pm Crowns & Branches Workshop, Hudson River Maritime Museum, 50 Rondout Landing, Kingston,  (845) 338-0071
November 29, 11am-3pm, Crowns & Branches Workshop, Hudson River Maritime Museum,
50 Rondout Landing, Kingston,  (845) 338-0071
November 29-Sinterklaas Kingston-Arrival Day: A day of open houses, musical performances, workshops creating beautiful crowns and branches, a march down Broadway, a parade of stars, and puppets galore. Kingston sends off Sinterklaas and his white horse on a tugboat across the river to his destination there. After his send off, there will a Sinterklaas Soiree, Tree Lighting Ceremony and plenty of specials at all of the local restaurants.
November 29, 11am to 7 pm — Sinterklaas Send Off Celebrations by Location:
Kingston Home Port and Education Center at the Hudson River Maritime Museum, 50 Rondout Landing
11:00am-3:00pm (Doors close promptly at 3pm)
Crowns and Branches Workshop
12:00-3:45pm
Broadway Photo Booth-Get your picture taken with your Crowns and Branches.
11:00am-3:00pm
The Annual Mitten Tree Project
Please donate new "warm & fuzzy" child-sized mittens, gloves, winter scarves and hats for children who wish to play outdoors at recess time and during after-school programs. Items delivered to area children week of December 16
Kingston Library, 55 Franklin Street
12:00-12:45pm Parrots for Peace
1:00pm Shuttle Bus leaves Kingston Library and makes continuous loops. Last bus leaves downtown at 5:30pm.
Olivieri's, 63 Broadway
12 noon Sarah & Liz: A Musical Performance
A.S.K., 97 Broadway
1pm Dorcinda Knaus leads the Kingston Maennenchor and Damenchor in traditional European Christmas songs; the soloist will be Kerry Henderson, operatic baritone and founder of Opera Theater of Kingston
2pm Ivy Vine Players Puppet Show
3pm Dog on Fleas
Trolley Museum, 89 West Strand
1pm Karen Pillsworth, Storyteller
2pm Parrots for Peace
2pm-3:45pm Face Painting
73b Broadway
1pm-3pm Balloon Sculpting with Amazing Magic Productions
TR Gallo Park
2:30-3:30pm The Wayfinder Experience, an arts and education program, will run team based sword games with play-safe foam weapons through imaginative play and storytelling which incorporates fun, athletic games such as capture the flag, and improvisational duels.
Mint, 1 West Strand
And, a little something for your adult listening pleasure too….
3 pm Strings and Percussion Trio
5pm Nancy Tierney and The Boys
12-4pm Open Houses and Workshops Galore:
Warming station and Hot Chocolate, Savona's Trattoria, 11 Broadway
Open House, Vetere Real Estate, 37 Broadway
Open House, On the Hill Antiques, 41 Broadway
Hot Chocolate served up free at the Open House at Olivieri's Arts, Crafts & Coffee, 63 Broadway
Cookie Decorating Workshop, Milnes At Home Antiques, 81 Broadway
The Honored Animal: The Hummingbird Exhibit, Art Reception at The Storefront Gallery, 93 Broadway
Wine tasting highlighting affordable esoteric wines — perfect for Holiday parties or gifts.  Kingston Wine Co. 65 Broadway
Art and Ornament Making Workshops:
1-4pm Ornament Making Workshop, Jay Teske Leather Co., 25 Broadway
1-2pm Nan's Art Playshop at Karmabee, Creative fun for kids & grownups, 73a Broadway
Maritime Children's Parade kicks off at Broadway and Garraghan Drive
4:15pm Parade down Broadway led by Mortal Beasts & Deities with their Flock of Doves and featuring Sinterklaas, the wild Grumpuses, the entire cast of characters & children as Kings & Queens wearing Crowns & Branches!
Jazz, Pop & Holiday Music at Mint
5:00pm Nancy Tierney and The Boys, Mint, 1 West Strand
Tree Lighting at The Visitors' Center
5:15pm Tree Lighting at the Visitors' Center, 20 Broadway
Milnes At Home Antiques 81 Broadway
5:00-7:00pm Shopping Party at with a very exciting pop up holiday shop featuring fabulous gifts. Wine and appetizers will be served!
Sinterklaas Soirée, at Mariner's Harbor, 1 Broadway
5:30pm-7:00pm The Lindsey Webster Band
https://kingstonhappenings.org/wp-content/uploads/ngg_featured/4-Sinterklaas2013.jpg
983
1745
Kingston Happenings
https://blastserve.com/khtestbed/wp-content/uploads/2023/07/KH-Transparent-Logo-e1688304541199.png
Kingston Happenings
2014-11-18 09:59:25
2014-11-18 09:59:25
Countdown to Sinterklaas