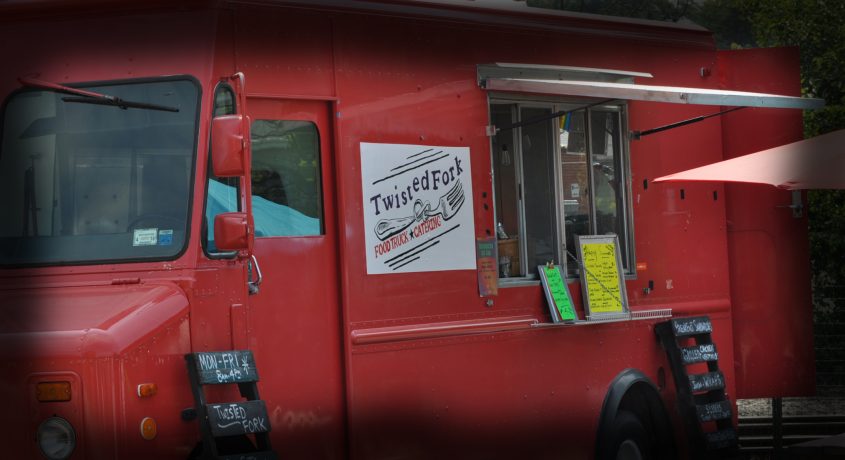 A 'Twist'ed Take on Street Fare
By contributing writer:  Susie Linn
In a food desert off Broadway, in and amongst factories, artists' studios, arts businesses and government office buildings, lies a mobile oasis….A haven that serves lavender-infused lemonade with free refills. That, my friends, is what I call an oasis, the Twisted Fork food truck.
Apparently, the Texas chuck wagon is the predecessor to the modern-day food truck. According to the New York Times, the entire food truck industry can be traced back to the year 1872 when Walter Scott, a vendor, parked his covered wagon in front of a local newspaper office in Providence, Rhode Island. Having pre-cut windows in the wagon, he sat on the inside box and sold sandwiches, pies and coffee to the newspaper's hard-working pressman and journalists.
The food truck trend has been slow to take off in Kingston. We're a car culture, and most food trucks rely on foot traffic. However erratically, this culinary uprising is raising the standard for street food, reinventing and elevating it, using the best possible artisanal ingredients creatively designed.
While this gastro truck has been on the scene in Kingston for only a couple of months, in that short amount of time the Twisted Fork has gained quite a following.
I don't remember the last time I dined at a food truck where the owner/hostess greeted us and offered seats at the umbrella-shaded picnic tables. But that's what Jeanne Rakowski is all about, engaging the customers, having fun and supporting the community. And it doesn't hurt that the food is outstanding.
For our casual dining pleasure one Friday afternoon, Companion and I decided to give it a try. I opted for the Twisted Salad with grilled salmon and it was spot on. Served on a bed of mixed greens with avocado, a scoop of hummus and a lime/basil dressing, it was sublime. The salmon, crispy on the outside and perfectly seasoned, enhanced by the slices of creamy, ripe avocado; the hummus tangy with lemon and garlic, all tied together with that splash of summer dressing. Companion opted for their take on a chicken club, a grilled chicken wrap with bacon, spinach and a slather of basil mayo, accompanied by the perfect slaw, not too sweet with red onion and cabbage with dill, just the right amount of summer savory. I'd love to tell you how Companion's wrap tasted, but before I knew it, the whole darn thing had disappeared. Sometimes he doesn't share (and I bet he runs with scissors, too).
The limited menu changes on a regular basis to focus on the quality of the food, which incorporates locally sourced ingredients as often as possible. Some of the other items that round out the menu are quesadillas with spinach, chicken and cheese, a number of different wraps, sandwiches and salads all priced between $7-$9. Breakfast sandwiches are served on fabulous pretzel rolls, two for $5, and they offer breakfast wraps, $3-$5.
The chef, Nick Morales hails from Miami where he was a Biology, Physics and Chemistry major, but he has always been intrigued with the kitchen and plans on studying Culinary Science at the CIA in September. He and Jeanne met when she was looking for help and they just clicked; Morales says it was like they have known each other for years. His mother even has the same birthday as Jeanne.
Jeanne was in the real estate business for twenty years, living in Brooklyn and in true Jeanne form, says, "Living large." Moving here six years ago, wanting to slow things down a bit, Jeanne says she is working as hard as she ever has in the past, but it sounds like a labor of love. The Twisted Fork is an outgrowth of Twisted Jeanne's, where she sells her wares, like those wonderful pretzel rolls, at farmers' markets in the area. Check it out; you won't be disappointed.
Twisted Fork is located in the parking lot at Cornell St. Studios, 168 Cornell St. in Kingston, (845) 554-4998. See them on Facebook https://www.facebook.com/Twisted-Fork-919488748147841/?fref=ts. Open Monday-Friday from 8:00a.m.-4:00p.m. Catering and special events on weekends.
[Slideshow "twisted-fork" not found]
https://kingstonhappenings.org/wp-content/uploads/2016/06/DSC_0088-copy.jpg
1206
2144
Kingston Happenings
https://blastserve.com/khtestbed/wp-content/uploads/2023/07/KH-Transparent-Logo-e1688304541199.png
Kingston Happenings
2016-06-20 11:35:31
2016-11-15 22:35:36
A 'Twist'ed Take on Street Fare