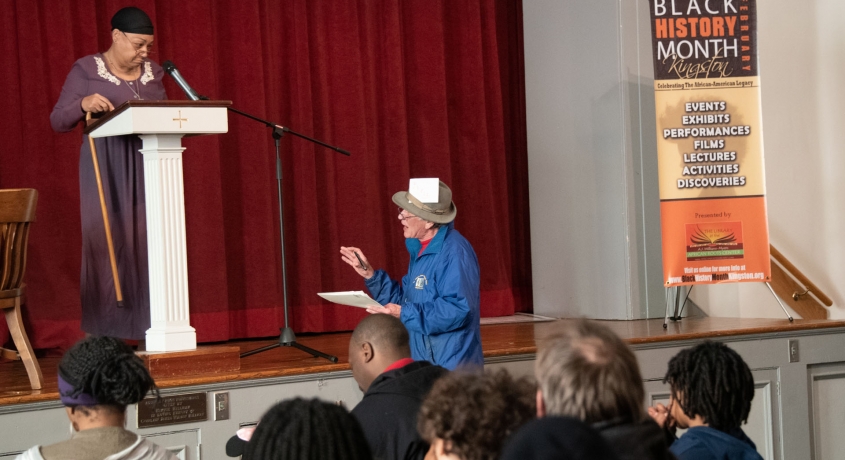 Video: Reliving Sojourner Truth's "Ain't I A Woman?", Kingston's Black History Month 2019 Reenactment
On Saturday February 9th, the 1st Annual Sojourner Truth Life Walk took place. Traversing from Port Ewen to the Ulster County Courthouse, walk participants retraced many of the steps Sojourner Truth took during her life enslaved in Ulster County. The walk concluded at the Old Dutch Church where historian and reenactor Deborah A. Zuill presented her moving Sojourner Truth's "Ain't I A Woman?" speech, which originally took place at the 1851 Women's Convention in Akron, Ohio.
Sojourner Truth, who was born as "Isabella" in 1797, was an inspirational African American woman born in Ulster County, enslaved there, and fought for her rights (and the rights of others) there, too. Sojourner Truth was enslaved by multiple families around Port Ewen, New Paltz, and West Park during her lifetime before escaping her enslavement.
Despite being a source of pain and suffering, Sojourner's time in Ulster County enabled her religious awakening and discovery of her faith. Sojourner's faith was an extraordinary force to which she accredited her strength to speak up and stand up for her rights.  She persevered and overcame the obstacles an unfair system and society imposed upon her. Luckily, she was able to find refuge with local Quakers who assisted her with her court cases, most importantly, the case to get her son Peter back after he was illegally sold across state lines.
During the Civil War, Sojourner was active with the women's suffrage movement, but maintained her voice separating herself from many racist members of the suffrage movement, further demonstrating her independent, powerful, and strong-willed nature. Sojourner Truth has inspired not only Ulster County, but the nation with her story and will continue to be commemorated and revered for decades to come.
There are plenty more Black History Month Kingston events coming up. Bookmark and follow our full Black History Month Events Calendar here: Black History Month Kingston 2019 . New events added daily!
For more about Black History Month in Kingston go to click here.
To learn more about Sojourner Truth, check out these links:
https://archive.org/details/narrativeofsojou1850gilb
https://www.pbs.org/thisfarbyfaith/people/sojourner_truth.html
http://www2.newpaltz.edu/sojourner_truth/
https://kingstonhappenings.org/wp-content/uploads/2019/02/Sojourner-Truth-Walk-44.jpg
1080
1920
Kingston Happenings
https://blastserve.com/khtestbed/wp-content/uploads/2023/07/KH-Transparent-Logo-e1688304541199.png
Kingston Happenings
2019-02-14 09:49:11
2020-12-30 12:44:56
Video: Reliving Sojourner Truth's "Ain't I A Woman?", Kingston's Black History Month 2019 Reenactment