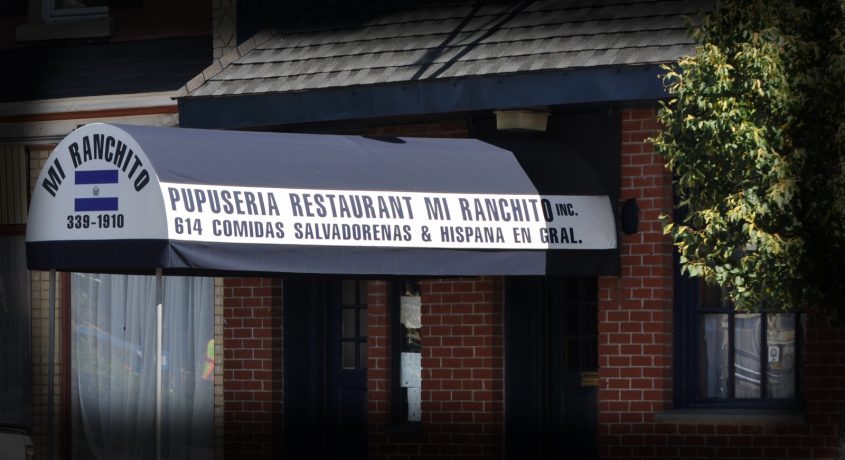 Mi Ranchito Pupuseri es Mi Pequeña Secreto (My Little Secret)
By contributing writer:  Susie Linn
Midtown Kingston is not necessarily known for its restaurants. Oh, there are some old stand-bys, Tony's Pizzeria, Eng's and Frank Guido's, the latest in a series of Italian restaurants that have occupied that location. Then there are the new kids, Pakt, Yasuda, the Anchor and a couple of Mexican places. In the middle of all of those sits a sweet spot that has been there for seventeen years, unassuming with a simple green awning sporting the name, Mi Ranchito, with few indicators in the window that this is a restaurant. I have lived in Kingston for sixteen years and never knew what I was missing… until a few weeks ago.
On a whim, Companion One, Two and I decided to give it a whirl. We love those undiscovered hidden gems, although undiscovered and hidden really only apply to us, since it's been there for seventeen years. Walking in, you immediately notice the impressive wooden bar festooned with hundreds of congratulatory dollar bills that line the back bar. It is colorful with simple Latin décor, a television, tuned to Spanish-speaking programs, and a juke-box, blaring Latin ballads. It provides an authentic background for the kitchen that churns out authentic Salvadoran soul food like pupusas (Salvador's national dish), ceviche, tamales, tacos, burritos, rice and beans, Salvadorian entrees and the like that are low in price and full of flavor.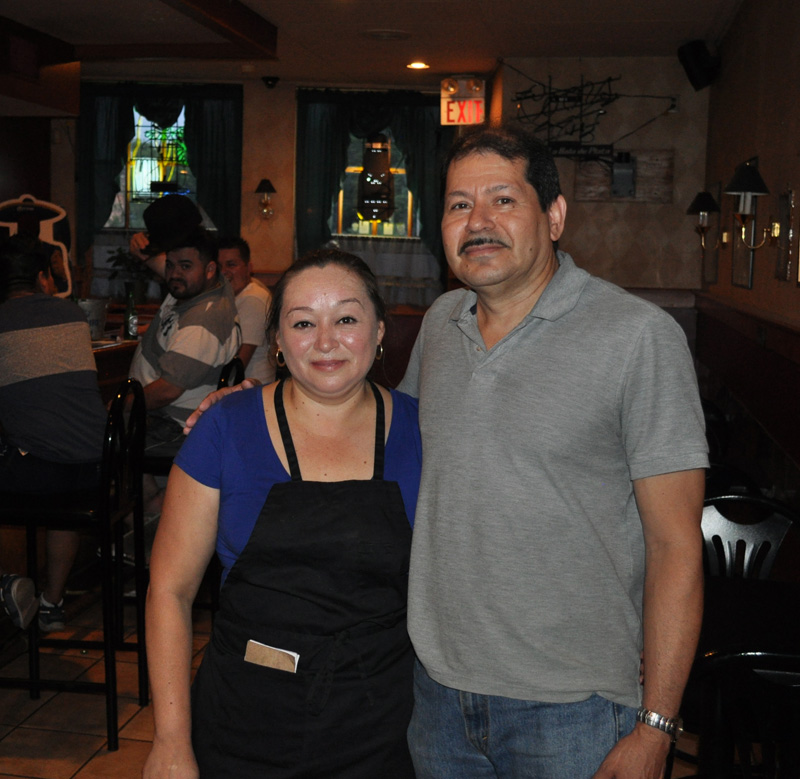 We opted to sit in a little alcove off the bar area with bright red walls and beige tile, proceeded to order a batch of margaritas and far too much food. Thank goodness the menu is in both English and Spanish. Ceviche (served with ubiquitous saltine crackers, love it!) with onions, peppers, shrimp, octopus, and white fish swimming in a pool of tomatoey, citrus broth topped with fresh cilantro. A perfect summer dish ($10). Corn is king in the Central American culinary universe and shows up in many dishes, like Salvadoran chicken tamales ($2.25), in which cornmeal is steamed in banana leaves to a smooth, creamy corn consistency. They seduce with their corn aroma, and it may take several bites before you find the interior of shredded chicken, chunks of potatoes and green pepper.
But the specialties are the pupusas, the corn pancakes that are to El Salvador what tortillas are to Mexico and arepas are to Colombia and Venezuela. The pupusa, like its cousins, are the vehicle for conveying the satisfying flavors of small amounts of meats, cheese and vegetables, stuffed into the center of the pancake. We ordered the pork and the cheese with beans ($2 for two). They come with a dish of pickled sliced cabbage marinated with onions, carrots, and beets to give it a pink color. Pile on the coleslaw, add a dash of the spicy green sauce or the milder red sauce and eat them together, tangy, rich magic occurs.
After these three superstars there are the usual south-of-the-border suspects: tacos, quesadillas, fajitas, and chicken, fish and beef dishes. A close inspection of the menu, however, reveals some down-home Salvadoran spins. Companion Two opted for a taco de lengua (8.95 for three), beef tongue strips mixed with tomatoes, green peppers and cilantro served with rice and beans, a tasty, tender treat. Companion One ordered the Carne Guisada ($11.50), a Salvadorian-style beef stew in a tomato-based gravy, rich with layers of flavor, carrots and potatoes. Companion Two (his second entrée) ordered the Pechuga al Ajillo ($10), a chicken breast in garlic sauce, velvety and garlicy, good for sopping up every last bit of sauce. I ordered the Camarones al Vino Blanco ($13.95, one of the most expensive items on the menu), eight plump juicy shrimp in a silky wine and garlic reduction, so delicious. All entrees come with rice, beans and pico di gallo.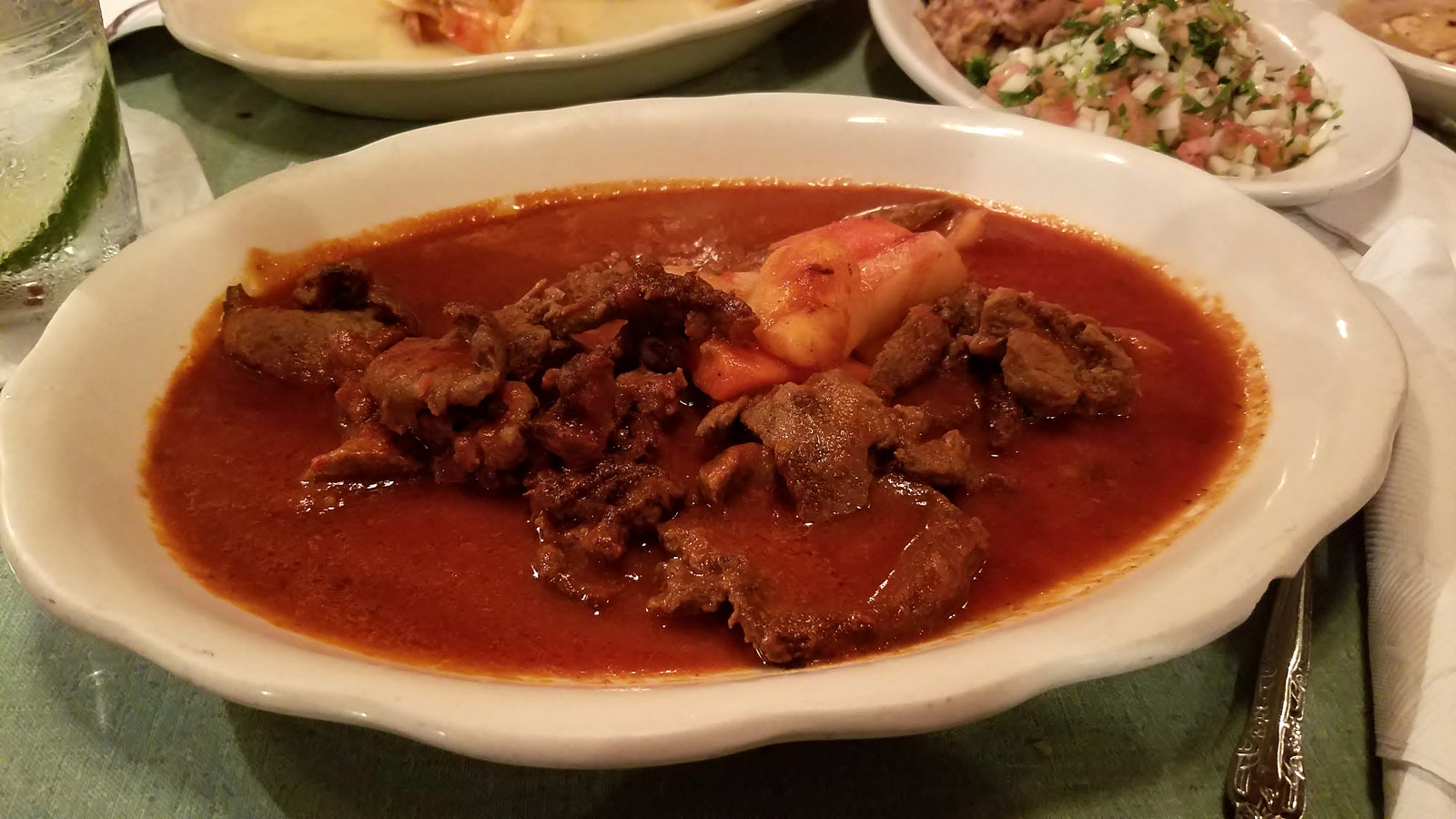 There are no desserts per se, but if you want something sweet, order the Platano ($4) or Tamal de Elote ($2.25) c/ Crema, sweet plantains, or sweet corn tamale with cream . Sweet and creamy do not do them justice.
Victor Bonilla moved here seventeen years ago from New York City, where he had a restaurant, deciding he wanted a better environment for his family at that time. His friend and dedicated employee, RoseMary Herrara, who worked in his NYC place, came too and continues to work at Mi Ranchita. They said there was not much of a Latin community here back then, but it has grown significantly. Victor's wife is the chef behind those fabulous pupusas and the kids are now in their late teens and twenties. The restaurant does a great deal of catering and can host private parties of 20-25. It is also a great gathering place for many of the Latin restaurant workers after their establishments have closed. But it's not just for the Latin population; get there early on a night that UPAC has a show or you may not get a seat.
Mi Ranchito Pupuseria is located at 614 Broadway in Kingston, (845)339-1910. Open Monday-Sunday 11:00 a.m.-11:00 p.m. https://www.facebook.com/Pupuseria-Mi-Ranchito-En-Kingston-NY-214550325242719/.
For more KingstonHappenings.Org Foodie Paradiso articles go to: https://www.kingstonhappenings.org/category/articles/foodie-paradiso/ 
https://kingstonhappenings.org/wp-content/uploads/2016/07/DSC_0561-1600x901x.jpg
901
1600
Kingston Happenings
https://blastserve.com/khtestbed/wp-content/uploads/2023/07/KH-Transparent-Logo-e1688304541199.png
Kingston Happenings
2016-07-26 12:49:14
2018-05-22 14:48:15
Mi Ranchito Pupuseri es Mi Pequeña Secreto (My Little Secret)