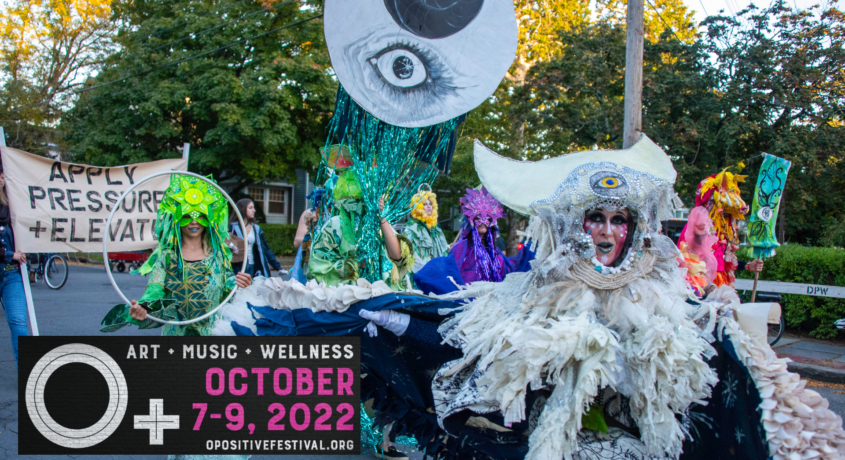 Locals Shine at This Weekend's O+ Festival
The 12th annual O+ Festival Kingston — a celebration of art, music and wellness October 7-9th — will feature over 40 musical acts representing a wide cross-section of styles and genres. Throughout the weekend, dozens of artists, ranging from film, to dance, sculpture, projection, public and performance art will showcase their work throughout the city of Kingston. The beloved Literary SalO+n will return with words and voices from diverse perspectives and Friday night will be filled with laughter from our late night stand-up CO+medy program. O+ will host an array of public ExplO+re Wellness workshops Friday through Sunday that includes everything from yoga to financial literacy for creative professionals. And, of course, all of the participating artists and musicians, as well as volunteers, receive health and wellness care in the O+ Clinic, and in local dentists' offices, during the festival weekend. This exchange of the art of medicine for the medicine of art is at the heart of our mission.
The 2022 O+ Festival Lineup
Grammy Award-winning pop artist Kimbra, and Kingston's own psychedelic indie rock heroes Mercury Rev, will headline the 12th Annual O+ Festival in Kingston. Other O+ Festival 2022 music highlights include Louis Prima Jr. and The Witnesses (Big band swing, rock and blues, presented in partnership with the Ulster County Italian Festival), Mirah (incorruptible independent pop music), Bitch (legendary Queer music icon, playing violin and synth fueled "witchy poet pop"), and Tsunami Bomb (West Coast Punk Rock).
Full music lineup (50% percent from the Hudson Valley) also includes:
Adult Mom, Andrea Maddox & The Hey Y'alls, Andrew Forbes, Barely Lace, Bitch, Callie Mackenzie, Chaz Kiss, Chinua Hawk, Denitia, Dirt Surfers, DJ Mikey Palms, Gregory Stovetop, Jocelyn Mackenzie, Joey Eppard, Kendra Mckinley, Kimbra, Louis Prima Jr. and The Witnesses, Mac $ Cheeze Balkan Power Trio, Magic Sandwich, Mario Rincon, Mercury Rev, Miles Francis, Mirah, Morgan O'Kane, Paul McMahon as "The Rock 'n' Roll Therapist," Pauline Oliveros @ 90 Celebration, Peyton Pleninger, Rivky, Roxiny, Sam Kogon, Skappository, SOMA, Sonny Singh, Strange Neighbors, The Dirt Whisperers, The Dream Eaters, Tsunami Bomb, Waster, What?, and Whoah!
Artists Respond to the Festival Theme, "Somewhere"
This year's O+ Festival artists have responded to the theme of "SO+mewhere." Film, installation, sculpture, public works, performance, dance, participatory projects, projection mapping and workshops invite the viewer to engage, to contribute, to experience and to imagine what "Somewhere" can look and feel like as well as where we are going and what we can build together.
The full artist lineup (95% percent from the Hudson Valley) includes:
Shirley Parker-Benjamin, Onaje Benjamin, Brenna Chase, Nell Jungyun Choi, Ramiro Davaro-Comas, The D.R.A.W.'s PUGG members, Zach Fuller, Goodnight Stetz, Amanda E. Gross, The House Opposite, Shannon Kenny, Sophi Kravitz, Maxine Leu, Jeff Mertz, Harriett Meyer, B.A. Miale, Shawnee Miller, Linda Montano, Brandan Bo O'Connor, Harvey Opgenorth, Ben Pinder, PAU Quintanajornet, Liam Singer, S. Leigh Thompson, Robert Burke Warren, Dana Florin-Weiss, and Corina Willette.
The annual Literary SalO+n includes writers, performers, spoken word artists, poets, activists, advocates, and everyone in between. Folks gather around the written/spoken word the Literary SalO+n because it's not a collection of works so much as a meeting of minds, voices and perspectives around an experience.
Literary SalO+n lineup (75% percent from the Hudson Valley) includes:
Lisa Di Venuta, Hayley Downs, Gabriella Fano, Carolita Johnson, Rebecca Kane, Cristopher Livecchi, Norm Magnusson, Destiny Riviello, Carolyn Silveira, Buddy Valentine, Billy Wakeman, and Carl Welden.
CO+medy Night lineup (80% percent from the Hudson Valley) includes:
Erin Harkes, Dave Green, Andy McDermott, Jennifer McMullen, and Kevin Smith.
*COVID-19 GUIDELINES: To protect our artists and performers, as well as our attendees, masking will be required for all indoor events. We strongly encourage social distancing whenever possible both indoors and outdoors. By purchasing/reserving a wristband for O+ Festival, all attendees agree to adhere the most current guidelines available from NY State. If you develop symptoms associated with COVID-19, (Fever, chills, cough, difficulty breathing, fatigue, body aches, headache, loss of taste or smell, sore throat, congestion or runny nose, nausea, vomiting, and/or diarrhea) or are exposed to someone with COVID-19 within 14 days of the start of the event, please DO NOT attend. All illness related refund requests received in advance of the festival weekend will be honored.
Questions? Email info@opositivefestival.org or call (845) 399-5343 for assistance.
For more information go to https://opositivefestival.org/
https://kingstonhappenings.org/wp-content/uploads/2022/10/O-Festival-2022.jpg
1080
1920
Kingston Happenings
https://blastserve.com/khtestbed/wp-content/uploads/2023/07/KH-Transparent-Logo-e1688304541199.png
Kingston Happenings
2022-10-06 23:30:43
2022-10-06 23:32:05
Locals Shine at This Weekend's O+ Festival