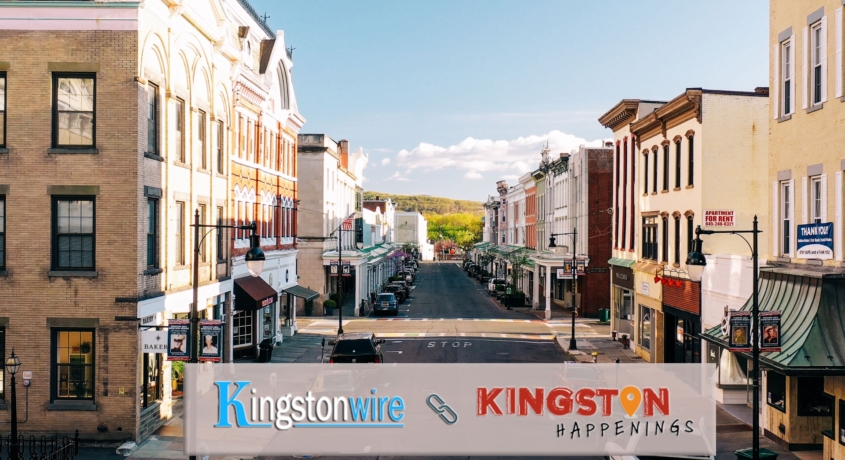 Kingston Happenings is Collaborating!
Kingston Happenings* is excited to announce its collaboration with recently launched Kingston Wire to share content and robust digital media channels to ensure everyone is even more aware of what's happening in the Kingston area!
Kingston Wire is a digital news publication focused on local reporting by objective and experienced Hudson Valley journalists covering city and county people, politics, business, government and more. Kingston Wire is a publication of locally owned NewsAtomic.
Kingston Happenings is a widely used local digital media outlet that consists of the KingstonHappenings.Org website, social media channels, and a weekly radio show on Radio Kingston that promotes events, local businesses, and organizations. Every week this digital publication makes our community aware of what's happening locally by publishing the most comprehensive listing of events available from Bake Sales and Restaurant Specials, to major events like the O+ Festival and the Hooley on the Hudson.
According to Alex Shiffer, publisher of Kingston Wire, "This is a great opportunity to provide a richer online experience for our subscribers by incorporating the vast listings and information of Kingston Happenings, and permits our core team to focus on what we do best – reporting and investigative journalism, as well as provide an online platform for a wide range of community views." Kevin Godbey, co-publisher of Kingston Happenings stated, "When Kingston Wire was launched, we felt it represented a great opportunity to directly connect our audience with ongoing news about Kingston. Since both our publications are local, independent and strive for objectivity, it just seemed like a natural fit for us."
Kingston Wire and Kingston Happenings will be rolling out various content sharing and creation initiatives over the coming weeks and months. Followers of both publications will benefit by seeing a much broader perspective of what's happening in our community. Stay tuned for the excitement!
——-
* Kingston Happenings was launched in 2009 as a project of the Business Alliance of Kingston. Ownership transitioned to Brickyard Ventures of Kingston in 2014 whose principal Kevin Godbey, is a co-publisher of Kingston Happenings along with Veronica Fassbender. Kingston Happenings reaches tens of thousands of locals, tourists and weekenders each month with its growing social media presence and comprehensive website.
Kingston Happenings – Reflecting the Spirit of Our Community
https://kingstonhappenings.org/wp-content/uploads/2020/12/2020_12_03_KW_KH_Featured_Image_Test_02xxxx.jpg
1080
1920
Kingston Happenings
https://blastserve.com/khtestbed/wp-content/uploads/2023/07/KH-Transparent-Logo-e1688304541199.png
Kingston Happenings
2020-12-16 11:00:52
2023-01-04 11:16:02
Kingston Happenings is Collaborating!