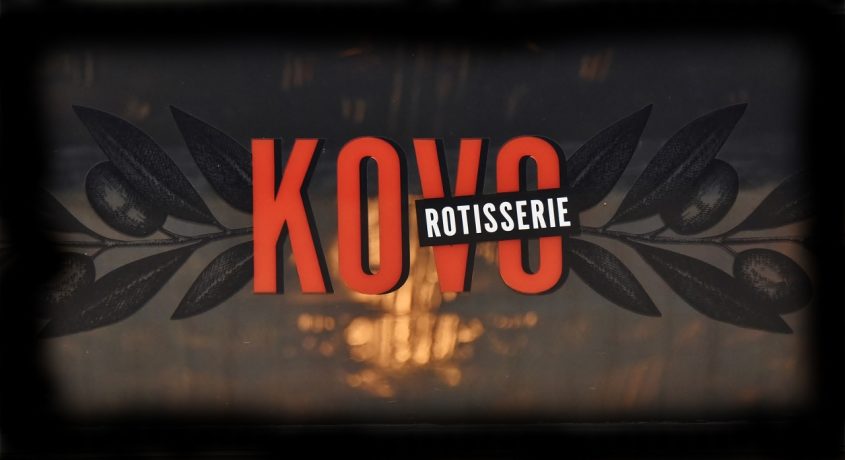 Foodie Paradiso: The Aegean in Our Own Backyard
By contributing writer: Susie Linn
Greek cuisine is a modest thing, fresh ingredients simply prepared with delicious results and Kovo Rotisserie in uptown Kingston is certainly delivering just that. The Kovo pledge is that they are committed to serving the finest, freshest local produce and meat as possible. Kovo is Greek cuisine at its finest, fresh, flavorful and not merely filling, but fulfilling.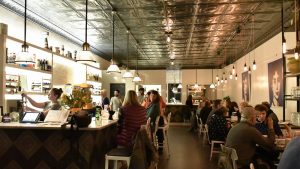 Companion One, Two and I ventured out one evening deciding on Kovo, a new restaurant in the Boitson's Family. Part gallery, part retail store, from the long bar on the side, with booth/communal tables in the airy dining area, Kovo is pleasingly spacious and informal with unpretentious, straightforward food. Familiar Greek dishes dominate the menu, like the outstanding hummus, lemon potatoes, avgolemeno and tzatziki. After ordering beverages, a 2015 Zoe Rose from Peloponnese for me served in cute little milk bottles ($7), and beer for the boys Mythos Greek Lager ($5), we perused the menu. Patterned after the "Pick one from Column A and one from Column B" theme, the menu instructs you to pick your protein, pick your greens, then do you want that in a big bowl or in a warm pita with fries.
We decided to start with Hummas and Pita (6) and a side of Giant Beans and Tomatoes ($6) and from what I understand giant beans in some form or another are never absent from Greek meze menus. The Hummus, garlicy and lemony; the Pitas homemade and served warm, I was selfish and ordered another Pita so I could have the last bite. Along with the soft, but not too soft, buttery beans mixed with tomatoes, olive oil, and garlic, it was just the right amount to stave off the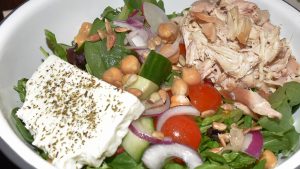 hunger pains. For our entrees, we were up for healthy, but up for meat-healthy so we each got a salad with a different protein. C1 (short for Companion One) got the Leg of Lamb with the Marouli ($14.5), C2 opted for the Pulled Pork with Chop Chop ($13), and I the Free Range Chicken with the Chop Chop ($12). Each meat, supplied by regional farms and cooked in their rotisserie, was scrumptious. The salads, beautiful, fresh greens with crunch from the radishes and tang from the salty, creamy sheep's-milk cheeses accompanying each salad was a dressing either a white Balsamic & Olive Oil, a Creamy Feta, or Citrus Vinaigrette. The food is clean, fresh and outstanding. But please whatever you do, you must save room for the frozen Greek yogurt. C2 and I had vanilla with chocolate shavings, C1 had the olive oil (yes, olive oil) and sea salt. Best. Yogurt. Ever. Creamy, velvety, smooth, sweet, tangy, you name, it was that.
The attention to detail in the restaurant is extraordinary. Lovely paintings of Greek women by Carla Rozman adorn the walls. Handsome ceramic vessels sit on shelves throughout the restaurant. Water is served in, again, those cute old milk bottles and a wooden caddy offers up flatware, harissa paste and salt and pepper. Two lone orange chairs, one at the bar and one at a window table, make for great speculation as to the reason for the "horse of a different color" among all the other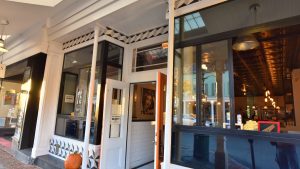 white and black.
Owner Maria Philippis, also the driving force behind the New Year's Eve Celebration in Uptown Kingston for the past five years is a no-nonsense kind of person; she shoots straight from the hip. The owner of Boitson's as well; she bought the former health food store next door so she could put a deck on the back of Boitson's. And since the health food store was gone now, why not open another restaurant? When asked, Why Greek? She answered, "Because I'm Greek." Makes sense to me.
Kovo offers delivery every day, all day within a three mile radius, a $20 minimum and $2 delivery charge. They are open Sunday to Thursday 11am – 10pm, Friday & Saturday 11am – 11pm, 845-338-KOVO, www.kovorotisserie.com, 43 North Front Street, Kingston.
https://kingstonhappenings.org/wp-content/uploads/2016/11/DSC_4089-copy-1280x719.jpg
719
1280
Kingston Happenings
https://blastserve.com/khtestbed/wp-content/uploads/2023/07/KH-Transparent-Logo-e1688304541199.png
Kingston Happenings
2016-11-20 13:42:00
2018-05-22 14:48:13
Foodie Paradiso: The Aegean in Our Own Backyard