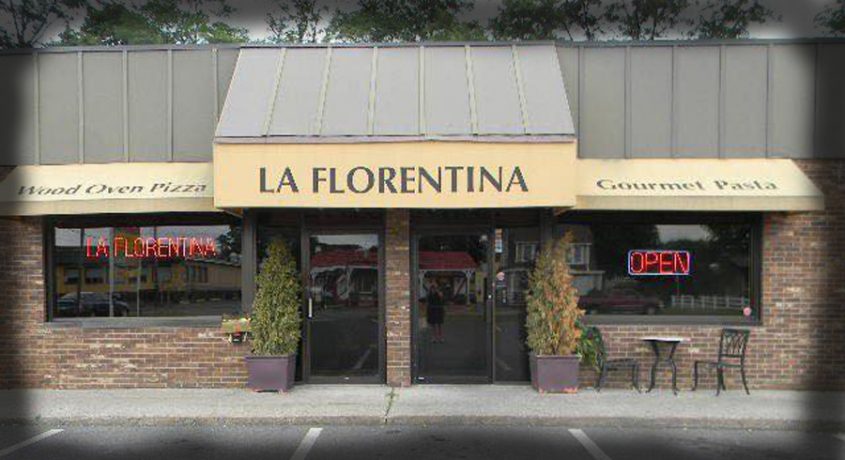 Foodie Paradiso: La Florentina Fires It Up!
By contributing writer:  Susie Linn
I'm always a little leery of restaurants in strip malls, but La Florentina is one of those proverbial gems, a first-rate Italian restaurant and pizzeria in an unremarkable setting. Here in a series of strip malls that house the likes of a Chinese takeout, a nail salon and a fitness center, this is definitely not your standard pizza joint. For one thing, there is the wood-stoked oven, its hearth visible as you enter. And if you don't see it right away, your nose will lead you there, where almost every hot dish on the menu spends at least some time in this hive-like chamber, which imparts a faintly woodsy, smoky quality to its charges and perfumes the air.
Marwan Rzek and Ammar Chamas know what they are doing. They should, because they have been doing it for a long time. Students at SUNY New Paltz, they, like many others, fell under the spell of the Shawangunk Mountains. Legend has it that, if you live under the shadow of the mountain, you will never leave. I don't know the source of that legend, but it sure seems like it's true. All those people that came to New Paltz and never left the area- myself included.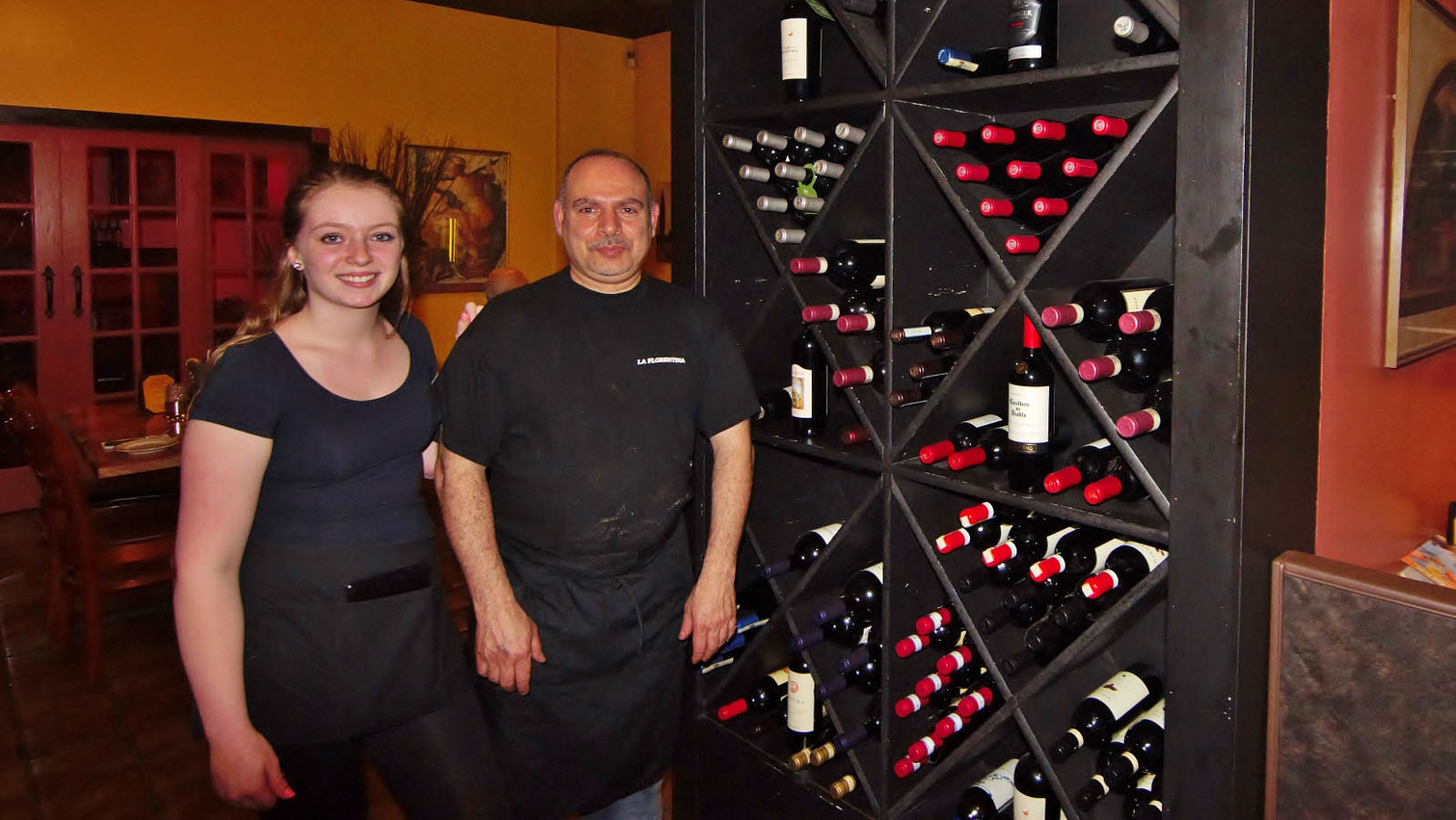 After New Paltz in 1985, the two headed for bigger pastures where they worked at La Parmagiana in Kingston and Rhinebeck (where Terrapin Restaurant is located now) and learned how to cook Italian food. When La Parmigiana in Rhinebeck closed, Rzek and Chamas decided to assume responsibility in the Kingston store and La Florentina was born.
Not so long ago, Companion mentioned La Florentina to me in passing; well, I hadn't been there in years and started thinking about that out-of-this-world salad dressing. Before I knew it Companion One, Companion Two and I were comfortably seated in a booth in one of the three dining rooms. With its Tuscan-colored walls, diagonally tiled black and white floors, gold-leafed wood-framed mirrors festooning the walls, and spare wooden tables, it is elegant enough for date night, but not so fancy that you have to leave the kids at home.
We ordered a carafe of Chianti, Castello Di Gabbiano ($20.95); the wine list is simple with some very appealing choices priced between $16.95 and $38. I happened to mention how much I loved the bread and salad dressing/dipping sauce. Within moments, the bread and Insalata Della Casa ($8.25) with Romaine lettuce and a variety of vegetable toppings were at our table. The bread is a pillow of dough (literally), similar to an Indian poori, but baked rather than deep-fried in that blisteringly hot wood-fired oven, then brushed with a garlic and herb oil. Rip a piece off and dip it in that parsley-based dressing with a hint of lemon that just sings spring. Delicious! Then the Pear and Apple Salad arrived ($10.50) with fresh apples, pears, roasted red peppers, and walnuts, tossed with mixed greens and dressed with maple vinaigrette and a generous sprinkling of gorgonzola cheese. The sweet of the fruit and the dressing, the tangy peppers, complimented by the salty and creamy cheese with the crunch of the walnuts, what's not to love? Salads ($8.25-$11.95) are large and definitely enough for a number of people to share or to have as an entree.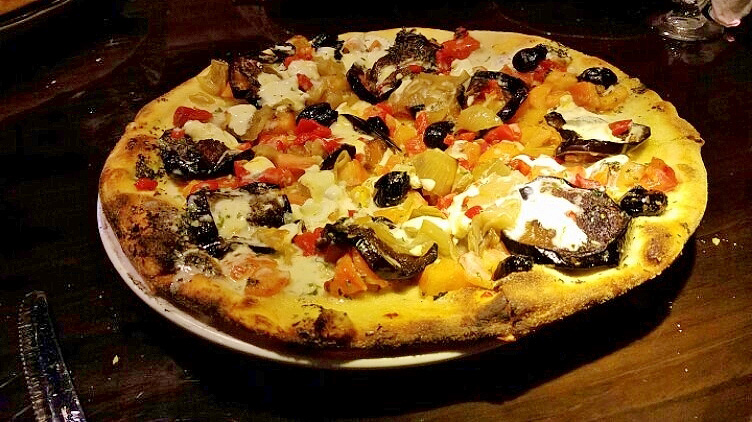 So enough with the healthy stuff, we decided to get serious and ordered an appetizer ($8.25-$11.95, all sharable, soups, $6.95 & $7.50), the Fonduta Gambri ($11.50) A velvety, buttery dip with shrimp, artichoke hearts and spinach; wood-roasted with Parmesan cheese, and served…. with that bread. It's a good thing we had that bread to sop up every last bit. On to the entrees where I ordered a spinach tagliatelle (ALL pastas are made right there $12.95-$20.95; in fact almost everything is made in-house.) with clam sauce ($15.95). It was a huge plate of pasta, chock full of olive oil, garlic, and clams that paired nicely with the al dente noodles. Companion One ordered the Panzorotti pizza ($13.50) with tomato sauce, mozzarella, Genoa salami, baked loose homemade sausage and oven roasted peppers with a slightly charred, blistered edge of a nicely stretched crust…enough for four to share. These are not your ordinary pizzas. Of course, there is a Margherita, but what about the Mauceri, a stuffed pizza filled with spinach and ricotta, its center topped with red cabbage; served with porcini mushroom sauce or sesame sauce or the Shrimp Florentina succulent with shrimp, fresh tomatoes, fresh spinach, homemade mozzarella cheese, cheddar cheese, onions, red peppers and black olives. You are well on your way to a memorable pizza experience ($10.95-$16.95). Companion Two was determined to round out the meal, but had a hard time deciding what to choose from the list of twelve different calzones ($12.50-$14.95). Finally settling on the Salsicia ($13.95), which oozed ricotta cheese, homemade loose sausage, Genoa salami and oven roasted peppers. Do you think he could finish it? Another homerun. Oven baked entrees ($15.95-$19.95) and daily specials are also available….too much to choose from.
Stuffed to the gills, we were not to be outdone, dessert we must have. We decided on that ubiquitous dessert from the 1980s and 90s, tiramisu ($4.95). Our subsequent encounter with this tiramisu almost washed away the memory of those bad incarnations of nearly 20 years ago. It was some tiramisu, spongy and rich, with a resonant coffee flavor. Old acquaintances like this should not be forgotten.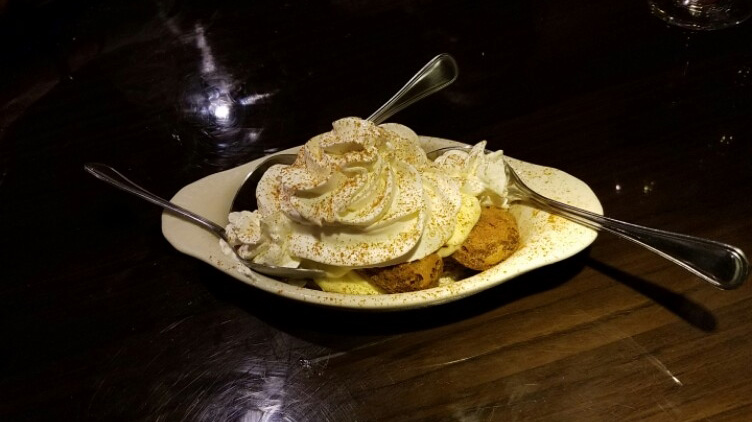 We were completed satiated with many take-home containers. Rzek says it's a family affair. They motivate their children who work there and the patrons are family. They listen to what their customers want and have barely raised the prices in twenty years. It's good value, in a pleasant setting, with good service, and then there's that oven. Wood is the primal cooking fuel. No matter how far kitchen technology has advanced since the first meat was cooked, through coal, charcoal, gas and electricity, chefs have never turned their backs on the simple wood fire.
La Florentina is located at 606 Ulster Ave., 845-339-2455, www.laflorentina.net. Closed Mondays, Tuesday-Friday 11:30am – 10:00pm. Saturdays 4:00pm -10:00pm, Sundays 4:00pm-9:00pm, Dinner starts at 3:pm weekdays.
https://kingstonhappenings.org/wp-content/uploads/2016/05/La-Florentina-front-1.jpg
506
900
Kingston Happenings
https://blastserve.com/khtestbed/wp-content/uploads/2023/07/KH-Transparent-Logo-e1688304541199.png
Kingston Happenings
2016-05-01 07:44:49
2018-05-22 14:48:17
Foodie Paradiso: La Florentina Fires It Up!