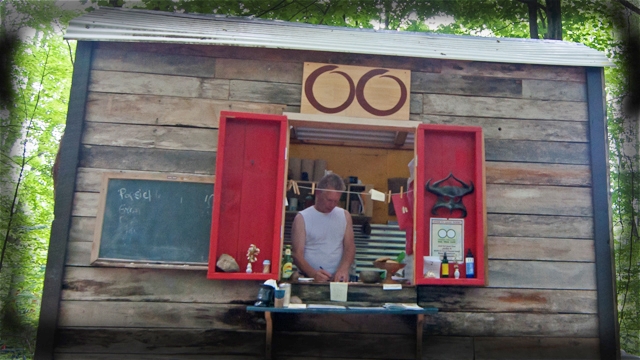 Foodie Paradiso: Foraging Made Easy at the Rail Trail Cafe
By contributing writer: Lynn Woods
On a hot sunny day, there's many reasons to ride your bike on the Wallkill Valley Rail Trail in Rosendale. There's the Rosendale Trestle and the view of Joppenbergh Mountain, a steep pile of boulders looming directly over the trestle; the ruins of limestone cement kilns, remnants of industry from another century; and the delight of soaring through the cooling shade of the silent forest. But on the weekends, perhaps the best reason of all is the Rail Trail Café, which evokes the eateries of a distant era—say, the Middle Ages, or the Bronze Age. Just off the trail, eight tables are arranged in a large clearing shaded by mature maples and oaks. Off to the side is a free-form, prehistoric-looking wood-fired oven fashioned out of clay, straw, and sand, located under a rustic shelter consisting of tree trunks supporting a clear plastic roof. Because of its special design, the oven quickly reaches temperatures of nearly 1,000 degrees, so that the Rail Trail Café's pizzas not only have the crispest crust, but also have a very short cooking time; five minutes after ordering, the pie is on the table. A short distance away is a wooden caravan, from which orders are taken and salads and green drinks made. Through the greenery you glimpse the field from which much of the veggies served are grown.
Now in its second summer, and open only on weekends, the Rail Trail Café is attracting a following of bicyclists, hikers, and the curious, who have heard about this unusual respite in the woods and are coming from as far away as Westchester County and New York City (co-owner Brian Farmer said the clientele also includes Europeans and Asians on long-distance bike tours). Brian, who works as an agricultural consultant, and his wife, Tara Johannessen, a writer, had a couple of large gardens on their acre and a half on the border of Rosendale and New Paltz when they noticed that the neighboring rail trail was getting a lot of traffic. They came up with the idea of opening a café as a way of selling the greens they grow without having to lug it to a weekly farmers' market. "Here people come to us," Brian said. After Shawn DeRyder built the Cob Oven, as it's called, the couple raised the money to build the cart through a Kickstarter campaign. The wood used for the structures was milled from their farm.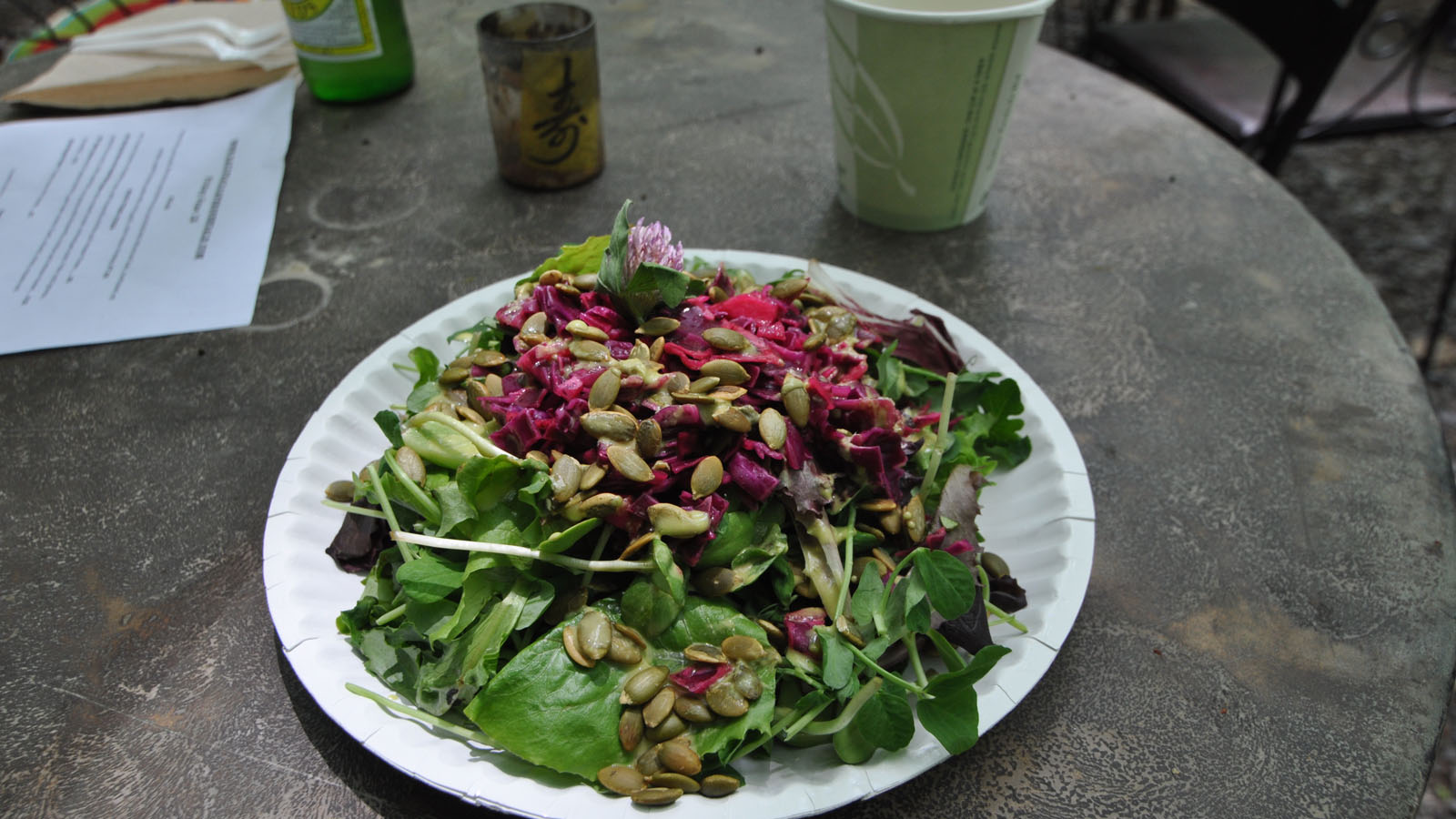 The main entrée consists of a choice of several pizzas, baked in that super-hot oven. They also sell vegan baked goods, such as homemade nut loaf and nectar balls, which have become popular trail snacks. The vegetarian menu of pizzas, pasties (whole wheat pastries filled with different combinations of veggies), a soup and a salad changes every week to accommodate that week's crop.
The Sunday we visited, we had a hard time deciding between the pizza topped with crushed tomatoes, caramelized onions, pesto (made from the farm's wild greens, pea shoots, and sorrel), asparagus and melted mozzarella, cheddar and Romano cheese and the curry pizza, a perennial favorite, according to Brian. We ordered the latter, and discovered the Indian spices worked especially well given the light, crispy crust. We also ordered a large, colorful salad of pea shoots, spring greens, including baby lettuce and kale, marinated red cabbage, roasted pumpkin seeds with roasted garlic tossed with a chive lemon dressing. It was crunchy, loaded with a medley of fresh flavors, and the dressing provided just the right amount of tartness.
We downed it with organic lemonade and a ginger beer; the Rail Trail Café also serves a green drink made with apples, kale, ginger, dates, banana, and spring water that's a meal in itself. Dessert was a popsicle made from organic local strawberries, loaded with natural sweetness. (The other flavors were fair trade coffee, cider, and green apple).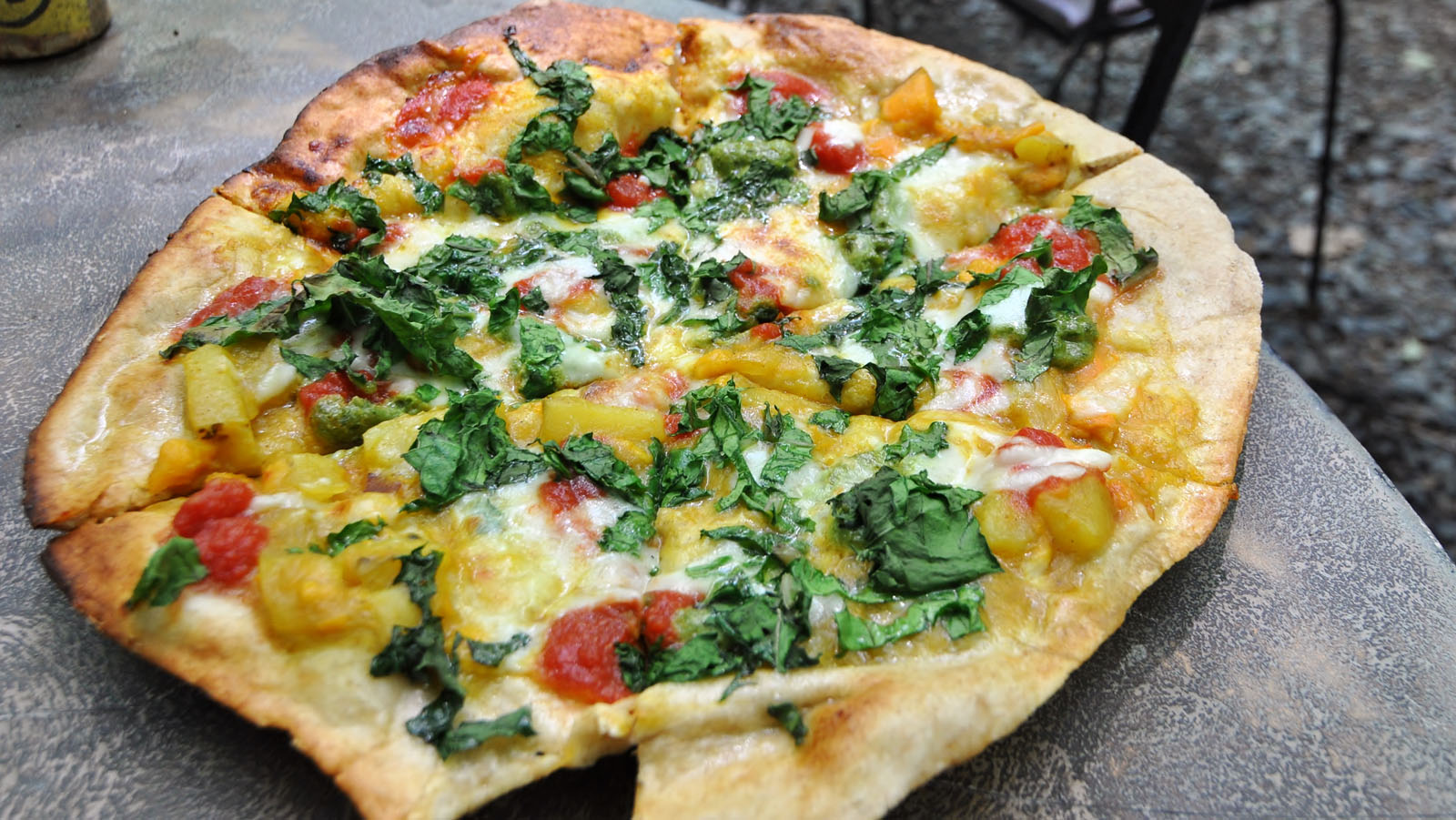 Campers can erect their tents in a nearby clearing for a small fee, and live music is offered on weekend evenings. (BYOB; check the website, www.railtrailcaferosendale.com, for a schedule of upcoming performers). Rail Trail Café is open from 5 to 8 pm on Friday and from 10 am to 8 pm on Saturday and Sunday, except when it rains; the owners are planning to launch another Kickstarter campaign this year to pay for a fabric canopy, with a sculptural-like design, that would be erected over the dining area, which would allow for all-weather dining. With rail trails growing in popularity, the Rail Trail Café could be on the cutting edge of something big—trailside amenities that showcase the uniqueness of the area by combining the best of local agriculture and culture.
The Rail Side Café is located at 310 River Road Extension off Springtown Road and has parking.
Editor's note: The Wallkill Valley Rail Trail can be accessed from many points which can make the bike ride or hike to the Rail Trail Cafe as short as one mile or as long as 15 miles in one direction and all on nearly level terrain. The jaunt from Kingston is about 7 miles which is a pleasant afternoon bike ride for the novice.
https://kingstonhappenings.org/wp-content/uploads/ngg_featured/DSC_0139-copyx.jpg
360
640
Kingston Happenings
https://blastserve.com/khtestbed/wp-content/uploads/2023/07/KH-Transparent-Logo-e1688304541199.png
Kingston Happenings
2015-06-22 16:40:51
2017-01-15 10:09:18
Foodie Paradiso: Foraging Made Easy at the Rail Trail Cafe