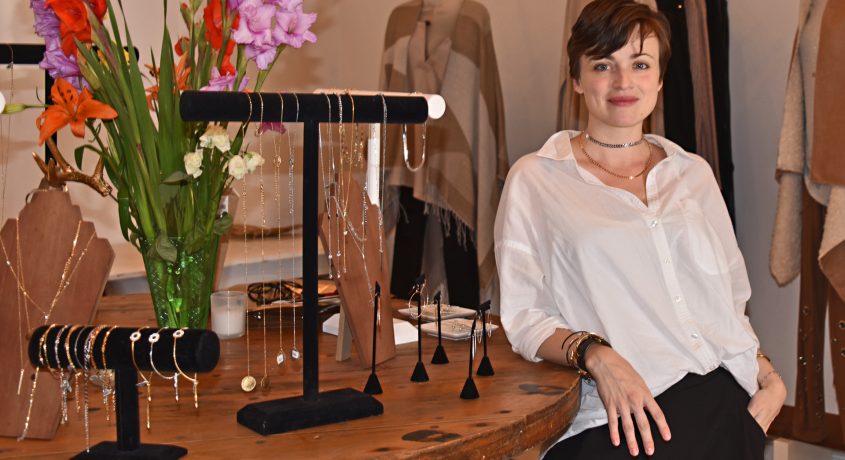 Retail is tough and unforgiving. Stocking merchandise that moves, setting the right ambiance that appeals to your market, and pandering to your clientele are all essential elements of a successful retail operation and missing a beat on any one of them can sink a business in a heartbeat. Uptown Kingston is very fortunate to have a new shop opening up that has a great chance to be successful and bolster its status as a hip place to shop. Say 'hello' to this week's Doer and Dreamer, Tiffany McDermott, who is bringing a lot of experience and energy to the community, not to mention keeping the closets of a lot of the area's women full.
Your name: Tiffany McDermott
Business or organization: Capsule Collection Boutique, 105 Partition St., Saugerties and 58 North Front St., Kingston
Occupation: owner of Capsule Collection Boutique
What is your approach to your business or occupation that makes you unique?
I believe that fashion changes with the world and our world has grown more casual in the past few years. I really pride my business model on making "casual chic" exciting and wearable. When I visited Paris with my best friends 7 years ago I really watched the women in motion so to speak. They were all moving, working, being mothers, students, business people and they all looked so effortless- oversized scarf, menswear inspired pieces layered with a feminine blouse, tee shirt, and of course a beautiful shoe. I knew I had to make the experience of shopping local one that could beat the major stores that are super popular right now, and this idea of a very detailed, carefully selected and essentially small curation of what I considered to be "the very best" in wearable fashion was born. Kyle branded that vision by giving me our boutique's name "Capsule Collection".  A capsule collection is a prized selection of a designer's most coveted, edited pieces. Once it sells it usually isn't recreated and therefore, I rarely reorder items unless it is a basic. I want women to feel special when they shop with me and not be intimidated or focused on trends; instead, I want the clothes to fit their lifestyle and move in and out of their daily lives.
Where are you from originally?
I am originally from Glasco, NY, which is a small Hamlet located between Saugerties and Kingston. My grandmother's family immigrated here from Italy and worked at the Glasco Ice Company which was one of the only suppliers of ice from here to NYC.
What brought you to the Kingston area and keeps you in this area?
When I was 14 years old I began working for Connie and Ralph Strunk at Next Boutique on the Historic Rondout in Kingston, NY. That small job changed my life forever. Working for Connie was the best education I could ever ask for. She was brilliant; incredibly gifted in the art of buying and aesthetically welcoming her customer into her vision. She understood "a look" and was able to incorporate her romantic vision of the west, cowboy boots, jeans and white tee shirts into every trend, every year. I do believe I learned from the very best in the business and for that I am grateful. Another reason why Kingston is so beautiful to me is because I met my husband here and we started a family. Kyle is incredibly talented as well and without his collaboration, brilliant antiques from his store space "McDermott & Sons" (located in Saugerties, NY) and branding I would be lost.
What is your favorite hangout in this area and why?
Kyle and I can say without a doubt we take our reprieve at Stella's Restaurant in Kingston, NY. On top of the absolutely delicious food, both our families have history with each other. My grandmother and her sisters knew Stella from childhood and cooked with her at the Flamingo, a popular restaurant in Saugerties, for years. We also enjoy Ole Savannah's on the Historic Waterfront in Kingston, NY; food is always delicious and it has a beautiful atmosphere.
When you're not in Kingston, what's your idea of a wonderful city to visit, and why?
NYC for sure
Tell us something that we never would have guessed about you.
I have 4 kids under the age of 4! Desmond, Mannix, Nola, and Niall (oldest-youngest) make up our tribe and Kyle and I would have it no other way. It's so amazing to watch them grow as little people.
https://kingstonhappenings.org/wp-content/uploads/2017/09/DSC_0985_edited-1-1.jpg
1080
1920
Kingston Happenings
https://kingstonhappenings.org/wp-content/uploads/2013/10/Final-KH-Logo.png
Kingston Happenings
2017-09-19 09:52:53
2020-02-25 12:00:10
Doers and Dreamers – Tiffany McDermott