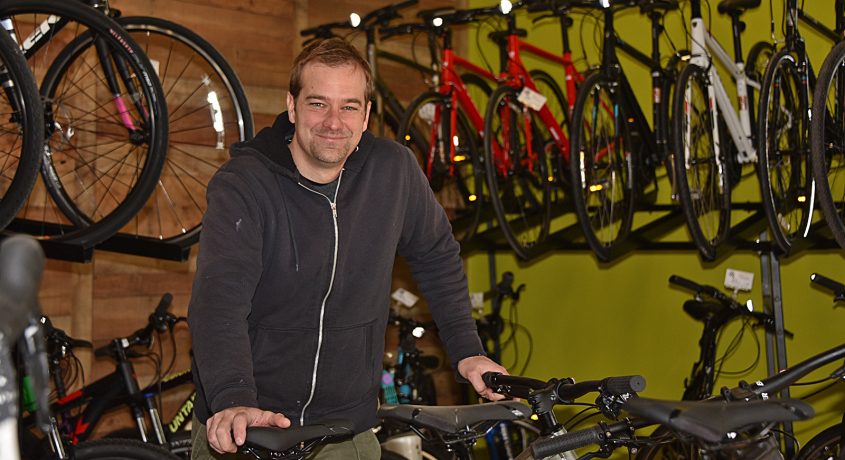 Doers and Dreamers – Steve Leibowitz
Building a business around your life's passion certainly sounds like a great basis for success. It also helps to ride the wave of a growing trend towards healthy lifestyles in a community that is investing a lot to support that trend. Meet this week's Doer and Dreamer who has jumped in with both feet (or both wheels) to start yet another small business in our community.
Your name: Steve Leibowitz
Business or organization: Revolution Bicycles, 388 Hasbrouck Ave , Kingston, NY
Occupation: Bicycle shop owner
Operating a bicycle shop requires you to be many things to many people, so while I've taken a generalist approach to stocking the store with a wide range of inventory, I think the thing that makes me a little different as a shop owner is the sheer amount of cycling I do and the variety of places that I ride.
I pretty much ride every day, and I'm not picky. I'm just as happy to go for a cruise around the neighborhood as I am to do an epic mountain bike ride for 5 hours on technical terrain with a group of hardcore mountain bikers. I love long road rides through the scenic roads of Ulster County as much as I enjoy doing a short slow-paced ride to get my dog Stella, who is getting up there in years, out for a little exercise. I also commuted to work in NYC by bike for my entire working life there, so I know what it is to ride in traffic, in all weather. One of the best things for me personally about our move to Kingston is that I get to ride to work everyday again. It's less than a mile, but I make a point to go the long way and discover new neighborhoods along the way. I think that the sheer range of experience that I have with every kind of bicycle makes me a particularly valuable person to talk to about making the right choice of a new bike, or change of equipment or addition of accessories to make riding better. Jut about anything you may want to do on a bike I've already done.
Where are you from originally? Queens, NY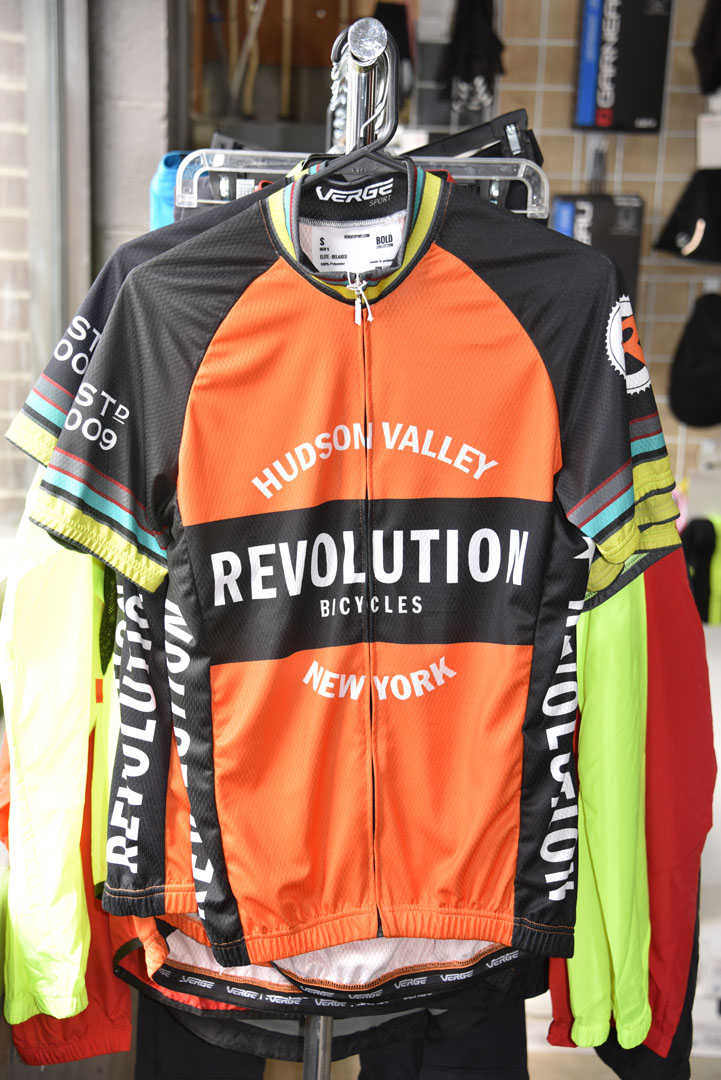 What brought you to the Kingston area and keeps you in this area?
My wife and I discovered Kingston in 2006 when we were shopping for a weekend place. At the time, we were only familiar with New Paltz and with the rural areas of Ulster County. Samantha saw a listing for a place described as "near the waterfront" and we were like, "what waterfront?!" So we checked it out, and while we didn't end up with that house, we immediately fell in love with Kingston and decided that there was no other place for us. We found our house in 2007 and for 2 years we did the weekender thing, but we found going back to NYC less and less appealing every week. In April 2009 we opened Revolution Bicycles in its first, very modest beginnings, and have devoted ourselves to our life and business here ever since.
What is your favorite hangout in this area and why?
On the rare occasions that we get to just go for a stroll and relax, we love the Rondout. The waterfront is gorgeous any time of year, we love the architecture of the homes, the churches, the bridges. We make a point of visiting the new ducklings every spring. And it's always changing. In the nearly 11 years we've been here it's been inspiring to see dilapidated structures brought back to life, and the development of the promenade and all the new businesses that have come to town.
When you're not in Kingston, what's your idea of a wonderful city to visit, and why?
Saugerties is really cool. We spent half our lives there for the first 9 years that we've operated the bike shop. It's one of the last places in America where you really don't need a car to survive. The architecture is beautiful, there are great restaurants there, a wonderful movie theater and Smith's hardware has got to be the best hardware store on the planet. Leaving Saugerties was a hard decision. But the good new is that it's really close and so we can go there any time for dinner and a movie or whatever.
Tell us something that we never would have guessed about you.
Bicycles are my life. But you probably guessed that.
https://kingstonhappenings.org/wp-content/uploads/2018/04/DSC_4286_edited-1.jpg
900
1600
Kingston Happenings
https://blastserve.com/khtestbed/wp-content/uploads/2023/07/KH-Transparent-Logo-e1688304541199.png
Kingston Happenings
2018-04-11 16:18:14
2020-02-25 12:00:09
Doers and Dreamers – Steve Leibowitz