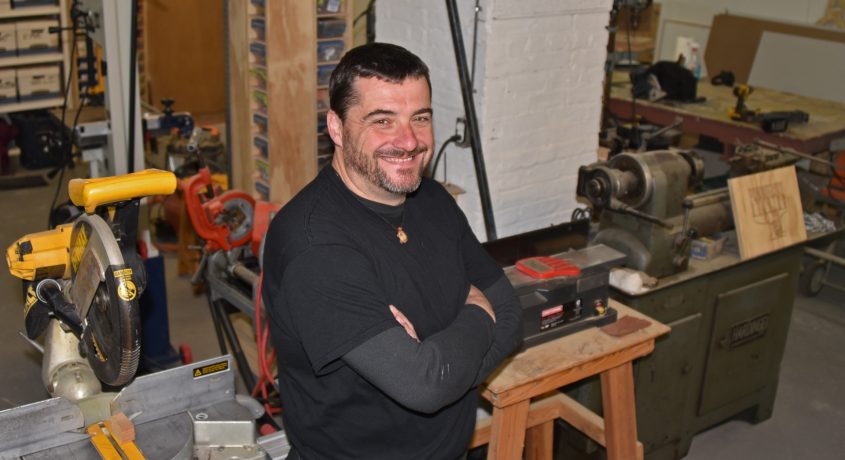 Doers and Dreamers – Martin Elting
"Imagineering" is a term coined by Walt Disney to describe the people who went on to bring many wonderful concepts to life at Disney theme parks all over the world. Isn't a great concept to provide the tools and knowledge to enable anyone in the community to bring their ideas to life, too? This week's Doer and Dreamer is channeling his passion for transforming ideas into reality by creating a non-profit organization to help anyone with a creative idea, do just that.
What is your name? Martin Elting
Business or organization: Possibility Studios (a 501c corp.), 107 Greenkill Avenue, Kingston, NY 12401
Occupation: I've been a plumber and contractor in the Kingston area for 20+ years. But my calling is to be owner/operator of Possibility Studios.
What is your approach to your business or your occupation that makes you unique?
I have been making things my whole life; from copper-wire sculptures to hi-tech water features, to robots, models, machines and remote-controlled gadgets. I have an endless fascination for tools and techniques of all kinds. As a student at Kingston High School back in the 80's, in addition to a regular shop class, I had access to carpentry, electronics, auto repair and the like through the Ulster BOCES program. These programs have faltered and become underfunded. People need to make things. It's part of being human.
My approach to business resonates with the whole "maker" mentality, which is one of sharing knowledge and ideas openly, following your heart, accepting help and criticism. An open-source environment requires honesty and a willingness to pitch in and help.
Where are you from originally?
I was born and raised in Kingston. As a kid I lived in Ulster Park, riding my bike through the woods for hours on end and helping my Grandfather build things.
What brought you to the kingston area? And what keeps you here?
After some time in the service, I came back to the area to be with Family and start one of my own. My son is currently a freshman at Kingston High School. Kingston itself has a more dynamic feeling to it now than it ever has. Things are changing and I look forward to
seeing it progress and taking part in it.
What is your favorite hangout in the area and why?
It's the studio, handsdown. I am in my element there. With ALL the tools at my disposal and some music on the stereo, that's my ideal hangout. I love to eat, too. And Mid-town has some great grub. Stone Soup, Peace Nation….I've been wanting to try out some of the taquerias on Broadway too….mmmm.
When you're not in Kingston, what's your idea of a wonderful city to visit. And why?
Walt Disney World. Its a source of endless inspiration to me as a person who likes to make things. EVERYTHING there is a construct. A vision made real by real people in AMAZING workshops; Bringing concepts to life on a grand scale. The weather's pretty good, too.
Tell us something about yourself that we would never have guessed.
Back when the Hannaford in Kingston Plaza was a Grand Union, I was a "skater". I rollerskated all over the store putting away items, retrieving others for customers. I was even an official feature of the Tour of Kingston! I'll admit, until now, it was my favorite job ever.
https://kingstonhappenings.org/wp-content/uploads/2017/05/DSC_7449_edited-1.jpg
1080
1920
Kingston Happenings
https://blastserve.com/khtestbed/wp-content/uploads/2023/07/KH-Transparent-Logo-e1688304541199.png
Kingston Happenings
2017-05-09 08:20:59
2020-02-25 12:00:11
Doers and Dreamers – Martin Elting