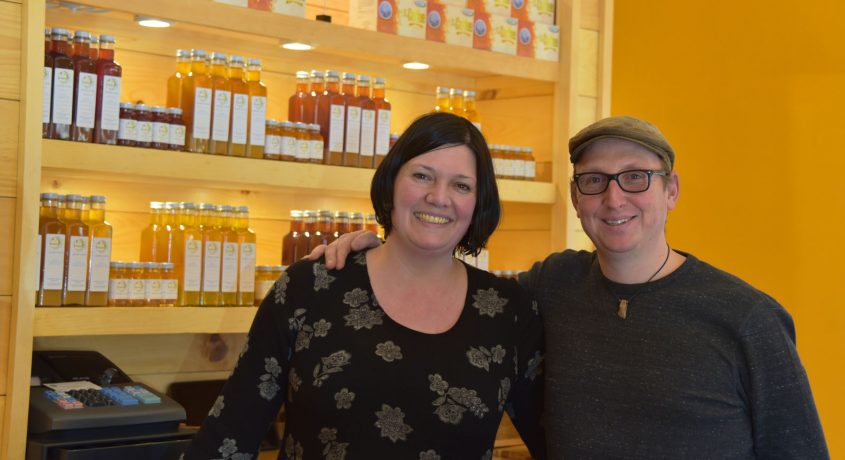 Doers and Dreamers – Corinna and Jason Geib
There is elegance in simplicity. A simple product(although meticulously crafted) supported by a simple business model is generally a winner and in this case, it clearly has been successful. This week's Doers and Dreamers have set up their small scale business, like many that have in this area, catering to the local market as well as far beyond with all sorts of potential for growth.
Your Name: Corinna and Jason Geib
Business or Organization: ImmuneSchein, LLC (Ginger Elixirs and Teas) 43 Basin Road, West Hurley, NY 12491
Occupation: ImmuneSchein Managing Members
What is your approach to your business or occupation that makes you unique?
Our ImmuneSchein Ginger Elixirs are handcrafted in small batches and are not mass-produced, ensuring freshness and quality in every bottle without the use of any additives, powders or preservatives.
In our original Classic Ginger Elixir, there are only 3 whole food ingredients with nothing more: organic lemon juice, organic ginger root and wildflower honey. We use whole fresh ginger root in all of our ginger elixirs to create purity and freshness in taste. In our other lines of ginger elixirs we use a 4th ingredient that is simultaneously infused with our "Classic" line ingredients. These additional ginger elixir flavors currently are made with either organic turmeric root, organic Ceylon cinnamon, organic hibiscus flowers, organic lavender, organic elderberry, organic cardamom or local organic garlic.
We recently built out a 5,000 sq. ft. facility in West Hurley, which allows us to keep the production in our own hands and stay true to our process using only fresh and whole ingredients for every single bottle produced, not compromising our ingredients by having it produced out of house.
Where are you from originally?
Corinna is from Germany and lived there until she was in her 30's before she moved to the U.S. and became a dual citizen a few years ago.
Jason is from Oklahoma, and after spending the past 20 years relocating with his profession throughout the country, he has now lived in NY for 4 consecutive years.
What brought you to the Kingston area and keeps you in this area?
Jason was offered a position in the Hudson Valley 4 years ago, and we relocated to the area.
Both of us love being in nature, and the amazing beauty of the Hudson Valley is definitely a reason that keeps us in the area. What makes this part of the Hudson Valley interesting as well is the abundance of amazing producers, artists, and makers of all sorts, constantly adding value to our personal and business life.
What is your favorite hangout in this area and why?
Hanging out? That does not happen often! If it does, we love to meet up with friends for a hike or get together at our home, and if we do go out our choice often is Le Canard Enchaine. For us this restaurant provides some of the best atmospheres, with excellent service and European charme.
When you're not in Kingston, what's your idea of a wonderful city to visit, and why?
Locally: Woodstock – provides a great balance of small town, hiking, nature, great quality shops and amazing art offerings.
Nationwide: Asheville – our former home in the south for a few years. Asheville has many of the same qualities that the Hudson Valley offers, and it is home to some of our best friends.
International: Dublin – medieval meets modern! Dublin is one of the most comfortable, warm and inviting cities we have ever visited, where you can feel placed back into the medieval times, or be in the middle of the most modern buildings.
Tell us something that we never would have guessed about you.
After deciding to leave Germany to move back to the USA, we both gave up our jobs, sold all of our belongings with the exception of 2 suitcases each. Arriving back in the US, we used our savings to buy a used car to travel through the country in the hope of finding a new home and jobs.
Owning just our clothes and a few personal belongings, we travelled from NY to CA, CA to NY, NY to FL, not having found a place to call home. A bit desperate, we ended up staying at a family member's apartment in FL working different daily minimum wage jobs at to earn enough money to eat.
After 7 months, we did end up with a job in Asheville NC where we started building up our new life, and slowly developed the idea to create a company for our ginger elixir.
<hr>
https://kingstonhappenings.org/wp-content/uploads/2017/03/immunschein-14.jpg
900
1600
Kingston Happenings
https://blastserve.com/khtestbed/wp-content/uploads/2023/07/KH-Transparent-Logo-e1688304541199.png
Kingston Happenings
2017-03-07 11:29:50
2020-02-25 12:00:12
Doers and Dreamers – Corinna and Jason Geib