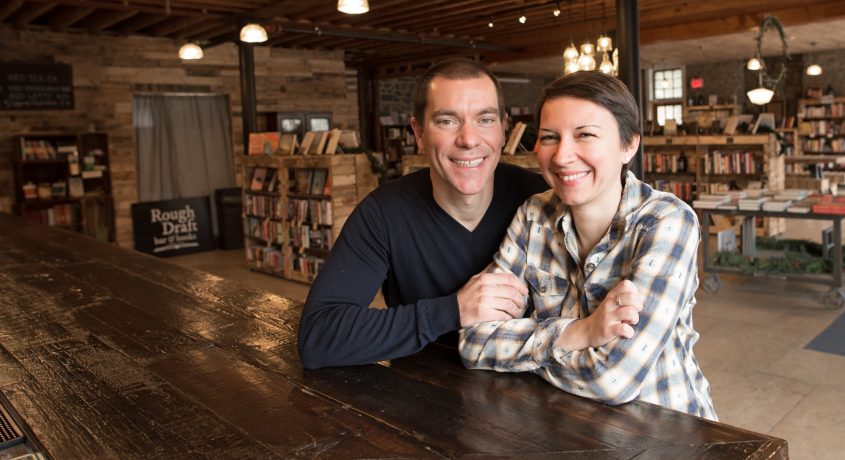 Doers and Dreamers – Amanda and Anthony Stromoski
Sure, sure. You can get a glass of beer or wine in all sorts of places around town, books are available in plenty of stores too, and there are also lots of coffee shops in town, but there is only one place where you can get all of those sources of comfort in one establishment. This week's Doers and Dreamers have tapped into each of those separate markets and created a space in a historic 18th century building that feels cozy and spacious at the same time which calls to anyone passing by to stop in. By the way, the formula seems to be working very well for these two high school sweethearts!
Your name: Amanda and Anthony Stromoski
Business or organization: Rough Draft Bar & Books , 82 John St. Kingston, NY
Occupation: Small business owners, and Amanda is still a full-time health writer.
What is your approach to your business or occupation that makes you unique?
We take some of our favorite things–good coffee, good beer and and good books–and bring them together in one place. The Hudson Valley is filled with terrific spots that specialize in any one of the three, but we aim to create comfortable, convivial atmosphere where folks can grab an espresso and work on their laptops, read a book with a nice glass of wine, or gather with friends or a book group around our communal table and share some great local beers.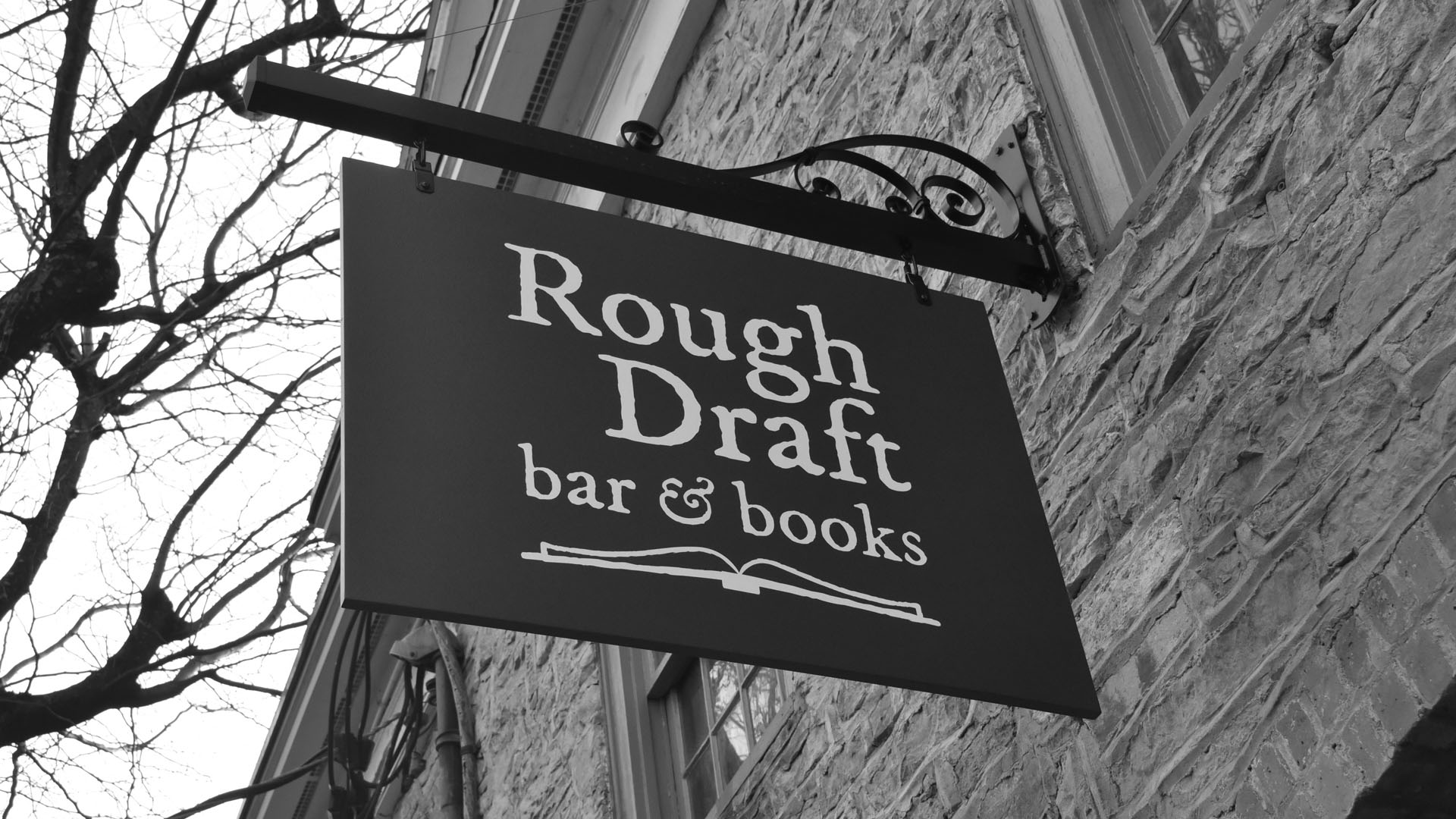 Where are you from originally?
We grew up in South Jersey, just outside of Philadelphia. We moved to Brooklyn after college, where Amanda worked as a health writer and Anthony as a public high-school teacher and administrator.
What brought you to the Kingston area and keeps you in this area?
For the past decade or so, we've been roadtripping through the Hudson Valley and stopping in Kingston to fuel up before hiking or camping. Soon, we were staying for a night or a long weekend to enjoy the great restaurants, bars and cafes. Eventually, when we made the decision to start our business, and we were searching for the right Hudson Valley town, we quickly decided on Kingston. The people, the proximity to the mountains, the financial opportunities–both to buy a home and to rent a good commercial space–Kingston had the best combination of all we were looking for. We had been eyeing the Kingston Academy space at the historic intersection of Crown and John Streets for years, and when it came time to decide on a location, we couldn't pass up the opportunity to rent a space with such beautiful stone, brick, original wood and huge windows.
We love living and working in Kingston, primarily because of the people. Upon moving to Kingston last summer, we received a warm welcome from folks all over our neighborhood and beyond. The merchants in town have been kind enough to give us a ton of advice and support, and we've developed a really nice community of neighbors and friends, including in our little Uptown micro-hood around Crown and John. Our English bulldog, Augustus, loves to ramble around Forsyth Park and romp around in the waves at Kingston Point Park. And we have a regular cast of baristas, bartenders, farm stand workers and more that know us by name and make us feel like we're part of something special. Plus, Kingston itself is a town of such beauty and character–from the architecture to the mountains in the background to the distinct identities of each of the neighborhoods–we can't help but be huge cheerleaders for our new home.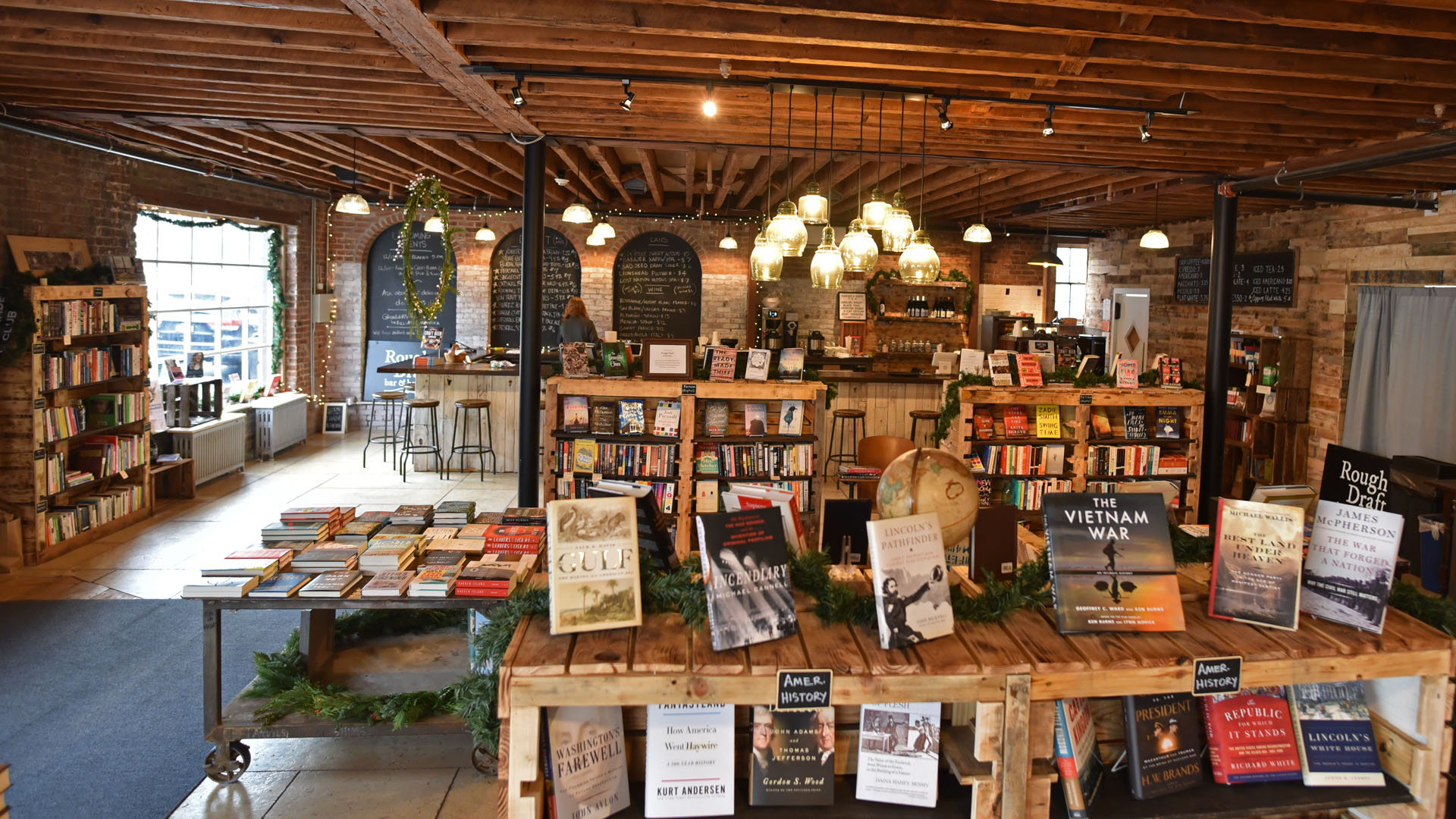 What is your favorite hangout in this area and why?
We're going to have to call it a tie between Outdated Cafe and Stockade Tavern–one for the morning, and one for the evening. Even now, after we've opened up our own place, Outdated is an early-morning refuge where you can find a great smile at the counter, beautiful lattes, and the best scones in the world. At night, Stockade remains our favorite spot for a quiet cocktail after a long day. The consistency and quality of the drinks, the banter, and the service-industry camaraderie all keep us coming back. Outside of food and drink, however, we spend the most time walking or running with our dog on the rail trails.
When you're not in Kingston, what's your idea of a wonderful city to visit, and why?
We love traveling, especially around the US and hitting every National Park we can. But our favorite city to visit again and again is probably Asheville, NC. We've had family in Asheville for the last 20 years or so, and it's been interesting to watch it grow in popularity and population (possibly not all for the better). But we love to go back and visit Asheville for many of the same reasons we love Kingston: a number of fantastic local breweries, great hiking and camping nearby, world-class food, music, bookstores and coffee. All of this without any skyscrapers blocking one's view and with better weather than you get this far North.
Tell us something that we never would have guessed about you.
We met over twenty years ago in marching band, while we were in 8th and 9th grade. We were high school sweethearts then, and have been best friends and partners ever since.
https://kingstonhappenings.org/wp-content/uploads/2017/12/DSC_3209_edited-2.jpg
1080
1920
Kingston Happenings
https://blastserve.com/khtestbed/wp-content/uploads/2023/07/KH-Transparent-Logo-e1688304541199.png
Kingston Happenings
2017-12-19 14:49:43
2020-02-25 12:00:09
Doers and Dreamers – Amanda and Anthony Stromoski