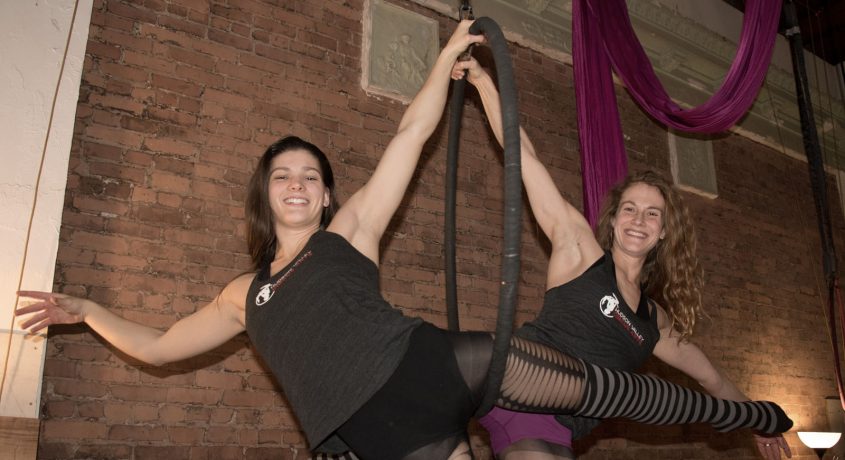 Doers and Dreamers – Alisha Mai McNamara and Lana Heintjes
It's been my pleasure to have met many of the people that are health and fitness professionals here in the Kingston area and the enthusiasm, dedication. and sheer exuberance that they bring to their work and project to their clientele is just amazing to watch. Whether it's teaching yoga, martial arts, power lifting, parkour, zumba, pole dancing, or any other fitness-related activity, the value that these professionals bring to the community is immeasurable because of the overall healthy lifestyle that they encourage. This week's Doers and Dreamers are certainly no exception to that rule and the strength, flexibility, and grace, that their art promotes would be a benefit to anyone.
Your name: Alisha Mai McNamara and Lana Heintjes
Business or organization:Hudson Valley Circus Arts , 323 Wall St., Kingston NY
Occupation:We teach circus classes including aerial silks, lyra and Acro Yoga for mostly recreational students, and we perform locally. In the future we will be adding classes in hand-balancing, flexibility training, hula hooping, and other circus arts as we grow. Lana also teaches yoga and Mai is also the programs director for a local non-profit that offers nature immersion experiences, called Wild Earth.
What is your approach to your business or occupation that makes you unique?
Our community oriented approach makes us unique. We know that trying aerial arts for the first time is intimidating for most people, so we want our students to feel really welcomed and comfortable being themselves. Our classes always start with a fun warm up that helps our students get to know each other and allows everyone to be silly and laugh together. We create a supportive learning community in which we all route for one another's success. We always look forward to teaching because of the atmosphere of the studio – it's a great place to start the day or unwind in the evening.
We're also unique in that we offer an environment for strength training that's made up mostly of women. We love helping other women develop strength, coordination and flexibility, and achieve things they never thought they could do! We believe the confidence that comes from being strong and capable in our bodies can't help but trickle out into the rest of our lives. It certainly has for us.
We've grown Hudson Valley Circus Arts very gradually and organically, which has really allowed us to keep our passion for our work and the very best interests of our clients at the center of all the decisions that we make. When we first started out we couldn't imagine how everything could possibly come together, but little by little so many people have liked what we're up to and pitched in to help. Many of our students have been inspired to engage with us beyond taking our classes, and have offered their various professional skill sets, volunteered to help run our events, brought countless friends to class… I think that because our whole business has been so incrementally home grown, people have really felt a part of it along the way and wanted to see it fly.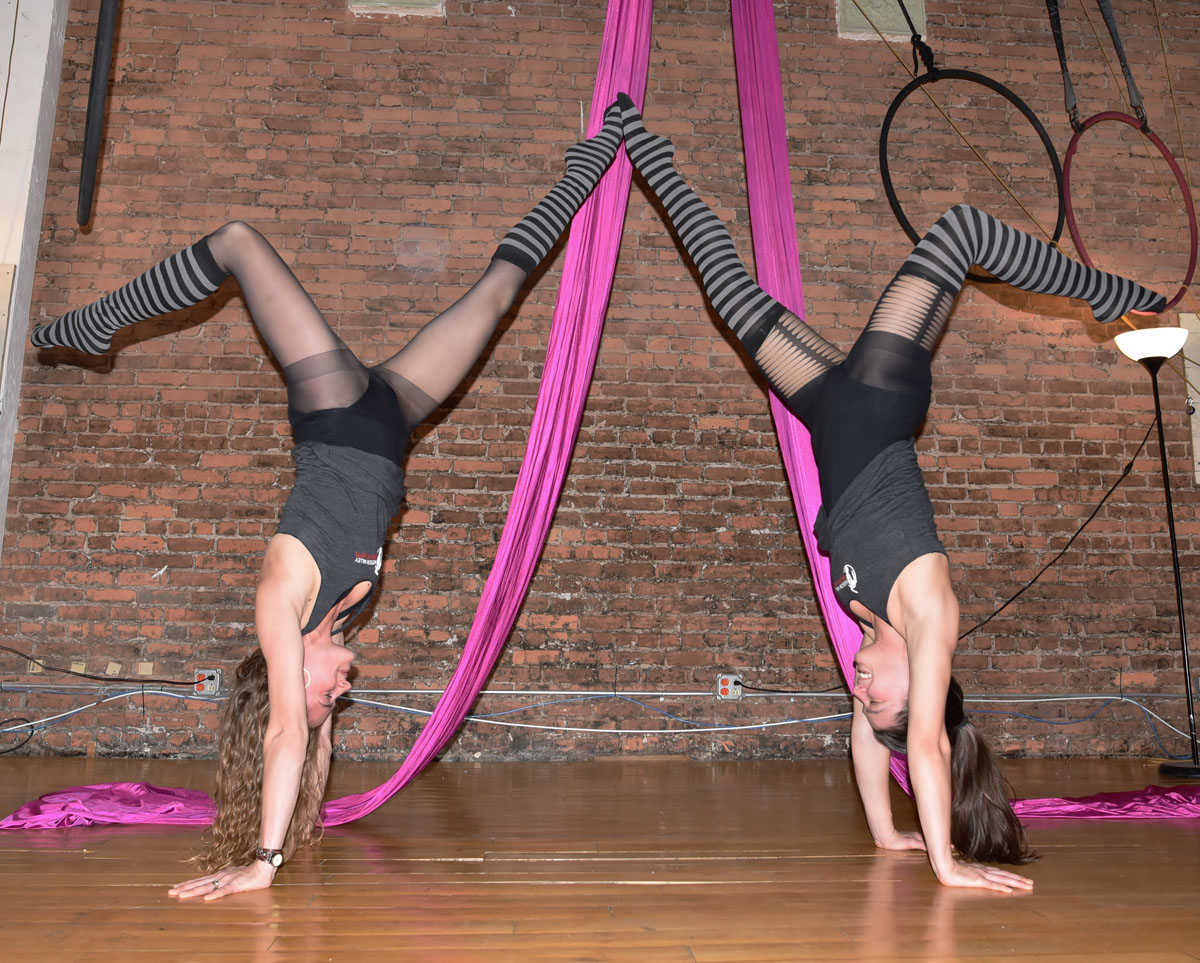 Where are you from originally?
Mai is from Norwalk, Connecticut and Lana is from Brooklyn, NY.
What brought you to the Kingston area and keeps you in this area?
When we first got started together we taught out of a variety of different spaces in the Hudson Valley and we really took our time looking for a home for the studio. We were attracted to Kingston because we loved the people here and the beautiful historic buildings in the uptown and midtown area. When we first saw the BSP building, which was originally a vaudeville theater, we knew we had found the right place. The huge back theater space offers us an incredible performance venue, and our sweet little studio room (the lobby of the original theater) with its brick and original, decorative moldings, offers us a beautiful, intimate space to teach and practice. The whole team at BSP has been so welcoming to us, it's been wonderful to become a part of it.
What is your favorite hangout in this area and why?
Outdated Cafe is right across the street and is a great place to grab a coffee and some healthy, delicious food before or after class. Also BSP IS a hangout space! It's so much fun to finish class, walk down the hallway, have a drink and listen to some great live music.
When you're not in Kingston, what's your idea of a wonderful city to visit, and why?
We love visiting Manhattan and Brooklyn, and we love how close Kingston is to NYC. We get to host visiting artists for workshops and shows, and we travel there frequently to continue our own learning. As for a little further away, Montreal is pretty much considered to be the circus capital of North America and is an amazing place to visit! L'Ecole National du Cirque is a prestigious circus school there which has an incredible student showcase every spring, not to be missed by circus fans!
Tell us something that we never would have guessed about you.
Usually the answer we give to that question is that we perform aerial arts, but you already know that! We also love to sing complex harmonies together – it's fun to take a break from work hard physically and focus on something totally different but just as creative. We're lucky to share both passions.
https://kingstonhappenings.org/wp-content/uploads/2017/01/DSC_5017-copy-1.jpg
900
1600
Kingston Happenings
https://blastserve.com/khtestbed/wp-content/uploads/2023/07/KH-Transparent-Logo-e1688304541199.png
Kingston Happenings
2017-01-04 08:05:47
2018-05-22 14:48:09
Doers and Dreamers – Alisha Mai McNamara and Lana Heintjes