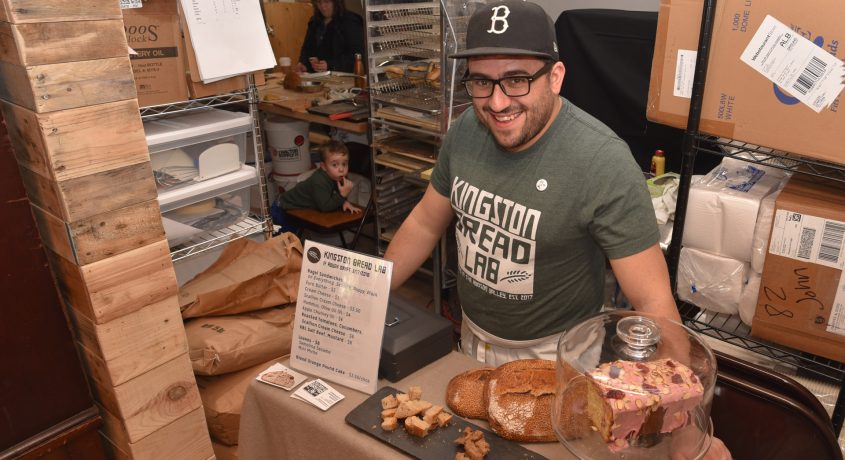 Doers and Dreamers – Aaron Quint
The "pop-up" concept has gotten traction over the last few years as a way to start a new business on a small scale and to see how a product flies in a specific market. Leveraging an existing commercial kitchen and captive market in a space that sells books and beer makes a lot of sense to me. Meet this week's Doer and Dreamer, Aaron Quint, who is testing the waters of the homemade bread(now including bagels)  market in a unique way with what looks like a lot of success so far.
Your name: Aaron Quint
Business or organization: Kingston Bread Lab , 82 John St. (@ Rough Draft) Kingston, NY
Occupation: Part-time baker and business owner
What is your approach to your business or occupation that makes you unique?
I started Kingston Bread Lab as a way to slowly take my passion to the next level. During the week I'm an Engineering Manager at a large tech company – working with my hands and directly interacting with people (and more importantly feeding them!) is something that I've found I need to stay happy. I'm truly not doing this for the money, I'm doing it because I want to hone my craft as a baker and make the best food I possibly can. In that way, I've started small – I was baking and selling loaves out of my house until recently. Now I took a big step to occupy an actual space in the back of Rough Draft Bar and Books. I only bake once a week at this point, so on Saturdays, you can find the big door to the kitchen open and me standing there (often with my 4-year-old son, Magnus) selling bread and bagels. I feel like the community is a big part of why I wanted to start this project and I'm continuing to find new ways to try to be an active participant.
Where are you from originally?
I'm one of the rare breeds of folks who actually grew up in Brooklyn and managed to leave. My parents still live in the same apartment where I spent the first 18 years of my life in Downtown Brooklyn.
What brought you to the Kingston area and keeps you in this area?
After my wife and I had our first child we were faced with the prospect of trying to find a decent place to live that would fit us in Brooklyn and found the challenge soul-crushing. We had been spending a bunch of time up in the Hudson Valley on weekends and finally considered trying to make a run for it. We saw a ton of houses but ended up buying the first one we saw: an original Dutch stone house in Uptown Kingston that needed a ton of work but we just couldn't stop thinking about. We loved the neighboorhood and it just felt like the best of both worlds – we could be in the Hudson Valley but also be in a small city where we could walk to things. Even though we've only been here for 4 years, at this point it feels like we couldn't have made a better choice. Not only do we love our house and have great neighbors, but Uptown is full of things to eat and do.
What is your favorite hangout in this area and why?
Well, now that I'm basically in business with them, I spend most of my time outside my house at Rough Draft. I was a #1 customer before that, though – it's just a great space with a great tap list and the best staff. Any other night I get out, I spend at Stockade or BSP. I feel very lucky to have so many great places within walking distance.
When you're not in Kingston, what's your idea of a wonderful city to visit, and why?
There are a lot of cities I love to visit but probably few I would ever consider living in. My wife has family in Dublin, Ireland so it happens to be one that I've spent a significant amount of time in. Other than the weather, it is one of the greatest cities in the world. It's filled with character, is great to walk around, has delicious, innovative food and wonderful people.
Tell us something that we never would have guessed about you.
I have had many passions and creative outlets in my life so far – cooking and baking just happens to be the longest-lived and ones that I've pushed the farthest. In High School and College, I was a DJ and Producer for a Brooklyn-based Hip-Hop crew. It surprises people, but I'm still very proud of the music and art we made then.
https://kingstonhappenings.org/wp-content/uploads/2018/03/DSC_4037_edited-1.jpg
1080
1920
Kingston Happenings
https://blastserve.com/khtestbed/wp-content/uploads/2023/07/KH-Transparent-Logo-e1688304541199.png
Kingston Happenings
2018-03-22 08:31:03
2020-02-25 12:00:09
Doers and Dreamers – Aaron Quint