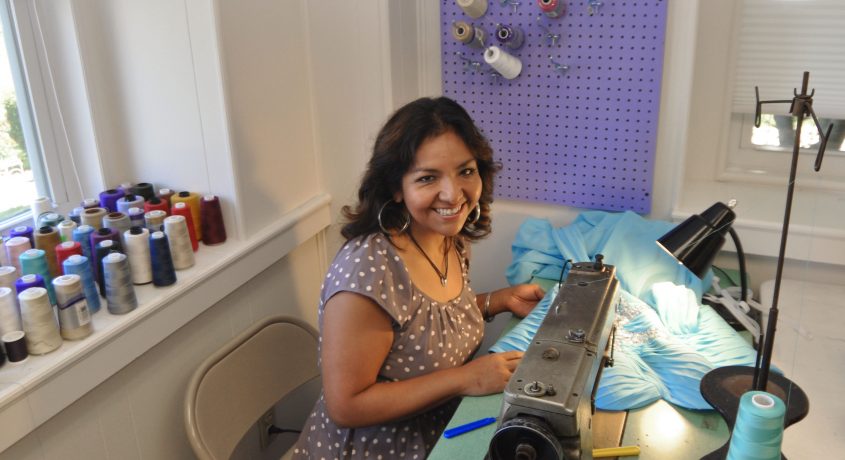 Doers and Dreamers – Maria Cabrera
Every once in awhile, you hear of someone that has a skill that you thought no longer existed in this area and you just go "Wow!", especially when the 'word on the street' is that they are excellent at their craft. This week's Doer and Dreamer is building her business and reputation just a few doors down from the legendary Rafalowsky's Mens Store where many of us old-timers had our tailoring done.
Your name: Maria Cabrera
Business or organization: Maria Cabrera Alterations & Tailoring , 1 Albany Ave. Kingston, NY
Occupation: Pattern Maker, Seamstress, Aesthetician, Entrepreneur
What is your approach to your business or occupation that makes you unique?
I have always loved fashion, fine fabrics detail, and of course paying attention to a perfect fit. I grew up in a small dress factory back in Mexico, and technically I've been sewing since my childhood and working professionally for the past 20 years. Even though, I have a lifetime of experience, in 2001-2005 I attended Parson School of Design in New York City and completed a certificate program in Fashion Design.
There is a big difference between a seamstress who can simply perform an alteration for you and an experienced, skilled, and professionally trained pattern maker/tailor who can guide you on how a garment should fit your body.
Where are you from originally?
Puebla, Mexico
What brought you to the Kingston area and keeps you in this area?
I left my country at the age of 15. I reunited with my parents and my 4 younger siblings a year later. My parents, who wanted to raise small children in a nice area, looked for an area to do so. In 1990, we moved here from Houston, Tx.
Kingston has given me the opportunity to raised my children, built a career, and now to grow my business. Kingston is with no doubt, a great supporting community!
What is your favorite hangout in this area and why?
Kingston Athletics, the gym I've been attending since 2014. I love lifting weights, the atmosphere is great, and I have developed great friendships.
When you're not in Kingston, what's your idea of a wonderful city to visit, and why?
New York City, to me is a magical city, full of creativity and powerful energy.
Tell us something that we never would have guessed about you.
My speaking accent has kept me as a extremely shy individual. One day I turned it around and made it my asset!
https://kingstonhappenings.org/wp-content/uploads/2016/08/DSC_0678-copy.jpg
1907
3390
Kingston Happenings
https://blastserve.com/khtestbed/wp-content/uploads/2023/07/KH-Transparent-Logo-e1688304541199.png
Kingston Happenings
2016-08-09 14:01:29
2017-03-07 11:50:51
Doers and Dreamers – Maria Cabrera