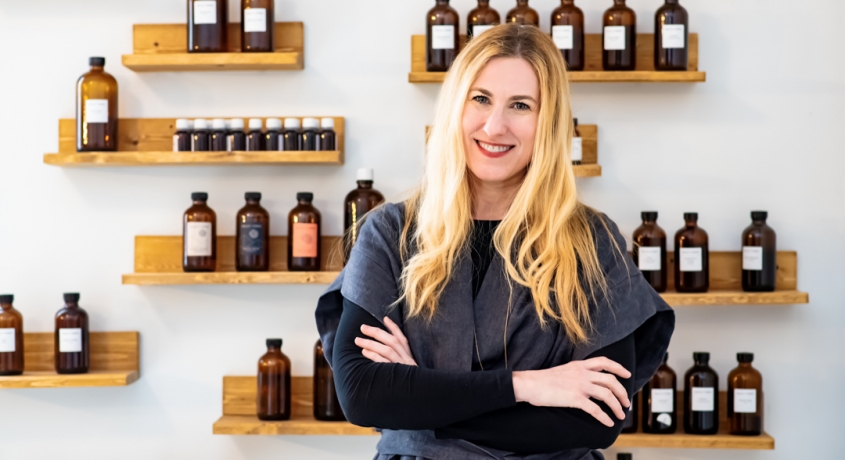 Doers and Dreamers – Kelly Jones
Kelly Jones, Scent Sommelier of Kelly + Jones, freshens up Kingston with her boutique fragrances handcrafted in her Scent Studio at Ferrovia Studios. As of recently, Kelly was permanently drawn to Kingston and Upstate NY, the place where she discovered much of the natural inspiration for her work. Having lived and worked all over the U.S., Kelly was inspired by Kingston's authenticity and community-oriented mindset, which motivated her to open her Scent Studio here. Starting with wine and now expanding beyond the vineyard, Kelly + Jones provides an olfactory experience for everyone, especially with its custom scent creations. Say "Hello!" to this week's Doer and Dreamer who is one of Kingston's newest businesses and residents.
Your name: Kelly Jones
Business or organization: Kelly + Jones (link: kellyandjones.com) 17 Railroad Ave, Kingston
Occupation:  Scent Sommelier | Owner & Founder
What is your approach to your business or occupation that makes you unique?
Kelly + Jones is a boutique fragrance brand featuring olfactive experiences inspired by the vineyard and beyond. Our main collection is a series of perfumes made to pair with wine. It creates quite a surprising sensory experience!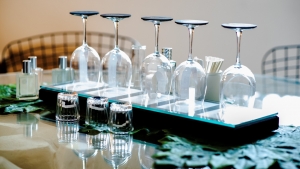 My passion is creating surprise through scent, and essences that are interactive and curious. Sometimes you'll find me at local markets and events with our Catskills Custom Scent Bar – fragrances inspired by a hike in the woods (think Moss, Fern and Stone…). You can blend them to create your own unique perfume oil. Now that our studio is open in Midtown Kingston, we also offer custom blending sessions for individuals, weddings and private events. I even have ambient fragrancing devices that create an incredible scented atmosphere. If there's a chance to create a celebration with scent, I'm on it!
I hand pour all of our essences and work mainly with essential oils and naturals. But I'm also passionate about conversations centering around the origin of every ingredient. Sometimes I'll use a synthetic ingredient or bio-identical essence if it's a better choice for the environment or sustainability efforts. It's really important to me that my customers understand how each perfume is made, and how the ingredients have been selected.
Where are you from originally?
I'm from Great Falls, Montana. I spent my high school and college years in the Metro Detroit area, and then moved West to Los Angeles, then Arizona. I have serious wanderlust and have moved around quite a lot!
What brought you to the Kingston area and keeps you in this area?
A coveted job in the fragrance industry brought me to NYC in 2011 and I had an exciting, romantic chapter in the city. But I always found myself escaping Upstate for long hikes, fresh air and nature's olfactory inspiration. I started participating in local makers markets and that helped me to build incredible friendships here. I saw true community, authenticity and a group of people that supported collaboration over competition. This is the spirit that made me choose Kingston both to live, and for my company's headquarters.
What is your favorite hangout in this area and why?
You can usually find me taking a biscotti break at Village Coffee & Goods, which is right below my Scent Studio. I've also been swooning over Lis Bar, with its lovely wine list and a perfect Old Fashioned cocktail that adds a lot of warmth to winter.
When you're not in Kingston, what's your idea of a wonderful city to visit, and why?
Oaxaca, Mexico. It's the epicenter for Mezcal, an artisanal spirit made from agave. Oaxaca is also the inspiration for my Eau de Mezcal fragrance collection. It's a city filled with sensory experiences, especially with the local food and ingredients. A portion of sales from these fragrances are donated to Programa Vaca, a non-profit in Oaxaca that is teaching citizens in rural areas to build with sustainable architecture and natural ingredients for long-term, positive human impact.
Tell us something that we never would have guessed about you:
Before I followed my nose into fragrance, I had a very opposite career in the auto industry. I was a Corporate Planner at Toyota, creating future vehicle lineups and building product plans for the Mexico market. It was an adventurous role and I will admit that I got to test drive a lot of great cars. Working with fragrance is so creative and magic. But on the side, I'll always be a gear head.
https://kingstonhappenings.org/wp-content/uploads/2019/03/Kelly-Jones-1.jpg
608
1080
anonymous
https://blastserve.com/khtestbed/wp-content/uploads/2023/07/KH-Transparent-Logo-e1688304541199.png
anonymous
2019-03-05 14:22:14
2020-02-25 12:00:07
Doers and Dreamers – Kelly Jones