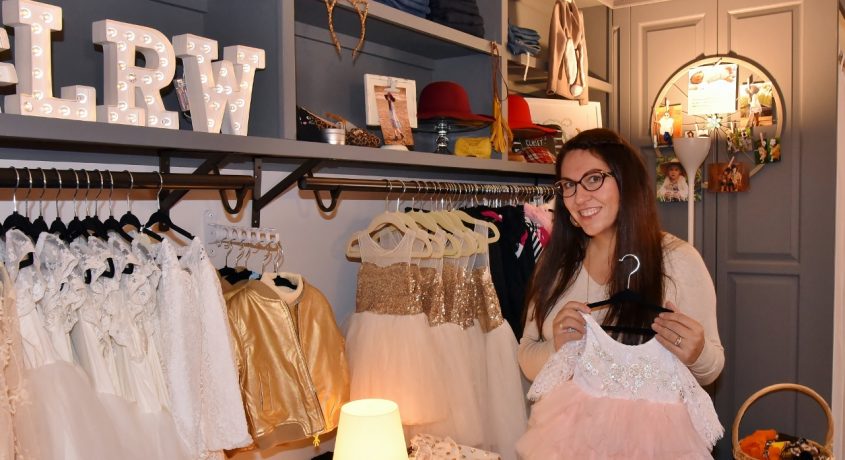 Doers and Dreamers – Janine Manley
Seeing a new business sprout up that just caters to kids is a welcome sign of vibrancy in the community and although retail shops can be risky endeavors, people are finding ways to adapt the traditional 'bricks and mortar' to a model that works. So, if you're like this week's Doer and Dreamer and have some innate talent and lots of enthusiasm, maybe there's a unique opportunity waiting for you to put some more sparkle in the Kingston area retail scene.
Your name: Janine Manley
Business or organization: Little Rabbit Wears Children's Boutique (online and brick and mortar at Cornell Street Studios, 168 Cornell St. Kingston, NY)
Occupation: Merchandiser, Shop Owner, Boss Lady, Teacher, Tired Mommy. I left my position at a local middle school after 13 years this year to manage Little Rabbit Wears full-time!
What is your approach to your business or occupation that makes you unique?
I started Little Rabbit Wears with zero technical knowledge of marketing, fashion, or business in general. I was a French teacher (with ties to Europe), a mom, and a compulsive shopper when I started this small business. Any decisions that helped LRW grow were made with this background only. I shopped for merchandise as a mom, purchased based on a teacher's salary, and made fashion choices following European trends I poured over. I've self-taught along the way and learned so much from others! But, as far as any secret to my success? It's simply that I'm really good at shopping and spending money for a living. (haha.)
Where are you from originally?
Orange County, New York by way of London, England. In between those two, a 3 year stint in the Bronx, NY, which is where my Dad is originally from.
What brought you to the Kingston area and keeps you in this area?
I had actually never even entered Kingston until the very first day of my student teaching experience at Miller Middle School in Kingston. When I was hired by KCSD the following year, the staff at the schools quickly became my friends (and still are!) My social life transitioned to center around Kingston happenings. When I turned 30, I met my husband, a fellow teacher, here…and that's all she wrote! We say all the time that we can not imagine living in a better place! The Hudson Valley is home for us: four distinct and beautiful seasons, surrounded by mountains but still a close drive to the beach, County fairs and art openings, and small towns near big cities. We are also lucky enough to have both sets of grandparents living within 15 minutes of us. We would be lost without them, so basically we're not going anywhere!
What is your favorite hangout in this area and why?
Well, since I'm relatively still near the beginning of my parenting journey with a 5 year old son and 3 year old daughter, my usual hang out spots are friends' homes where the kids can play, moms can talk, and I can wear leggings as pants. BUT, on the occasion that leave my kids in the dust, I love Stockade Tavern (hellooo fun libations), Boitson's (I love their menu. It's brief but perfect), Stella's (great for family and friend get togethers), and Cornell Street Studios (obviously!)
When you're not in Kingston, what's your idea of a wonderful city to visit, and why?
Anywhere in Southern Europe that has olive and cypress trees, a sandy beach nearby, views of hilltop villages, weekly markets, Rosé wine on hand, and daily naps after lunch. I spent every Summer of my childhood on the Côte d'Azur in Southern France…so cities and towns in that region will always feel like a second home to me. Just to think about them is comforting.
Tell us something that we never would have guessed about you.
I graduated high school when I was 16 years old but I still have the lowest IQ in my nuclear family. They'll be pretty pleased I've admitted that in public; now it's on record.
https://kingstonhappenings.org/wp-content/uploads/2016/11/DSC_4265-1280x720_6411.jpg
720
1280
Kingston Happenings
https://blastserve.com/khtestbed/wp-content/uploads/2023/07/KH-Transparent-Logo-e1688304541199.png
Kingston Happenings
2016-11-08 09:15:50
2017-03-07 11:50:49
Doers and Dreamers – Janine Manley