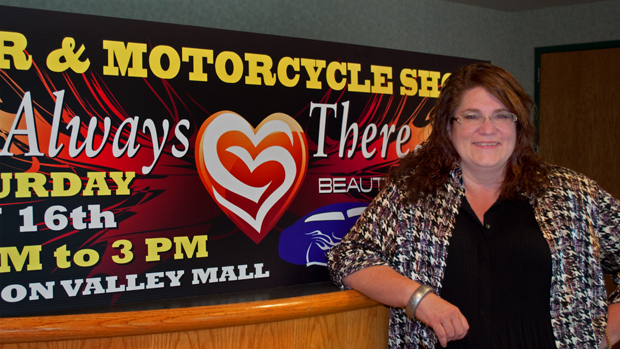 Doers and Dreamers – Jami Anson
It's funny how many people may have one or two careers in their lifetime and those careers may be somewhat narrowly focused without a lot of interaction with very many other companies or organizations. However, it's safe to say that this week's Doer and Dreamer, Jami Anson, is definitely on the other end of that spectrum with all of the roles that she's played and organizations that she continually works with on a regular basis.
Your name: Jami L. Anson
Business or organization: Always There
Always There is a Not-for-Profit serving 2,400+ families in Ulster County for forty-five years (and recently serving Dutchess County) with skilled in-home health services, compassionate personal care and adult day programs. In 1970, Ulster County Homemaker Services, Inc. (Always There) was created as a seed project by The Junior League of Kingston. At the start, this newly founded agency employed one part time Executive Director, along with members of the Junior League, who volunteered their services throughout the day and night to fulfill the needs for the community. Back in 1970, Always There was located in the YWCA of Kingston, eventually moving to Main Street, then to Aaron Court, and finally to Greenkill Avenue. In December of 2009, Always There relocated to their newly expanded 15,000 square foot office space at 918 Ulster Avenue in Kingston and works with a quality team of 200+, CEO & a Board of Directors.
Occupation: Director of Development
My current development work includes design, website, media, marketing, fundraising, grants and event production. Coming up soon is our 4th Annual Always There/Beautiful Bodies Car & Motorcycle Show at the Hudson Valley Mall on May 16th. Our gala every year is themed around a different travel destination, so this year (in October) we will be hosting our 7th annual gala ~ An Evening In Munich (Oktoberfest).
What is your approach to your business or occupation that makes you unique?
That is a tough question to answer. My friends and family say that I am it is my talent to network, design and speak. Others say it has been my experienced skill set in unusual projects.
I always loved this quote: "The creation of a thousand forests is in one acorn." ~ Ralph Waldo Emerson
Why not take an acorn and make it a forest? There should never be a missed opportunity. I find myself in meetings saying to our team, "Why not?", "But, what If?", "So let's try it this way.", and  "If it doesn't work, then modify it and make it work." I have learned there is always a way to make an event, program or organization successful ~ no matter how small the budget. If you can dream it ~ you can do it.
My career ~ I started in chess went to peace and landed in health. Right from college I was hired as the Director of Design & Marketing for the U.S. Chess Federation, a National organization that develops chess nationally and internationally. I gained fast experience designing chess magazines, along with the development of events. My daily work was side-by-side with book authors, magazines, newspapers, celebrities, TV and film. It helped me develop a quality skillset with creative design & marketing. After U.S. Chess  ~ I did creative freelance production on products, books and publications, with such companies as Excalibur Electronics,InsideOUT Magazine, Brookstone,  Barnes & Noble, The New York Times and several International Chess Grandmasters.
I then accepted an offer to work with the World Peace Sanctuary (An NGO of the United Nations) in Marketing. The projects included the International Peace Pole Project and the International Peace Pals Art Exhibition. The Exhibition would receive artwork from children from over forty-five countries each year and then would be sent worldwide to spread the message of peace. There are three World Peace organizations in the world ~ the first is at Mount Fuji in Japan, the second is in Dumfries, Scotland and the third is right here in the Hudson Valley ~ in Wassaic, New York. If you have a chance go and visit the 139-acre sanctuary ~ it is a one of the many hidden gems in Dutchess County.
I will not deny at times that the not-for-profit sector is hard work, but then I also stop and remind myself it is HEART work. In 2009, I was offered a position as a Director of Development for Always There. I am blessed to have a great community job making a difference to families every day. Hence the tag line I formed for Always There of "The Care You Can Count On."
Where are you from originally?
My family has been residing in Clintondale for four generations. When I wanted to buy a home ~ I decided on a farmhouse built in 1871 in my home town with a view of the Shawangunk Mountains. My parents and I belong to several community groups and not-for-profit works. We have also been involved in the preservation of a few historical sites and programs (including the Walkway Over The Hudson). The current project is to help restore the Plattekill Historical Society's Grange. My brother Kip and sister-in-law Sarah, who are both in wellness and health fields, reside in Dutchess County. My brother Kelly is a Structural Engineer with Stinemire Engineering and has an amazing talent in blacksmithing.
What brought you to the Kingston area and keeps you in this area?
Always There's main office is in Kingston. I love coming to the Kingston area every day and tend not to come home until later. The area is so rich with amazing people, culture, arts, music and history. I am also proud to be a Board member of People's Place and a Kingston Kiwanian.
What is your favorite hangout in this area and why?
I enjoy the Rondout Area with Dermot's, Mariners, Ship-To-Shore and of course Savona's (for a dish of Nonni's Meatballs). Midtown ~ there are so many great shows at UPAC, and Oh boy, those burgers at the Third Rail Diner. We all love to go uptown to JK's Wine & Liquor, Columbia Beauty Supplies, Bop to Tottom, the Kingston Candy Bar, amongst so many great shops to wander in. I honestly pick up some great vintage deals at People's Place. Then who doesn't love a lunch from Home Plate Deli or Joe Beez? There is also some amazing Sushi at Sushimakio. For a healthy dessert, I get a fresh fruit cup from Edible Arrangements on Ulster Avenue. But, with all of that said and done ~ there is that one special hangout ~ Trivia Tuesdays at Keegan Ales. It is a place to feel at home with great conversation, friends, ale, food and live music (Thursday-Sunday). You can have trivia teams up to six players to play for the prize ~ a gift card from Keegan Ales. The quarterly winners receive a free round of ale at their table. I am proud to have a great team called "The Keeganites." Come turn your phones off, put the computer away and try to take the claim of the smartest people in the room. Just be warned there are some really good teams competing.
When you're not in Kingston, what's your idea of a wonderful city to visit, and why?
Truth be told ~ I love to travel and experience whatever place I land in. There is so much right here in the Hudson Valley still to enjoy. But Kona, Hawaii is the one place I would go back to. I loved watching the lava hit the ocean at sunset and then the trip up to Mauna Kea to photograph a sunset above the clouds.
Tell us something that we never would have guessed about you.
I had the joy of becoming a part of the Extreme Makeover Home Edition TV Show Team (as a Volunteer Design Resource Consultant on Season Nine for three builds). My one request was that Always There would get credit at the end of the Hudson Valley show. Before you ask … yes it is done in seven days. Another fun one ~ Jeopardy called me for many years for the research and answers on the chess questions.
https://kingstonhappenings.org/wp-content/uploads/2015/02/DSC_0104-copy620x350.jpg
349
620
Kingston Happenings
https://blastserve.com/khtestbed/wp-content/uploads/2023/07/KH-Transparent-Logo-e1688304541199.png
Kingston Happenings
2015-04-27 12:30:38
2017-03-07 11:50:18
Doers and Dreamers – Jami Anson