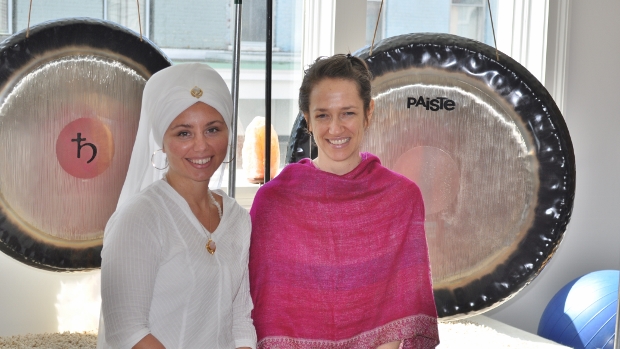 Our Doers and Dreamers this week are bringing a new energy and vitality to our community with a unique approach. Say 'Hello' to Hari Prakash and Teresa Widmann who have transformed an Uptown space into a  studio teaching a fascinating form of yoga.
Your name(s): Hari Prakash & Theresa Widmann
Business or organization:  SHUNIYA
Occupation:
Co-Owners of SHUNIYA
Teachers of the Healing Arts:
Kundalini Yoga & Gong Sound Healing
What is your approach to your business or occupation that makes you unique?
SHUNIYA was created to provide a welcoming space for all who seek to find their path towards fulfillment. Our foundation is rooted in the teachings of Kundalini Yoga as taught by Yogi Bhajan and the healing properties of the Naad or sound current. Building upon this foundation and guided by principles inspired by yoga, meditation and sound, we present to all an array of authentic offerings from passionate instructors and creators who believe deeply in the power within. Through the power of the practices we hope to guide all who walk through our door with a way to live a happier, healthier lifestyle. We are open to all and strive to serve everyone regardless of their means. Our schedule regularly includes donation based classes so that there is no financial barrier to practice as well as fundraising events to enable ourselves to support local charities with the financial support they need. We are helping to build a community of powerful and passionate people dedicated to finding the truth that lies within each of us.
Sat Nam
Where are you from originally?
Hari Prakash: I grew up just outside of Kingston in the woods and am grateful to my family for that.
Theresa: A hilltop, peppered with trees in Genesse Depot, WI, a small town approximately 30 miles west of Milwaukee.
What brought you to the Kingston area and keeps you in this area?
Hari Prakash : After living in NYC for 6 years, what brought me back to this area was a cosmic alignment, something out of my control. What keeps me here is that cosmic alignment.
Theresa: School brought me to the east coast, but the trees, streams, mountains, people, and creative energy of the Hudson Valley brought me to Kingston. Here I am surrounded by so much that inspires…sights, sounds, words, activism, people, and community. I couldn't imagine being anywhere else.
What is your favorite hangout in this area and why?
Hari Prakash: The mountains, swimming holes and waterfalls, & Uptown Kingston, which has everything we need & want & it keeps getting better!
Theresa: I enjoy walking near the Ashokan Reservoir. It's hard to not feel blessed with such beauty surrounding us. At the same time, I feel grateful every day I walk down Wall Street in Uptown Kingston and tend to business or nourish myself with what the other small businesses have to offer. I can frequently be found tucked in a corner of Outdated sipping a chai tea and typing on my keyboard.
When you're not in Kingston, what's your idea of a wonderful city to visit, and why?
Hari Prakash: Santa Monica, LA area, California. That is where my teacher lives.
Theresa: This answer may be partially influenced by the fact that it was one of the last cities I visited here in the States, but I think I would choose Asheville,NC. It's quite similar to the Hudson Valley so it makes perfect sense that I would find it wonderful, but to break it down in detail, it's full of creative and inspiring people, kind-hearted entrepreneurs, mountains, music, and one of my favorite tea houses, Dobrá Tea.
Tell us something that we never would have guessed about you.
Hari Prakash: I wake up at 3:30-4am for sadhana (personal practice) everyday.
Theresa: I often enjoy rocking out to Led Zeppelin.
https://kingstonhappenings.org/wp-content/uploads/ngg_featured/DSC_0273-620x349.jpg
349
620
Kingston Happenings
https://kingstonhappenings.org/wp-content/uploads/2013/10/Final-KH-Logo.png
Kingston Happenings
2014-04-16 14:30:11
2017-03-07 11:49:35
Doers and Dreamers – Hari Prakash & Theresa Widmann