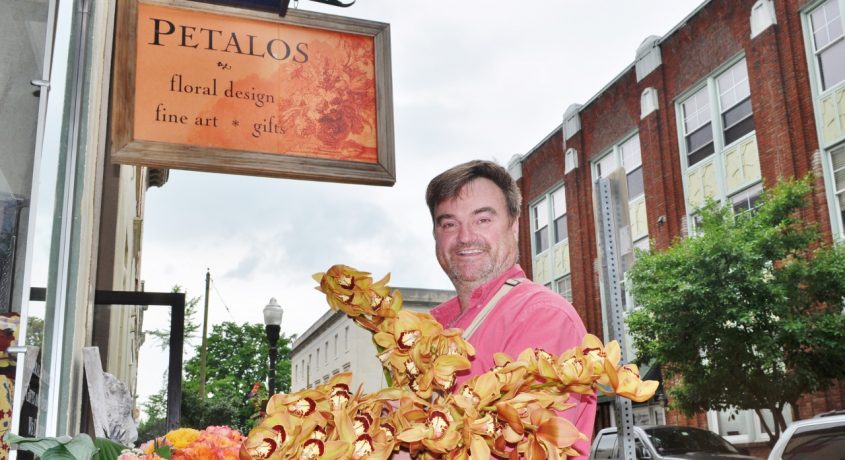 Doers and Dreamers – Brian Bender-Tymon
Great things come in small packages and this week's Doer and Dreamer proves that everyday. Out of his small space on John St. come some amazing and unusual floral designs for all occasions. Say 'Hello' to this week's Doer and Dreamer, Brian Bender-Tymon.
Your name: Brian Bender-Tymon
Business or organization: Petalos Floral Design 20 John St.
Occupation: Botanical Artist/Flower Whisperer
What is your approach to your business or occupation that makes you unique?
Customer service and community building is top of the list. I make sure each customer leaves happy and satisfied. I also make sure that I am contributing to my business and personal communities through action and contribution.
I also create designs that no one else is doing around here. I have aggregated my experience and training in places like Boston, New York, Beverly Hills, Napa/Sonoma, and San Francisco to combine edgy colors, unusual flowers and plants, and textures that push the design envelope yet remain completely affordable.
I use very little in the way of greens or fillers – I think that's dishonest. Instead, I use flowers, branches or other architectural elements that are integral to the total concept – not just a means of filling holes or hiding the mechanics.
Where are you from originally?
South Salem, Westchester Co.
What brought you to the Kingston area and keeps you in this area?
My husband and partner of 23 years, Philip Bender-Tymon, works for IBM. We moved to Northern Vermont in 2000 from the Napa Valley to help out with a family life transition. In 2003, we moved here to be closer to Philip's work at IBM and, frankly, for a longer gardening season.
After checking out surrounding areas, everyone we spoke to when we visited here LOVED living here. We were drawn by the rich cultural, historical and arts elements that make Kingston so unique. And here we are eleven years later with NO regrets.
What is your favorite hangout in this area and why?
Philip and I like to get out once or twice a week, but we can't pick just one favorite – Uptown offers so much now in the way of dining and the arts. So. I'll say our favorite hangout is Uptown where there is always a myriad of amazing choices
The second place would be my garden. I take my work home with me. It's my Zen time.
When you're not in Kingston, what's your idea of a wonderful city to visit, and why?
I've been lucky enough to live and work in a variety of places. I truly miss Northern California and the Napa/Sonoma wine country – we had many amazing times there and left a legacy of great friends and experiences there.
We enjoyed the time we spent in Italy a few years ago – Rome, Latina and Gaeta – but we'd love to retire in Northwestern Ireland near Galway. It's the most wonderful part of the country and the people, culture and the pace of life are amazing.
Tell us something that we never would have guessed about you.
In 1998, I took a hiatus from floral design to learn about wine. I ended up working in the Carneros region of Napa at a winery – Artesa – owned by the Raventos family in Spain who had been making sparkling and still wines for more than 500 years. My job was to lead both private and public tours and to teach people how to taste wine like a pro (without being a snob). While I was there, I was fortunate enough to work with Don Von Staaveren who was voted number one wine maker in the world by Wine Spectator in 2000.
We still have two magnums in the basement, signed by Don, waiting for just the right occasion to uncork.
https://kingstonhappenings.org/wp-content/uploads/ngg_featured/DSC_0122-1280x720.jpg
720
1280
Kingston Happenings
https://blastserve.com/khtestbed/wp-content/uploads/2023/07/KH-Transparent-Logo-e1688304541199.png
Kingston Happenings
2014-06-26 07:00:31
2017-03-07 11:49:33
Doers and Dreamers – Brian Bender-Tymon