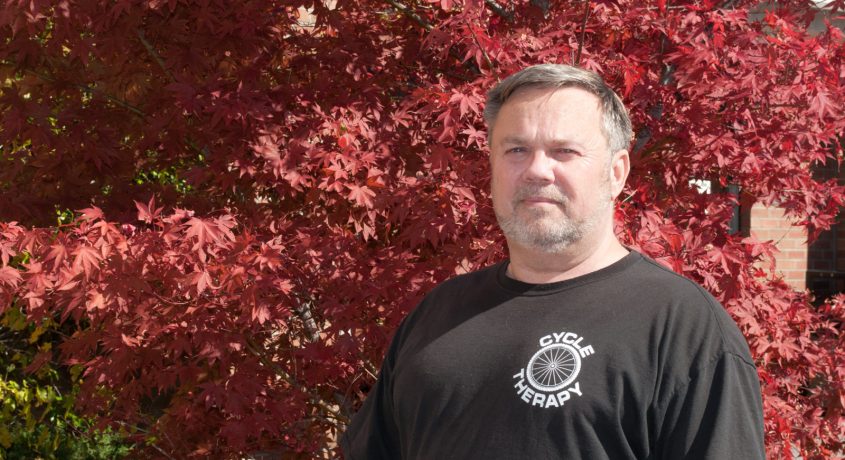 Doers and Dreamers – Allen Nace
We are very fortunate in this area to have a number of people that are not only dedicated professionals who help individuals as their vocation, but also spend a good deal of their personal time pursuing the same endeavor. Whether it is being a boxing instructor, serving on the of Board of Directors for community organizations, or teaching painting, this week's Doer and Dreamer deserves the thanks of many individuals and the entire community. Say "Hello' to this week's Doer and Dreamer, Allen Nace, who is helping our community by 'just doing it'.
Your name: Allen Nace
Business or organization: Health Alliance of the Hudson Valley
Occupation: Administrative Director of Community Rehabilitation. I work with the Chemical Dependent/ Addictions Treatment Programs. I also serve on the Board of Directors for Ulster County Community Action and The Ulster County Youth Bureau.
What is your approach to your business or occupation that makes you unique?
It's important to provide compassionate quality care for all. In our settings it's important to remember that we can't impose our values on others and that we need to meet the client where they are. We want the work to result in change and in the end to have the client be successful. If we don't do that we are imposing our values on the client and the outcome can only be failure or at best compliance. Compliance can be a problem because when the structures we offer are no longer in place there is little hope the client will continue because they did not want or develop results based on their personal needs. They may have only done it to comply with our rules or expectations. I guess, it's that people are people and we need to assist them in making changes and obtaining goals that they hope for.
Where are you from originally?
I was born in Kingston Hospital but lived in Clintondale, Milton, and Highland through grade school and then in the Poughkeepsie area.
What brought you to the Kingston area and keeps you in this area?
My brother Tom lived here and worked at the Kingston Children's Home so I moved here and ended up working with him there.
What is your favorite hangout in this area and why?
It's very hard to pick one. I love Forsyth Park and the Nature Center, I also love the water so I enjoy the Hudson River and Rondout area of downtown Kingston. For activity I like to go to the Kingston PAL Boxing Gym. It's really a great place with friendly people. Most don't box competitively but learn how and enjoy the exercise and the comradery.
When I want to relax it's either on the Rail Trail with my dogs, on a bicycle or just hanging out in my own backyard.
When you're not in Kingston, what's your idea of a wonderful city to visit, and why?
There are so many; NYC is second to none. There are lots of people and things to. Boston is also a great City and to me Dublin seems very much like Boston. They offer lots of history and great bike riding (NYC too). Montreal is also a great city to visit. I think maybe I just like to go places and experience new things that each city offers. If I had to pick one it would be NYC because it has everything.
Tell us something that we never would have guessed about you.
I'm not sure what most people guess but some of the things people I do and have been involved in are:
Scuba Diver,
Cyclist, founder of Tour de Kingston
USA Boxing Coach, Promoter, and Boxer,
Painter and instructor for painting classes
Baseball (hardball ) player until my 40's
Professional Boxing Judge
These are all aspects of me or things I have done that many people express surprise over. Many of them are recreational level interests that I have had success doing. The Professional Boxing Judge requires an expert level of knowledge The USA Amateur activities led to entry into the professional arena.
I guess my motto is associated with the word" Nike" which means victorious in Greek. I encourage people to not allow their lack of familiarity or their not being good at something to prevent them from doing it or going for it. That's how you get good by doing it. If you just do it, you are victorious.
Boxing or painting is the same. You can learn to do either pretty quickly, but if you want to be an expert it takes a lot of work. We may never get there or even want to, but we can just do it and learn by it, and if we love it just keep doing it.
https://kingstonhappenings.org/wp-content/uploads/ngg_featured/DSC_0401_ps.jpg
900
1600
Kingston Happenings
https://blastserve.com/khtestbed/wp-content/uploads/2023/07/KH-Transparent-Logo-e1688304541199.png
Kingston Happenings
2014-10-13 15:01:33
2017-03-07 11:49:30
Doers and Dreamers – Allen Nace