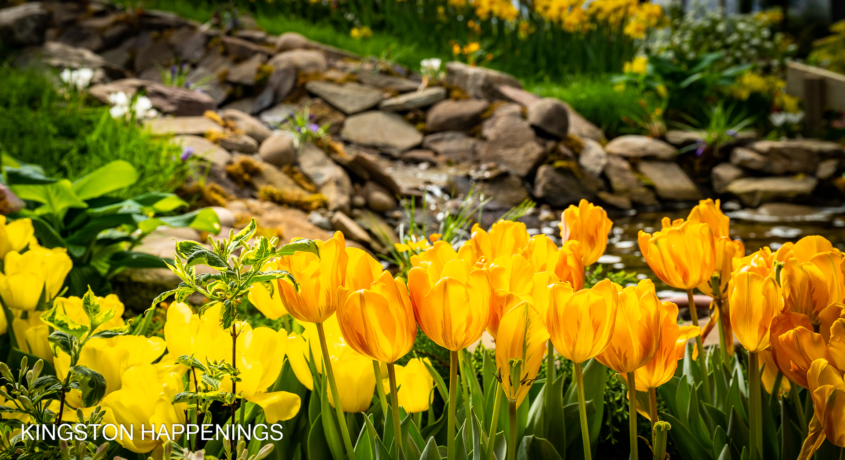 What a week to get out and support our community while taking advantage of everything it has to offer at the same time. Kingston High School's talented teens are presenting their annual musical performance, local celebrities will be showing off their dancing skills, local Women's History Month celebrations are going strong, and you can tap into Kingston's Colonial past at our Senate House Museum. Whatever kind of fun you're looking for, you can find it this week.
Below are some of our picks for fun and entertaining events on our calendar this week that we think you may not want to miss!
An Evening with Matt Dillon and CITY OF GHOSTS – Catch a flick and hobnob with Matt Dillon!
KHS Musical Theatrics presents "The Drowsy Chaperone" – Support our amazingly talented local teens!
Wine & Dine – This benefit for The ARC Mid-Hudson sounds like plenty of fun.
Dancing with the Stars – Ulster Style! – Catch our local celebs kicking up their heels for a great cause.
Sugaring Off: 18th Century Style – Bring the family and step back into our Colonial past.
You can also find our complete event listing at https://kingstonhappenings.org/events/
 Featured Things To Do This Week
.
Date/Time
Event
Wed, Mar 23, 2022 - Thu, Mar 31, 2022
9:00 am-5:00 pm
Donation Drive for Ukraine with Ukrainian American Youth Association of the Hudson Valley
Office of NYS Senator Michelle Hinchey
Tue, Mar 29, 2022
7:00 am
Veteran's Buffet Breakfast
Elk's Lodge
Tue, Mar 29, 2022
6:30 pm
Trivia Break with Andre
Keegan Ales
Wed, Mar 30, 2022
6:00 pm-10:00 pm
An Evening with Matt Dillon and CITY OF GHOSTS
Hutton Brickyards
Wed, Mar 30, 2022
6:00 pm-10:00 pm
An Evening with Matt Dillon and CITY OF GHOSTS
Hutton Brickyards
Wed, Mar 30, 2022
6:00 pm
BEST OF THE BEER GARDEN SERIES EVERY WEDNESDAY NIGHT!
Colony Woodstock NY
Wed, Mar 30, 2022
6:00 pm-9:00 pm
Women in Virtual Reality Art - Fundraiser
Kingston, N.Y.
Wed, Mar 30, 2022
7:00 pm-8:15 pm
Farm Fields to Riverfronts – Nature-based Solutions to Climate Change
Virtual Event Only
Wed, Mar 30, 2022
7:30 pm-9:30 pm
Celebrating Women's History Month at The Rosendale Theatre After the Vote Presented by The Filmmakers Series
Rosendale Theater
Wed, Mar 30, 2022
8:30 pm
These Three Bums at Colony Woodstock
Colony Woodstock NY
Thu, Mar 31, 2022
6:00 pm
Jack Grace @ Keegan Ales
Keegan Ales
Thu, Mar 31, 2022
7:30 pm
KHS Musical Theatrics presents "The Drowsy Chaperone"
Kingston High School
Thu, Mar 31, 2022
8:00 pm
Crawdaddy | Colony
Colony Woodstock NY
Fri, Apr 1, 2022
12:00 pm-12:45 pm
Lunch & Learn: Poetry Reading Series
People's Place
Fri, Apr 1, 2022
4:00 pm-5:30 pm
MyKK & Bindlestiff Family Cirkus '22 Registration Free After School Program
YMCA
Fri, Apr 1, 2022
5:00 pm-6:00 pm
Agitated to Elevated: Yoga/Meditation/Writing for Youth
Center for Creative Education
Fri, Apr 1, 2022
5:00 pm-6:00 pm
Agitated to Elevated: Yoga/Meditation/Writing for Youth
Center for Creative Education
Fri, Apr 1, 2022
7:00 pm
Dancing with the Stars - Ulster Style!
Diamond Mills Hotel & Tavern
Fri, Apr 1, 2022
7:00 pm-10:00 pm
Spaghetti Eastern Music at Rock da Casbah
Rock Da Casbah
Fri, Apr 1, 2022
7:00 pm
Sunshine Nights @ Keegan Ales
Keegan Ales
Fri, Apr 1, 2022
7:30 pm
KHS Musical Theatrics presents "The Drowsy Chaperone"
Kingston High School
Fri, Apr 1, 2022
9:30 pm-11:45 pm
Hip Hop Party with Dj Dookz
Pearl Moon
Sat, Apr 2, 2022
9:00 am-4:00 pm
Friends of the Kingston Library Used Book Sale
Kingston Library
Sat, Apr 2, 2022
10:00 am-12:30 pm
Primrose Hill School Open House
Rhinebeck, NY
Sat, Apr 2, 2022
11:00 am-4:00 pm
Fill The Van at Kingston Plaza
Herzogs Home Center
Sat, Apr 2, 2022
11:00 am
Sleeping Beauty with Tanglewood Marionettes
CENTER for Performing Arts at Rhinebeck
Sat, Apr 2, 2022
11:00 am-4:00 pm
Sugaring Off: 18th Century Style
Senate House State Historic Site
Sat, Apr 2, 2022
11:00 am-4:00 pm
UCSPCA Drive to Fill the Van at Kingston Plaza
Kingston Plaza
Sat, Apr 2, 2022
2:00 pm-3:30 pm
Harm Reduction Works
Virtual Event Only
Sat, Apr 2, 2022
2:00 pm-4:00 pm
Rescheduled: A Celebration of MLK- Let it Shine!
Rosendale Theater
Sat, Apr 2, 2022
4:00 pm
Messy Church Easter
St. James Methodist Church
Sat, Apr 2, 2022
4:00 pm-6:00 pm
Rescheduled: John Lewis: Good Trouble
Rosendale Theater
Sat, Apr 2, 2022
7:00 pm
"I Just Wanna Dance!" Swing Dance w/two lessons & a Demo!
White Eagle Hall
Sat, Apr 2, 2022
7:00 pm-8:30 pm
Ars Choralis presents "Mozart in the Spring"
Holy Cross Church
Sat, Apr 2, 2022
7:00 pm-10:00 pm
Gregory's Birthday Bash & Fundraiser
Center for Creative Education
Sat, Apr 2, 2022
7:00 pm
Mozart in the Spring
Holy Cross Church
Sat, Apr 2, 2022
7:00 pm
Painted Blue Sky @ Keegan Ales
Keegan Ales
Sat, Apr 2, 2022
7:30 pm
KHS Musical Theatrics presents "The Drowsy Chaperone"
Kingston High School
Sat, Apr 2, 2022
7:30 pm
WSO Concert
Woodstock Playhouse
Sat, Apr 2, 2022
8:00 pm-11:00 pm
Alt Guitar Summit in Woodstock
Colony Woodstock NY
Sat, Apr 2, 2022
8:00 pm
DIANA KRALL @ UPAC
Ulster Performing Arts Center (UPAC)
Sat, Apr 2, 2022
9:30 pm-11:45 pm
Gratefully Yours at Pearl Moon, Woodstock NY
Pearl Moon
Sun, Apr 3, 2022
11:00 am-2:00 pm
Jazz Brunch with Pete Levin
Pearl Moon
Sun, Apr 3, 2022
12:00 pm
Sunday GAMEday Keegan Style
Keegan Ales
Sun, Apr 3, 2022
2:00 pm-4:00 pm
FW Murnau's 'The Last Laugh'
Rosendale Theater
Sun, Apr 3, 2022
2:00 pm
"I am resolved to stand or fall with my country": The Battle of Lexington and Concord
Clermont State Historic Park
Sun, Apr 3, 2022
3:00 pm
KHS Musical Theatrics presents "The Drowsy Chaperone"
Kingston High School
Sun, Apr 3, 2022
3:00 pm-6:00 pm
Sunday Funday with Chris Jackson Live
Great Life Brewing Tasting Room
Sun, Apr 3, 2022
4:00 pm-5:30 pm
Ars Choralis presents "Mozart in the Spring"
Overlook Methodist Church
Sun, Apr 3, 2022
8:00 pm
Canned Heat | Colony
Colony Woodstock NY
All Upcoming Events
[/av_two_third]
https://kingstonhappenings.org/wp-content/uploads/2022/03/KLG_0510-2.jpg
1080
1920
Kingston Happenings
https://kingstonhappenings.org/wp-content/uploads/2013/10/Final-KH-Logo.png
Kingston Happenings
2022-03-25 10:43:36
2022-03-29 13:10:10
Things to Do This Week in Kingston, NY for 3/29-4/3