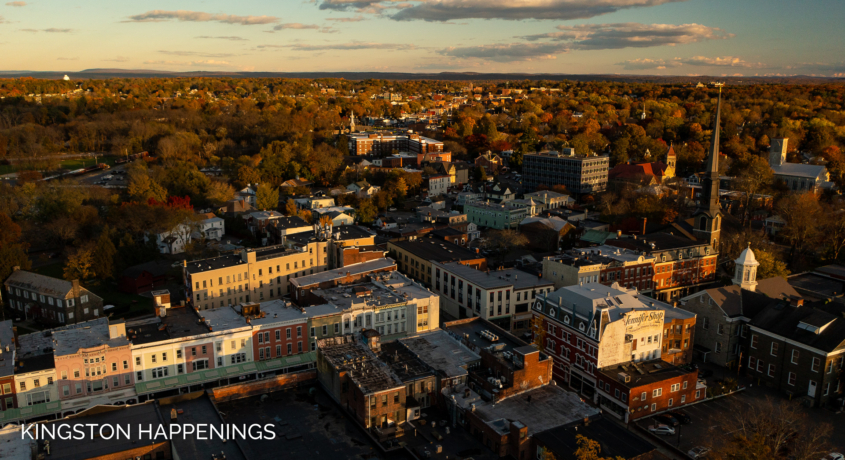 Looking for a cool art class to take? How about something for your teens to do? Maybe some theater or live music is in your sights for entertainment this week. Weekends bring the fun for everyone and you can always find awesome things to do here in our area!
Here are some of our picks for the upcoming weekend:
Family Clay Bonds Ceramic Workshop Series – Here is a great opportunity to learn the basics of making things from clay.
Murali Coryell Band @ Keegan Ales – Come out and rock on at Keegan's to one of the area's favorite musicians.
Free History Walking Tour through Wiltwyck Cemetery – Get a great perspective of Kingston's history!
Printcycling with Lujiang Li & Maxine Leu – Making prints from trash? Sounds like a really interesting for the eco-minded
You can find all of these events and more at  https://kingstonhappenings.org/events
---
Things To Do This Weekend
.
Date/Time
Event
Fri, Nov 5, 2021
11:00 am-6:00 pm
FINAL WEEK: THE LOCKWOOD GALLERY PRESENTS BUILT II: ARCHITECTURE IN ART
Lockwood Art Gallery
Fri, Nov 5, 2021
4:00 pm-5:30 pm
Family Clay Bonds Ceramic Workshop Series
Cornell Creative Arts Center
Fri, Nov 5, 2021
6:00 pm-8:30 pm
Intro to Wheel Throwing Ceramic Workshop Series
Cornell Creative Arts Center
Fri, Nov 5, 2021
6:00 pm-10:00 pm
Lights On Kingston High School
Kingston High School
Fri, Nov 5, 2021
6:00 pm
Murali Coryell Band @ Keegan Ales
Keegan Ales
Fri, Nov 5, 2021
8:00 pm-10:00 pm
A Gentleman's Guide to Love & Murder
Center for Performing Arts at Rhinebeck
Fri, Nov 5, 2021
8:00 pm
The Feelies at Colony Woodstock
Colony Woodstock NY
Fri, Nov 5, 2021
9:30 pm-11:30 pm
Rock Academy Adult Shows
Pearl Moon
Sat, Nov 6, 2021
9:00 am-2:00 pm
Kingston NY Farmers Market
Kingston, NY
Sat, Nov 6, 2021
11:00 am-6:00 pm
FINAL WEEK: THE LOCKWOOD GALLERY PRESENTS BUILT II: ARCHITECTURE IN ART
Lockwood Art Gallery
Sat, Nov 6, 2021
1:00 pm-2:00 pm
Free History Walking Tour through Wiltwyck Cemetery
Wiltwyck Cemetery
Sat, Nov 6, 2021
1:00 pm
Historic Bakery Tours
Reher Center for Immigrant Culture and History
Sat, Nov 6, 2021
2:00 pm-3:30 pm
Harm Reduction Works
Virtual Event Only
Sat, Nov 6, 2021
3:00 pm-5:00 pm
Ceramics Workshops: Festive Serving Platter
Cornell Creative Arts Center
Sat, Nov 6, 2021
5:00 pm-8:00 pm
Elizabeth McGiff Opening Reception
Folk House Collective
Sat, Nov 6, 2021
7:00 pm
Oxford Station Band at High Falls Cafe
High falls Cafe
Sat, Nov 6, 2021
7:00 pm-10:00 pm
Rob Scheps Core-tet
Lydia's Cafe
Sat, Nov 6, 2021
7:00 pm-10:00 pm
Swing Dance with the Swing Vipers and Beginner Lesson
White Eagle Hall
Sat, Nov 6, 2021
8:00 pm-10:00 pm
A Gentleman's Guide to Love & Murder
Center for Performing Arts at Rhinebeck
Sat, Nov 6, 2021
8:00 pm-11:00 pm
The Blues Project
Bearsville Theater
Sat, Nov 6, 2021
9:30 pm-11:30 pm
Rock Academy Adult Shows
Pearl Moon
Sun, Nov 7, 2021
10:00 am-2:00 pm
Printcycling with Lujiang Li & Maxine Leu
D.R.A.W. Kingston, (Department of Regional Art Workers)
Sun, Nov 7, 2021
11:00 am-6:00 pm
FINAL WEEK: THE LOCKWOOD GALLERY PRESENTS BUILT II: ARCHITECTURE IN ART
Lockwood Art Gallery
Sun, Nov 7, 2021
1:00 pm
Historic Bakery Tours
Reher Center for Immigrant Culture and History
Sun, Nov 7, 2021
2:00 pm-4:00 pm
The Cabinet of Dr Caligari (1920)
Rosendale Theater
Sun, Nov 7, 2021
3:00 pm-5:00 pm
A Gentleman's Guide to Love & Murder
Center for Performing Arts at Rhinebeck
Sun, Nov 7, 2021
3:00 pm-4:00 pm
Historic Reher Bakery Open House
Reher Center for Immigrant Culture and History
Sun, Nov 7, 2021
7:00 pm-8:30 pm
"Apples in Winter" play at the Denizen Theatre
DENIZEN Theatre
Sun, Nov 7, 2021
8:00 pm-11:00 pm
NewDate* Murder By Death | Colony
Colony Woodstock NY
---
---
https://kingstonhappenings.org/wp-content/uploads/2021/11/DJI_0285-2.jpg
1080
1920
Kingston Happenings
https://kingstonhappenings.org/wp-content/uploads/2013/10/Final-KH-Logo.png
Kingston Happenings
2021-11-04 21:27:03
2021-11-04 21:27:03
Things To Do This Weekend in Kingston, NY 11/5-11/7