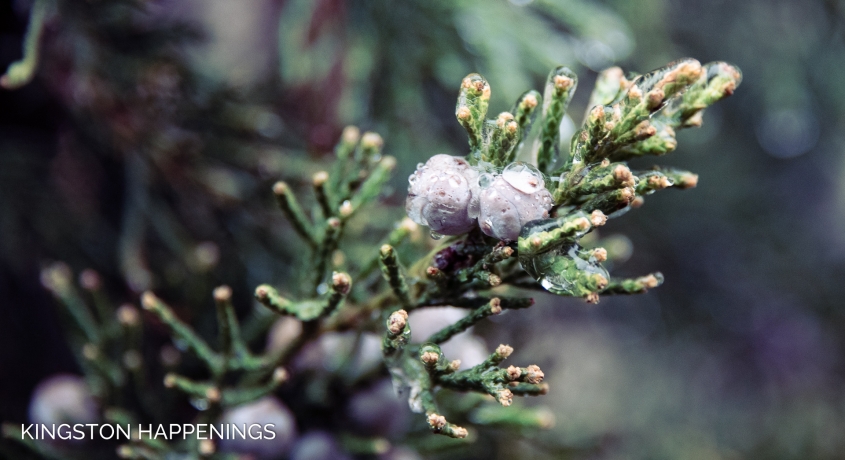 Parties, holiday shopping, movies, live music and more are all on the docket for everyone's enjoyment this week. There are plenty of opportunities to buy lots of local goods and gift certificates to local restaurants to fill those shopping lists as well to mix and mingle(safely) with friends and neighbors. Plan your week early so you don't miss out on any of these great activities.
Here are some of our picks for 'Things to Do' during the week that we think you'll find exciting. Stay tuned for our next "Things To Do This Weekend" article to discover our picks for the upcoming weekend.
Q Pop Community Holiday Night Market – Here's a great opportunity to find some unique gifts AND a bonfire with friends.
Celebrate: A Collaboration on the Corridor – Check out old and new businesses in the heart of Kingston.
The Great Ugly Sweater Customer Appreciation Toy Drive – Bring a toy, have a beer and listen to some great music!
The Mavericks @ UPAC – Once again, UPAC presents a world-class act to local audiences.
You can also find our complete event listing at https://kingstonhappenings.org/events/
 Featured Things To Do This Week
.
Date/Time
Event
Tue, Dec 14, 2021
3:00 pm-6:00 pm
Brooklyn Music Factory at CCE
Center for Creative Education
Tue, Dec 14, 2021
5:30 pm-6:30 pm
Ukulele Meet-up
Kingston Library
Tue, Dec 14, 2021
6:30 pm-7:30 pm
Raising HOPE Virtual Workshop: Clear Message Model for Caring Feedback
Virtual Event Only
Wed, Dec 15, 2021
4:00 pm
Q Pop Community Holiday Night Market
Art/Life Kingston
Wed, Dec 15, 2021
6:00 pm-11:30 pm
Best Of The Beer Garden Series Every Wednesday Night @ Colony Woodstock
Colony Woodstock NY
Thu, Dec 16, 2021
11:00 am-6:00 pm
THE WOODSTOCK SCHOOL of ART INSTRUCTORS EXHIBITION and SALE
Lockwood Art Gallery
Thu, Dec 16, 2021
3:00 pm-6:00 pm
Brooklyn Music Factory at CCE
Center for Creative Education
Thu, Dec 16, 2021
6:00 pm-10:00 pm
Bluegrass Supper Series
Bearsville Theater
Fri, Dec 17, 2021
5:00 pm-7:00 pm
Christmas Drive-Thru
Kingston, NY
Fri, Dec 17, 2021
6:00 pm-10:00 pm
Lights On Kingston High School
Kingston High School
Fri, Dec 17, 2021
6:00 pm-7:00 pm
Phil Kline's Unsilent Night
Senate House State Historic Site
Fri, Dec 17, 2021
7:00 pm-9:00 pm
"It's a Wonderful Life" at the Denizen Theatre
DENIZEN Theatre
Fri, Dec 17, 2021
7:00 pm-8:30 pm
A Christmas Carol, an interactive holiday family event!
Rosendale Theater
Fri, Dec 17, 2021
7:00 pm-10:00 pm
Spaghetti Eastern Music at Rock da Casbah
Rock Da Casbah
Fri, Dec 17, 2021
7:30 pm
FILM: THE NIGHTMARE BEFORE CHRISTMAS (1993)
Ulster Performing Arts Center (UPAC)
Fri, Dec 17, 2021
8:00 pm
Doctor Lo Faber and Aaron Lieberman of God Street Wine | Colony
Colony Woodstock NY
Fri, Dec 17, 2021
9:30 pm
Wyld Blu at Pearl Moon
Pearl Moon
Sat, Dec 18, 2021
12:00 pm-5:00 pm
A Merry Makers Day
D.R.A.W. at Energy Square
Sat, Dec 18, 2021
12:00 pm-6:00 pm
Catskill Christmas Express
Catskill Mountain Railroad
Sat, Dec 18, 2021
12:00 pm-3:00 pm
Celebrate: A Collaboration on the Corridor
Kingston, NY
Sat, Dec 18, 2021
12:00 pm-7:00 pm
Celebrating Two Years at World's End Comics & Games
World's End Comics
Sat, Dec 18, 2021
1:00 pm-7:00 pm
Holiday Vendor Extravaganza!
Center for Creative Education
Sat, Dec 18, 2021
2:00 pm-4:00 pm
"It's a Wonderful Life" at the Denizen Theatre
DENIZEN Theatre
Sat, Dec 18, 2021
2:00 pm-3:30 pm
Harm Reduction Works
Virtual Event Only
Sat, Dec 18, 2021
3:00 pm-7:00 pm
Winter Solstice Celebration
Opus 40
Sat, Dec 18, 2021
4:00 pm-8:00 pm
The Great Ugly Sweater Customer Appreciation Toy Drive
Great Life Brewing Tasting Room
Sat, Dec 18, 2021
5:00 pm-7:00 pm
Christmas Drive-Thru
Kingston, NY
Sat, Dec 18, 2021
5:00 pm-9:00 pm
Holiday Show Opens 12/4/21 + Gingerbread House Contest on 12/18/21
Lace Mill
Sat, Dec 18, 2021
7:00 pm-9:00 pm
"It's a Wonderful Life" at the Denizen Theatre
DENIZEN Theatre
Sat, Dec 18, 2021
7:00 pm-8:30 pm
A Christmas Carol, an interactive holiday family event!
Rosendale Theater
Sat, Dec 18, 2021
7:00 pm-10:00 pm
LOST CHRISTMAS film
St. James Methodist Church
Sat, Dec 18, 2021
7:00 pm-10:00 pm
the Haveners
Lydia's Cafe
Sat, Dec 18, 2021
8:00 pm
A Rockabilly Holiday w/Robert Gordon, Billy Burnette & Marshall Crenshaw
Bearsville Theater
Sat, Dec 18, 2021
8:00 pm
I Get Wild Plays The Music Of Talking Heads with ULTRAAM | Colony
Colony Woodstock NY
Sat, Dec 18, 2021
8:00 pm
The Mavericks @ UPAC
Ulster Performing Arts Center (UPAC)
Sat, Dec 18, 2021
9:30 pm
Soul City at Pearl Moon
Pearl Moon
Sun, Dec 19, 2021
10:00 am-2:00 pm
Join us for Brunch with Santa!
Ole Savannah Southern Table and Bar
Sun, Dec 19, 2021
12:00 pm-6:00 pm
Catskill Christmas Express
Catskill Mountain Railroad
Sun, Dec 19, 2021
2:00 pm-4:00 pm
"It's a Wonderful Life" at the Denizen Theatre
DENIZEN Theatre
Sun, Dec 19, 2021
2:00 pm-4:00 pm
Give A Little Hope - A Benefit for People's Place
Bearsville Theater
Sun, Dec 19, 2021
3:00 pm
Christmas Jazz Concert
St. James Methodist Church
Sun, Dec 19, 2021
8:00 pm
Lara Hope And The Arktones | Colony
Colony Woodstock NY
All Upcoming Events
[/av_two_third]
https://kingstonhappenings.org/wp-content/uploads/2021/12/KLG_9270.jpg
1080
1920
Kingston Happenings
https://kingstonhappenings.org/wp-content/uploads/2013/10/Final-KH-Logo.png
Kingston Happenings
2021-12-14 21:33:51
2021-12-14 21:33:51
Highlighted Things to Do This Week in Kingston, NY for 12/14-12/19